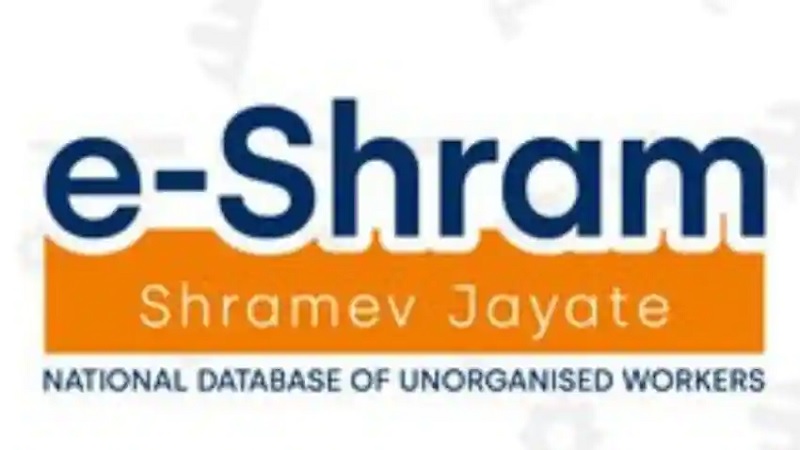 Image Courtesy:zeebiz.com
Over 1.15 crore people registered for jobs on September 20, 2021 at the e-SHRAM portal created by the central government to provide social security and employment-based benefits.
Launched on August 26, eSHRAM was developed to create a National Database of Unorganized Workers (NDUW), seeded using people's Aadhaar cards. As many as 1,15,18,143 unorganised workers out of 38 crore workers estimated in the Economic Survey 2019-20 signed up on the portal in less than a month.
Of those who registered, around 57 percent – 65,35,956 people – are men and around 43 percent – 49,81,922 people – are women. However, it did not have a transgender category, a community that suffered greatly during the Covid-19 pandemic.
Around 47 percent (5470831 registrations) belong to the 25-40 age group. Moreover, a whopping 18 percent (2123430 registrations) of the registrations included individuals from the 16-25 age group.
Earlier, the 'State of Working India 2021' report by Azim Premji University said that only three out of 10 students in rural India were attending online classes while four out of 10 students availed online classes in urban areas by October-November 2020. As many as 43 percent of children interviewed for the report said they could not attend functional classes due to lack of internet connection or a smartphone. Another 24 percent of interviewed children said their parents could no longer afford to send them to schools.
As per the Ministry of Labour and Employment, eSHRAM is the first national database that details worker's name, occupation, address, educational qualification, skill types and family details etc. for optimum realization of their employability and related benefits. It may be mentioned that as per the portal's data, 20 percent (23,29,876 people) of the registered people do not have Aadhar-linked bank accounts.
The report spoke about how women often suffer due to such linking difficulties, especially because women are not informed about the need to link their documents with their bank accounts. Surveys found that 26 percent of poor women live more than 5 km away from the nearest bank or ATM.
The portal said that the four states with the highest registrations, Bihar, Odisha, Uttar Pradesh and West Bengal registered over 11 lakh people each. Further, over 20 states and Delhi city recorded over 10 thousand registrations.
Regarding occupations, the portal stated that the highest registrations came from the agriculture sector followed by construction sector and domestic and household sector. Agriculture accounted for over half the registrations. The former two occupations were called 'fallback sectors' in the University report.
Following the Covid-crisis, education, health and professional service sectors saw the highest outflow of workers. Around 18 percent of the education workforce switched to agriculture.
However, NSO data from 2019 stated that even before the pandemic started the income from farming, including livestock, was not significantly higher than income for an agricultural household from other sources like wages and non-farm business.
Related:
India's workforce demands fiscal support following the second wave of Covid-19!
92 percent of India's workforce faces historic and unprecedented crisis: SWAN report
India's dairy farmers face another harsh summer – but not because of the heat
Provide ration, transport, community kitchens for migrant workers: SC