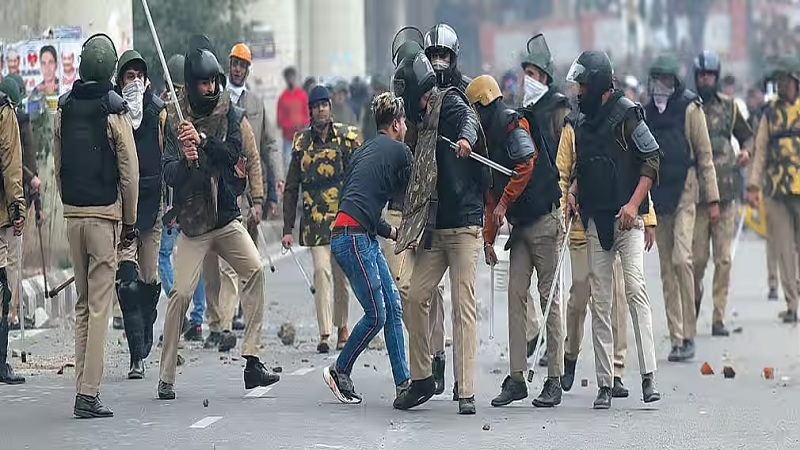 Image Courtesy:nationalheraldindia.com
In the ongoing Budget Session, the Minister of State for Home Affairs, G. Kishan Reddy provided the Rajya Sabha with statistics on registered cases against police personnel regarding violation of human rights and atrocities against people in the country.
His written statement stated that the National Human Rights Commission (NHRC) registers cases for the alleged violation of human rights under the Protection of Human Rights Act, 1993. During the last three years, the Minister said that NHRC has recommended monetary relief of over twenty crores in 784 cases, disciplinary action in 48 cases and prosecution in one case, across all States/Union Territories.
Interestingly, the number of registered cases against police officials show a declining trend from 2017 to January 15, 2021 as under:
2017 to 2018: 26,391 cases
2018 to 2019: 28,342 cases
2019 to 2020: 17,229 cases
2020 to 15.01.2021: 11,130 cases
The figures from Uttar Pradesh exhibit the horrifying state of affairs with a staggering 15,426 cases registered in the year 2017 to 2018, followed by 16,414 cases in the year 2018 to 2019. The numbers see a dip in the next two years, but stand at a whopping 9,417 and 5,388 cases respectively. It has also been consistent in topping the list of cases registered by the NHRC.
In a bid to end custodial torture, which is a human rights violation by the Police, the Supreme Court of India last year, passed a detailed and specific order directing states and the centre to take concrete steps towards ensuring that every police station in the country and all investigating agencies have CCTV cameras in their premises.
This landmark decision was delivered in the backdrop of the Punjab & Haryana High Court's order which held that the petitioner's son's illegal detention by the Police was a violation of their Right to Life under Article 21 of the Constitution.
The report filed after the custodial torture and subsequent death of a father son duo in Tamil Nadu in 2020, revealed gory details of the brazen dereliction of duty by the police and callous behaviour of jail authorities. The Odisha Police had also come under sharp attack in November last year, after the alleged custodial torture and death cases in Puri, Birmitrapur and Pipili that also compelled the NHRC to intervene.
The answer may be read here:
Related:
End Custodial Torture: SC's new comprehensive directions on CCTVs in police stations
TN custodial death report indicts police, hospital staff and jail authorities
Disarray in Odisha over custodial violence cases