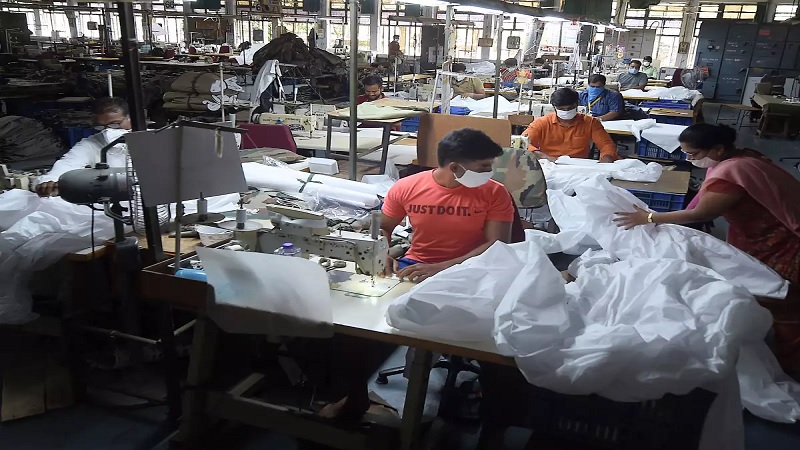 Image Courtesy:timesofindia.indiatimes.com
Following several weeks of protest, over 1,200 Indian garment workers formerly fired by Karnataka's H&M supplier during the coronavirus lockdown, will return to work, said Telegraph on February 14, 2021. The rehiring decision is considered a historic win for labour unions.
Garment manufacturer Gokaldas Exports Limited agreed to re-employ 1,257 workers, including many women, who were laid off when the company closed a factory near Mysore in June 2020, said two Indian unions and global federation IndustriALL. At the time, the company said that H&M order cancellations led to the factory's closure. However, the giant brand denied this and stated that it paid for all products as agreed.
Union said the lay-offs were illegal under Indian labour law because Gokaldas's management had not engaged with the state government before closing the factory, as per a December 2020 report by the legal research group Alternative Law Forum. They criticised the Indian manufacturer for "union-busting".
In February 2021, the company signed an agreement with the organisations that allowed the Garment and Textile Workers' Union (GATWU) to negotiate in any factory where at least 20 percent of workers were members. The document has not been made public yet.
Gokaldas, which calls itself India's largest clothing manufacturer and exporter said on its website that it hires more than 25,000 people at 20 factories. It's biggest buyer Swedish retailer H&M said the agreement was "positive" but declined further comment because it was not a signatory to the pact.
GATWU legal advisor Jayaram K. Ramaiah told Reuters that the agreement can set an example for other manufacturers. He praised the workers for protesting for several weeks.
"We want to take this beyond the present victory… to create a model factory and a harassment-free environment for all workers. This is just the beginning," he said.
As per the agreement, laid-off workers will return to work in other Gokaldas factories by August. India's multi-million-dollar garment industry employs at least 12 million people. However, it has faced scrutiny over the years for labour rights abuses and advocates fear the coronavirus pandemic can put further pressure on suppliers, leading to greater worker exploitation.
According to IndustriALL, the Gokaldas factory in question was the only one among more than 20 facilities which was unionised. In several garment-producing countries such as India, Cambodia and Myanmar, activists say factories used the economic fallout from the pandemic as an excuse to fire union members while keeping non-unionised workers.
In response to questions about the Gokaldas factory, a spokesperson for H&M said the retailer would continue to strengthen freedom of association in its supply chain.
According to the Centre of Monitoring Indian Economy (CMIE,) job recovery in the manufacturing sector continues to be modest even by January 19, 2021. The sector accounted for 40 million jobs in 2019-20. In the first quarter this dropped to 24.6 million jobs to 27.1 million jobs in the second quarter and then to 28.8 million jobs in the December quarter. The shortfall stands around 11.4 million jobs. The CMIE stated that every major manufacturing industry, except pharmaceuticals, employed less people in all three quarters of 2020-21 compared to the employment in 2019-20.
Meanwhile, of the hundreds of workers who protested for about 50 days after the mass firing, 50-year-old GATWU member Padma said that after a decade's employment at the factory, the protests were "the most difficult I have ever been part of."
Padma hopes that the recognition of their union will speed resolution to future issues through talks but stated that this issue should not have required such a long protest.
Related:
Over 300 workers booked in Malerkotla for demanding full wages
Delhi's workforce voices their grievances at DRRAA's Hunger Hearing
Why is the government still ignoring migrants' lives?
No data to check unemployment rate in last 12 months?
National Unemployment Day: Youth demand jobs, financial security