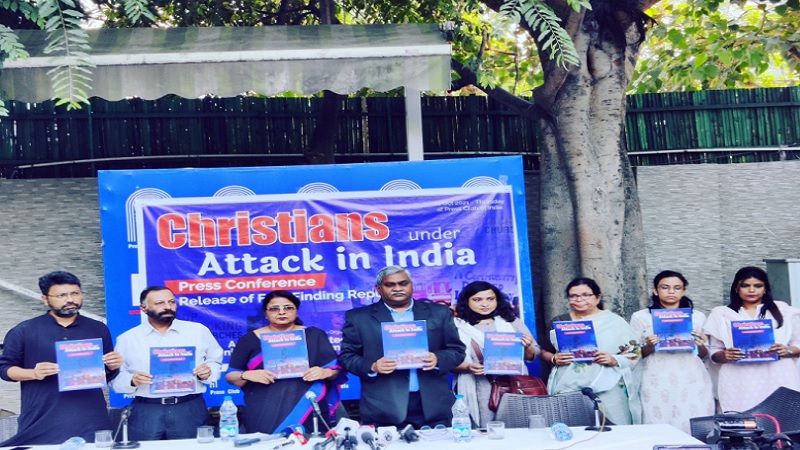 Image Courtesy:thewire.in
The Washington-based international persecution watchdog Open Doors, has noted that persecution of Christians in India is now "extreme" having increased significantly over the past five years, and has now "remained relatively unchanged for the past year" adding that "the Covid-19 pandemic has offered a new weapon for persecutor". It puts on record how Hindutva mobs "believe that all Indians should be Hindus, and that the country should be rid of Christianity and Islam" and thus "use extensive violence to achieve this goal."
For weeks, news reports have elucidated that the Christian community has been targeted with surveillance, vandalism, attacks, social boycott etc., across the country. These attacks have taken place across 21 states, and many are in areas which have often gone under the news radar. Many attacks have been reported from Uttar Pradesh, Karnataka, Uttarakhand, Chhattisgarh, and other places. According to two recent fact finding reports on the situation, there may have been nearly 300 such cases recently. Most of the incidents are reported from North Indian states with around 288 instances of mob violence.
Christians under Attack in India: Joint fact-finding Report
A report titled Christians under Attack in India: Joint fact-finding Report was compiled jointly by United Against Hate, Association for Protection of Civil Rights and United Christian Forum. It puts on record attacks against Christians in UP and other parts of the country, and states that 305 incidents of such violence have been reported on UCF toll-free helpline number 1-800-208-4545, this year alone. The highest number of 69 incidents were reported to the helpline in September 2021, this followed 50 cases in August, 37 in January, 33 in July, 27 in March, April and June, 20 in February and 15 in May. "Uttar Pradesh, Chhattisgarh, Jharkhand and Madhya Pradesh recorded 169 incidents of Violence against Christians in total in the last nine months with Karnataka with 32 incidents of hate incidents against Christians" stated the report adding. Over 2000 women, tribals and Dalits were injured in these incidents.
One of the biggest attacks by Hindutva mobs was on a Church in Roorkee, Uttarakhand on October 3. Soon after the attack, SabrangIndia's sister organisation Citizens for Justice and Peace, wrote to the National Commission for Minorities (NCM) to take cognisance of the various church attacks by alleged right-wing outfits in various states.
At the release of the joint report, survivors Pearl, Sadhana and Eva, described how "a mob of around 300 people, barged in the church and vandalised it. CCTV cameras were destroyed, Christian worshippers molested and beaten." According to them "the attackers were people from the neighbourhood and well educated" and yet "no arrests have been made and the harassment hasn't stopped even after two weeks of the violence." The Fact Finding Report stated that "despite prior complaints by Lance family Roorkee Police did not provide security to the Church and family prior to attack, at the time of attack police were informed and calls were made to Civil Lines police station which is less than a kilometer away from the Church but the police team arrived when the violent mob dispersed on its own after the attack and prima facie attack looked meticulously planned to build a fake narrative of conversion."
The report also records the testimonies of victims of 89 other incidents of hate crime against Christians and quotes from SabrangIndia reportage of Hindutva mob attack on Christians at Mau.
The report may be read here:
[please insert PDF Christians under Attack in India: Joint fact-finding Report]
Vigilantism and Attack on the Freedom of Religion in Meerut
A report titled Vigilantism and Attack on the Freedom of Religion in Meerut by activists Irfan Engineer Director, Centre for Study of Society and Secularism, and Vineeth Srivatsava Bhagyanagar, a PhD scholar from JNU, records in depth the communal violence in Meerut, Uttar Pradesh. The authors recently visited Meerut, a busy town just about 70 kms from the National Capital Delhi. According to the 2011 census, Meerut has a population of around 1.42 million. The historical city is said to be the place where the 1857 rebellion originated is a busy town with a mixed population. The report cites that "Hindus account for 63.40 per cent of the population and Muslims about 34.43 percent. People practising Christianity, Buddhism, Sikhism, Jainism and other faiths are less than two per cent of the total population of the district. Meerut has also had a history of communal riots, mostly "Hindu-Muslim riots".
Now an additional targeting of Christians, Dalits, and Adivasis have been reported, after 2014. Hindutva mobs have "disrupted prayer meetings in Christian households and private gatherings accusing them to be meetings for religious conversions." The activists met locals, who spoke about an alleged "Police and vigilante nexus" sharing that "Bajrang Dal leaders and members often get away with their actions unchallenged. It was found in our investigation that police played a dual role in such instances." Irfan Engineer told SabrangIndia that this was the first report and that more visits to Meerut will be undertaken to put on record the latest incidents of communal attacks on minorities.
The report on the history of the communal violence in Meerut, may be read here:
Related:
Survey of Churches, anti conversion laws only empower radical mobs: Archbishop Peter Machado
Chhattisgarh: A dead woman's 'ghar wapsi' before final rites were allowed
Hate Watch: Right-Wing group sing bhajans in Karnataka church as "protest"
CJP approaches minorities commission over attacks on Christian nuns, prayer