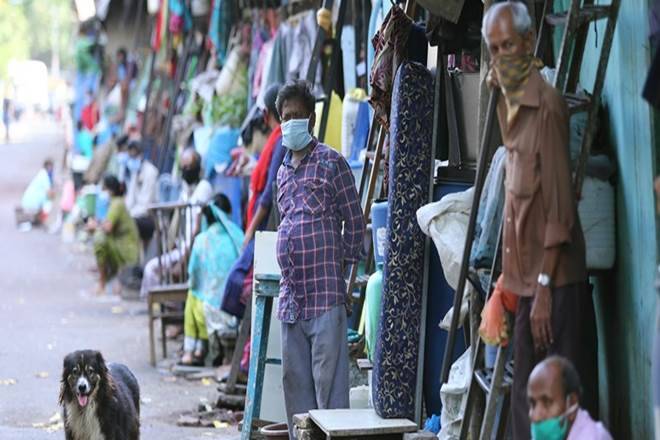 As per a recent survey by the Brihanmumbai Municipal Corporation (BMC) the coronavirus has spread to 57 percent of people living in slum areas of Mumbai. The prevalence in non-slum areas stood at 16 percent suggesting that perhaps greater population density and shared spaces like toilets and water taps led to higher infection rates in low Income neighbourhoods.
The study also found that women had marginally higher immunity to the disease while asymptomatic carriers caused a bulk of the infections. However, in a refreshing finding, the Infection Fatality Rate (IFR) was found to be low; ranging between 0.05-0.10 percent. This could be an indicator of an improvement in what is termed as 'herd immunity' or the immunity of the population as a whole. While the theory, on account of its comfort factor, may have become popular, medical experts don't seem to agree.
Dr Prasun Chatterjee, Associate Professor, Department of Geriatric Medicine, All India Institute of Medical Sciences (AIIMS) told ANI, "This pandemic cannot be overcome by thinking that tomorrow we will have herd immunity. Herd immunity has failed in the UK. There is no point in saying that India has developed herd immunity. We have tried to contain the virus through the lockdown."
It is still worrying that out of India's over 2 million confirmed cases, Maharashtra has over 4,80,000 confirmed cases so far, higher than the total number of cases in Mexico! India as a whole meanwhile recorded over 60,000 new cases for a second straight day. Out of these 10,483 were in Maharashtra alone.
The SARS-CoV2 Sero-prevalence study in Mumbai involved the collection of 6,936 samples out of an estimated 8,870 from the general population in three BMC wards; R-North, M-West and F-North (Dahisar, Matunga and Chembur). The study took place over a period of 12-14 days in the first half of July 2020.
The study was jointly commissioned by the Niti Ayog and the Tata Institute of Fundamental Research (TIFR). It was conducted in association with the Kasturba Molecular Diagnostic Laboratory, Translational Health Science and Technology Institute (THSTI), ATE Chandra Foundation and the IDFC Institute.
The report may be read here: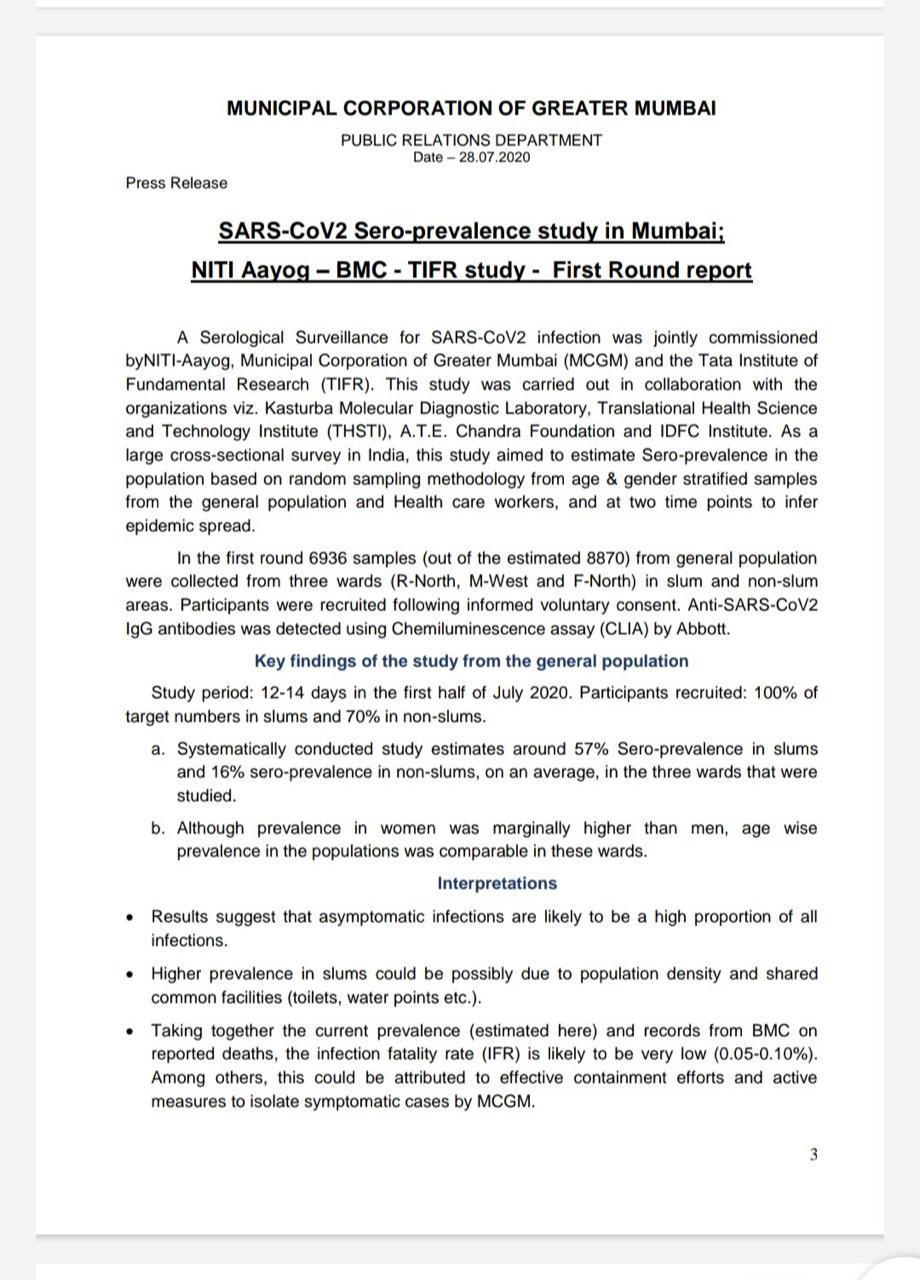 In light of these findings, some of the provisions of Mission Begin Again, that lays the framework of how the Mumbai Metropolitan Region steps out of the lockdown, appear to be a bit risky. For instance, from August 5, malls and market complexes being allowed to function from 9 AM to 7 PM. While theatres and food-courts there-in will not be allowed to function and restaurants will only be permitted to operate kitchens to provide home delivery, thereby still allowing multiple footfalls of shoppers at these malls. Rules related to marriages and funerals still allow for 50 and 20 people respectively.
Provisions of Mission Begin Again may be viewed here: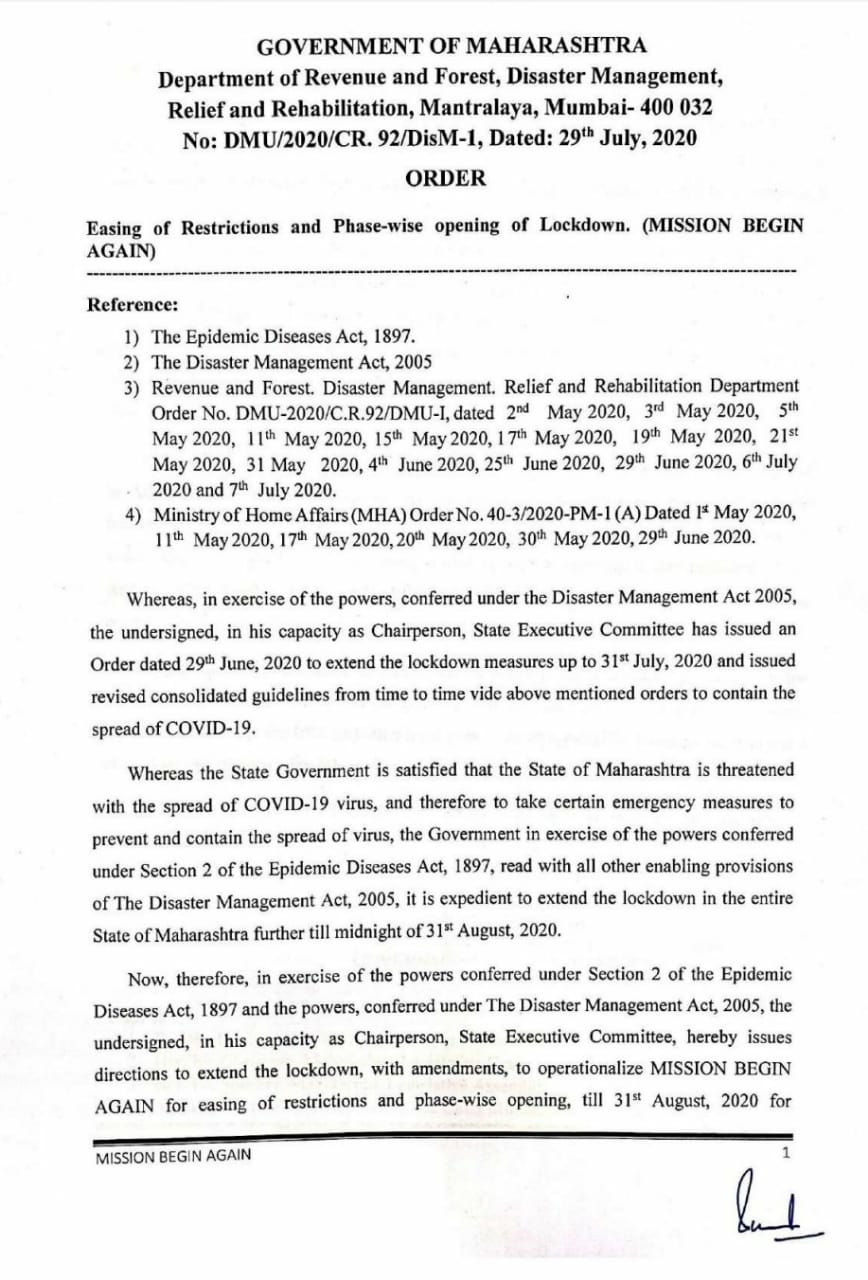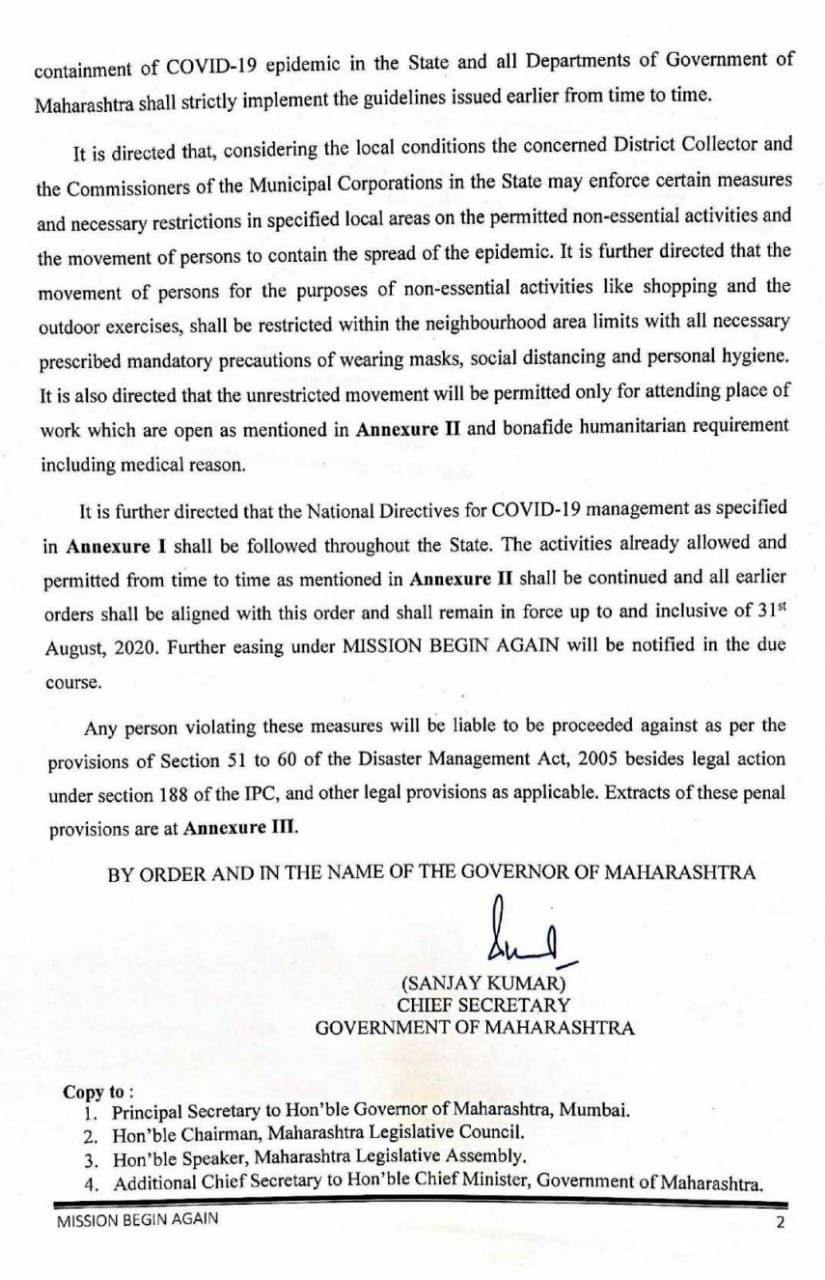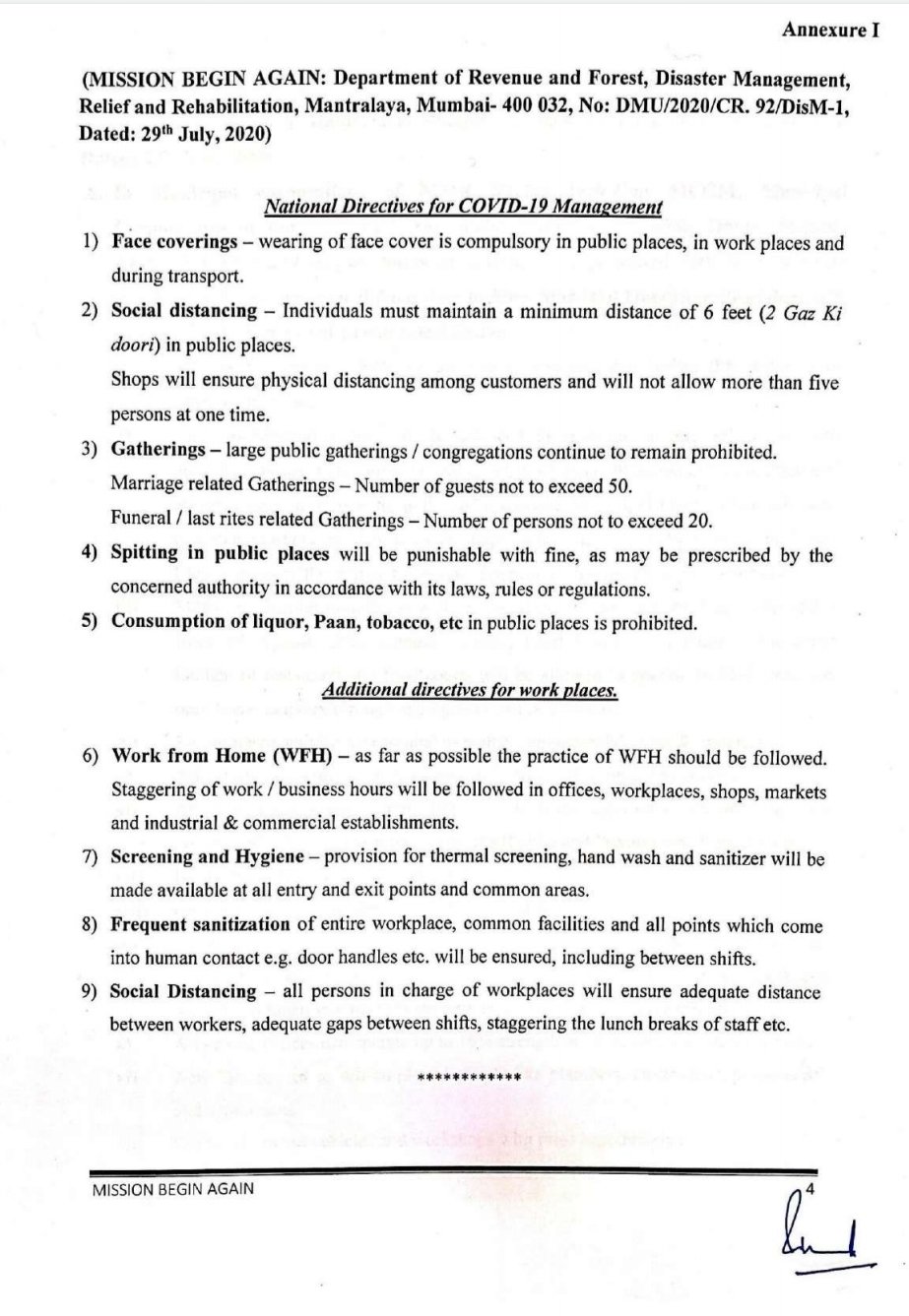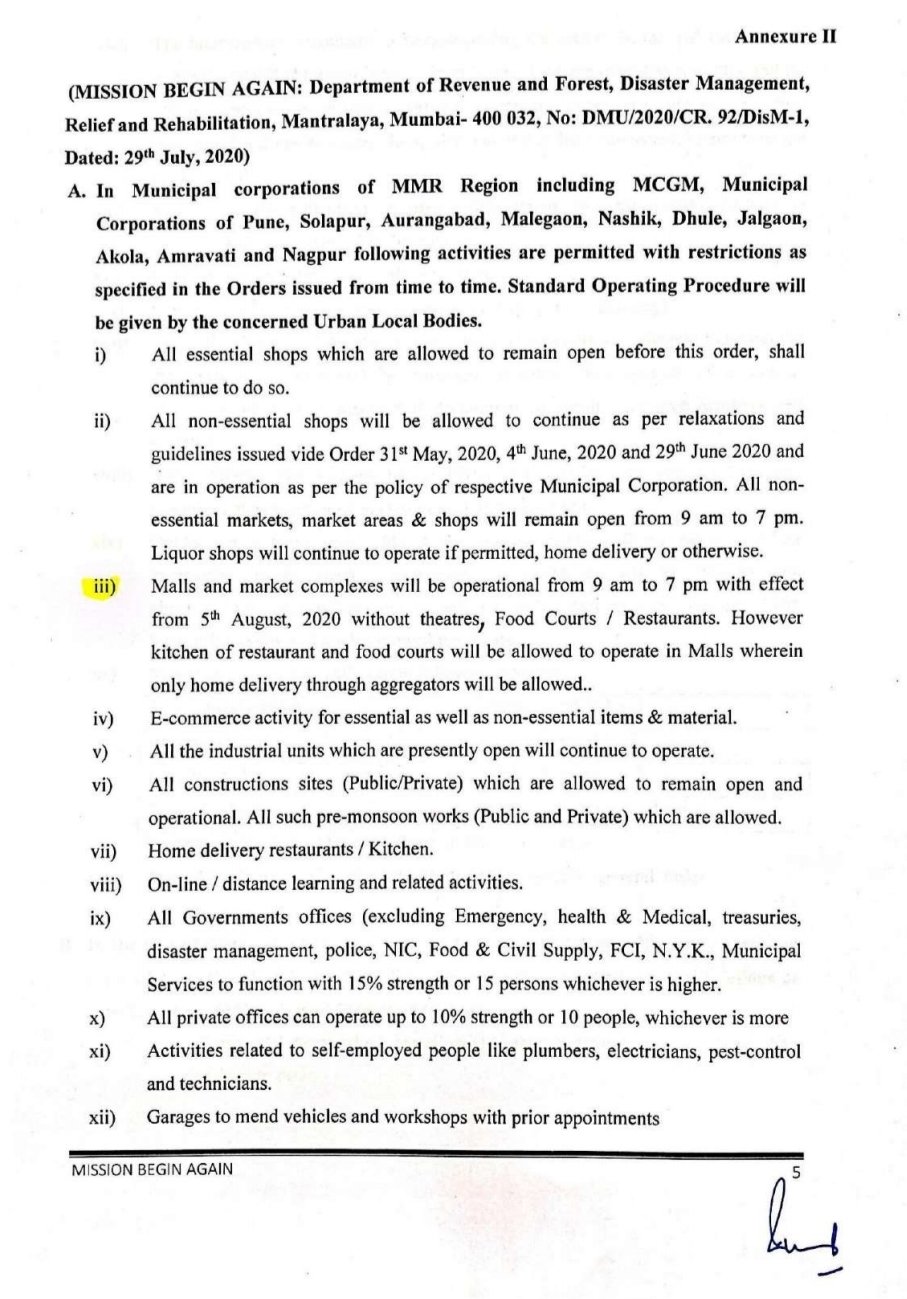 Related:
Corona warriors adorn walls of Mahim Jn
ASHA Workers on Covid-19 duty demand safety gear, healthcare, insurance