While India plays host to world leaders at the G20 summit, a darker reality persists within the nation. In just the first eight months of 2023, 525 incidents of violence against Christians have been recorded across 23 states, according to new data released by the United Christian Forum, a civil society organisation based in Delhi. This figure already surpasses the total number of incidents that occurred in the entire year of 2022, indicating a worrying trend for the future of minorities and democracy in India.
States with violence prevalent 
While incidents of violence have been recorded in 23 states, with June marking the highest number at 89, followed by July with 80, and other months contributing to this grim statistic, 13 districts in in 3 states in India have emerged as dangerous zones for practicing Christianity. The three largest states in North India are witnessing the highest number of incidents against Christians, with Uttar Pradesh leading at 211 incidents, followed by Chhattisgarh with 118 and Haryana with 39 incidents.
These incidents are often the result of mob violence perpetrated by so-called vigilante groups, with alleged support from influential figures, including politician the region.
Bastar tops the list with 51 incidents, followed by 14 each in Kondagaon and Azamgarh, and 13 each in Jaunpur, Raebareli, and Sitapur. In addition, 12 incidents were reported in Kapur, 10 each in Hardoi, Maharajganj, Kushinagar, and Mau, and 9 each in Gazipur and Ranchi.
The situation goes beyond physical attacks as the report notes that there around 520 Christians have been arrested on accusations of forced conversions without any concrete evidence. Additionally, 54 cases of social boycott of Christians have also been reported, mainly in Chhattisgarh and Jharkhand.
Even the national capital and its accompanying regions, Delhi NCR, have not been immune to such incidents, with four recent recorded cases of religious extremist groups disrupting prayer meetings through physical assaults and threats.
The UCF has been closely monitoring these incidents and it further notes that this report excludes details from Manipur, where media reports indicate over 300 churches have been destroyed, nearly 200 people have died, and over 54,000 have been displaced since May 3, 2023.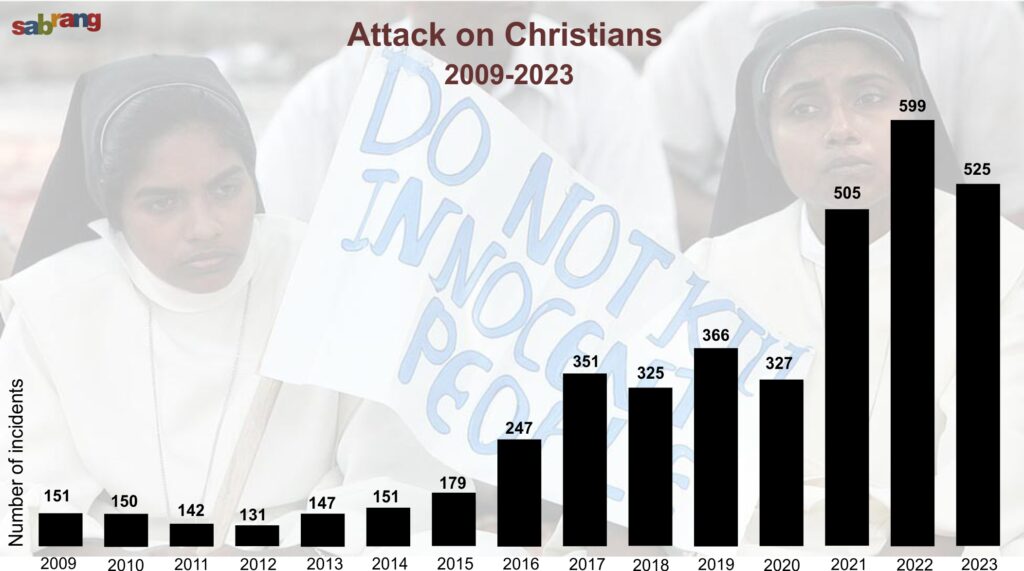 Supreme Court Petition
In light of these rising threat to safety of Christian minorities, the UCF petitioned the Supreme Court and thee apex court is set to address the issue on September 12 2023, later this month. The UCF has submitted in its petition to the apex court concerns about the rising number of attacks and unjust legal actions against members of minority communities, to which on April 13, the Central government informed the Supreme Court that it believed the reports of increasing attacks were unfounded and aimed at perpetuating an "exaggerated" and deceptive narrative.
The advocate Colin Gonsalves has further submitted an interim prayer on behalf of the petitioners, requesting the formation of a Special Investigation Team comprising officers from outside the respective states to register FIRs, conduct investigations, prosecute the perpetrators, and provide police protection for Christian community prayer meetings, and offer legal aid to the victims. The next hearing, soon to arrive, is something that will hold great weight for the future of all religious minorities and social justice in India.
Speaking to Sabrang India, National Coordinator for the UCF, Mr AC Michael has stated, "The government or courts of law should provide proof for the claims about alleged cases of forceful conversion. They should provide, data and numbers to back the claims made. Secondly, regarding the brazen attacks and violence, the police should be sensitised and trained to deal with these cases. What is actually happening is the police arrests innocent victims on charges of forceful conversion, on which there is actually no data. The Christian population has remained the same as has been recorded in the government population censuses. In fact, I am hearing these days' reports about the Christian population witnessing a decline." These are questions put by minority leaders to the government, as the government has often made allegations of forceful conversions that go hand in hand with the rhetoric used by right-wing Hindutva leaders.
However, available data does not support such claims. According to a survey by Pew Research Institute, approximately only 0.4% of adults in India are Hindu converts to Christianity. Despite this India has enacted various laws against conversion. In total, only 2% of respondents in the survey reported following a different religion than the one they were raised in, with 0.4% being converts to Christianity. Additionally, the research found that Hindus tend to both gain and lose followers through religious switching, with 0.7% of respondents having been raised as Hindus but identifying with a different religion now, and 0.8% having been raised in a different faith but now identifying as Hindu.
India's ruling regime has faced criticism in India and abroad. During Prime Minister Modi's visit to Washington, DC in June earlier this year, Indian Americans, along with leaders from civil rights and interfaith movements, assembled in front of the White House to protest not only these attacks but also the Indian government's growing restrictions on the press and civil society. US politicians too have critiqued India for allowing such attacks to take place. For instance, during the same week, former US President Barack Obama cautioned that if the Indian government didn't take steps to protect the rights of ethnic minorities, there was a significant chance that India might experience more intense divisions. At the same time as the PM's visit, US politicians such as Pramila Jayapal and Senator Chris Van Hollen, along with 73 congressional members, called on PM Modi to prioritise the protection of human rights and democratic values in India during their upcoming meeting in a letter addressed to President Biden.
Related: 
120 Churches destroyed, Christians insecure: Manipur
Anti-Christian violence: Forcibly preventing prayer, raiding homes in Chhattisgarh, MP
Under Guise of Religious Conversions, Attacks by Hindutva Groups Worsen Situation for Christians in India