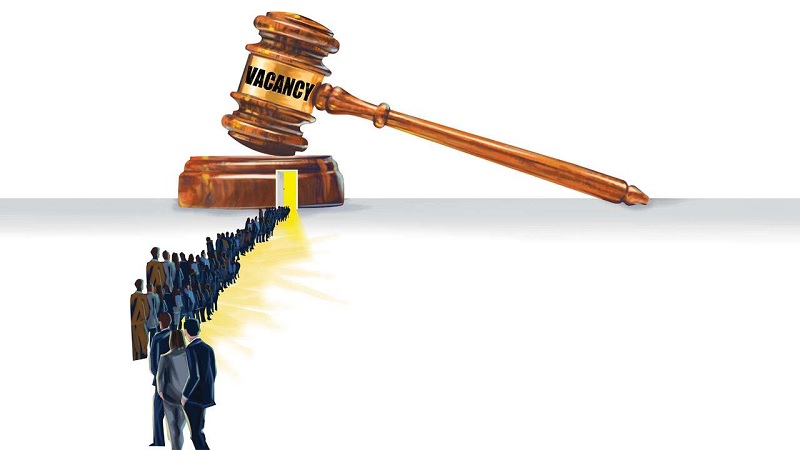 Image Courtesy:dnaindia.com
The Lok Sabha was informed today, on July 28, that Uttar Pradesh has the highest number of vacancies in terms of judges. Against a sanctioned strength of 3,634 judicial officers, there are merely 2,581 filled positions, leaving 1,053 positions vacant.
Taking into account the district and High Courts across all states and Union Territories (UT), 5,132 positions are vacant against the sanctioned strength of 24,368. The total number of vacancies has increased since 2019 when 4,911 were vacant to 2020 when 4,928 vacancies existed. After Uttar Pradesh, Bihar is the worst performing State with 533 vacancies, followed by Madhya Pradesh at 435, Gujarat at 385, and Haryana at 284.
National Capital Delhi (183), Karnataka (266), Jharkhand (145), Maharashtra (250), Odisha (208), Rajasthan (257) and Tamil Nadu (271) also have a dearth of judicial officers with their respective vacancies.
As on July 20, 2021, the Supreme Court of India also has a shortage of judges with 8 positions vacant, with no new appointments made in 2020. With respect to the 25 High Courts in the country, 454 posts are vacant. This figure has increased since February 2021 where the then Law Minister, Ravi Shankar Prasad, had stated that there were 419 vacancies of judges across all High Courts. Allahabad High Court has the highest number of vacancies at 66 and the lowest is Tripura at 1. Only 4 judges were appointed to the Allahabad High Court last year. The High Courts of Meghalaya, Manipur and Sikkim have all their positions filled.
Having an inadequate number of judges directly impacts the life cycle of cases leading to higher pendency levels. This is one of the biggest drawbacks of our criminal justice reforms. The pandemic has further exacerbated this issue, with courts just taking on urgent matters.
Uttar Pradesh, which has the highest number of vacancies, also has a huge pendency level. In a written answer provided by Law Minister Kiren Rijiju on July 28, the Allahabad High Court has 4,51,406 pending criminal cases and 5,68,987 pending civil cases. The subordinate courts have an even higher backlog, with over 18 lakh civil cases and a whopping 74 lakh pending criminal cases.
The answers may be read here:
Related:
Over 400 High Court judge posts vacant, 56 lakh pending cases: Law Ministry
Role of courts in delayed justice: Article 21 violation