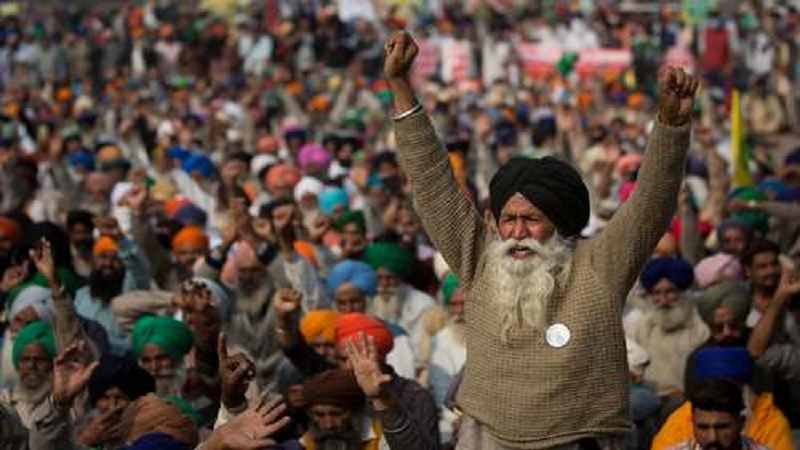 Image Courtesy:dawn.com
As many as 128 participants of the farmers struggle died between May 26, 2021 and September 21, 2021, said the farmers group Samyukta Kisan Morcha's (SKM) 'Human Cost of Farmers Protest' blog.
This takes the total death toll to 605 people, who have died since November 24, 2020, when the Delhi Chalo campaign first started in India. Each of these individuals had travelled to the national capital's borders to demand the repeal of the three farm laws – Farmers (Empowerment and Protection) Agreement on Price Assurance & Farm Services Act, the Farmer's Produce Trade and Commerce (Promotion and Facilitation) Act, the Essential Commodities (Amendment) Act – the Electricity (Amendment) Bill 2021 and the legalisation of MSP among other demands.
While 12 farmer deaths were reported by October, 2020, the SKM said that at least three more people died during the Bharat bandh on September 27 due to heart attacks. The SKM said details regarding their deaths will be shared soon.
In May, farmers had reported 31 suicides recorded in Punjab, Haryana and one death in Tamil Nadu of farmers. In the last four months, farmers have recorded only two more of such deaths.
Still, farmers have tagged various suicide helpline contacts such as Aasra NGO's number 9820466726 and email id aasrahelpline@yahoo.com to lessen such cases.
Further, in 10 months of border protests, the SKM reported its first female martyr on August 2, 2021. The 86-year-old activist Rajinder Kaur fell ill at the Singhu border after she travelled there from Muhawa village in Amritsar, Punjab. While she did not own any land, she still voiced her solidarity with the farmers of India.
Farmers leaders said that they will continue maha panchayats and local-level meetings until their demands are accepted by the central government.
Related:
Over 470 farmers martyred but farmers stand resolute against anti-people laws!
Kisan Shaheed Smarak: A memorial to those who died during the nationwide farmers' protest
Farmer Navreet Singh's death not due to gun-shot injury: Police to Delhi HC
144 peasants died during farmers' struggle since November 24, 2020