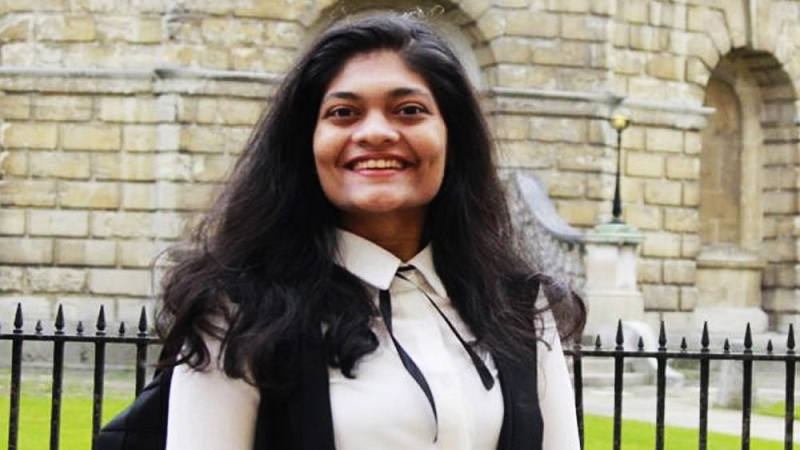 Image Courtesy:thelogicalindian.com
Rashmi Samant, who came into the spotlight after she was asked to resign from her post as Oxford Student Union (OSU) president has been in the news all this month, and now has become a 'cause' that scores of right wing 'influencers' have also taken up and are amplifying over social media, most effectively on Instagram and Twitter and have now branded it as a case of "Hinduphobia".
Rashmi Samant, who had become the first Indian woman to told the post of the OSU president, had resigned after old social media posts where she made racist and anti-Semitic comments surfaced. However, she claimed she was bullied and was a victim of "racism and Hinduphobia".
A couple of weeks ago, the issue was even spoken about in Rajya Sabha by India's External Affairs Minister of India by Dr S Jaishankar who said the government will "never ever turn our eyes away from racism. Particularly so when it is in a country where we have such a large diaspora. We'll take up such matters with great candour when required". The issue was raised by Ashwini Vaishnaw, BJP MP in the Rajya Sabha who said this "appears to be a continuation of attitudes and prejudices from the colonial areas, especially in the UK."
"As land of Mahatma Gandhi, we can never ever turn our eyes away from racism. Particularly so when it is in a country where we have such a large diaspora. We'll take up such matters with great candour when required": Dr S Jaishankar on Oxford University's racism row (ANI) pic.twitter.com/lZm9HO2tmn

— NDTV (@ndtv) March 15, 2021
It was unusual to see a Union minister debate a student union controversy originating in a foriegn university in the Indian Parliament. However, it was the biggest boost to the issue for the right wing inclined media, and social media influencers to make it an "Indian" matter where they alleged that it was a case of "Hinduphobia". A case in point were social media 'influencers' who go by the name Abhi and Niyu and have 1.7 million followers on Instagram, nearly 70,000 on Twitter, and 12.9 lakh subscribers on Youtube. Their video making this allegation is still circulating on social media, and whatsapp groups, amplifying the unproven allegations of Hinduphobia.
@Rashmidvs was the first President-elect of #Oxford Student Union till she was bullied to such an extent that she had to resign. Her Twitter was suspended and even her parents were dragged in coz they are Ram devotees. This needs to reach masseshttps://t.co/gbPcVqqwcs pic.twitter.com/9VHyqUazhs

— Abhi and Niyu (@abhiandniyu) March 14, 2021
According to a factcheck by Boomlive, Samant, an MSc student at Oxford's Linacre College, was elected as the first Indian woman president of the Oxford Student Union on February 11, in a "landslide victory". In her campaign, she had "promised to lobby for decolonising the University and the syllabi, tackling homophobia and transphobia, increase funding for mental health programs for students and get the University to waive residency requirements for students until the WHO declared the end of the Covid-19 pandemic."
However, student politics is politics too, and soon her old social media posts where she made "racist comments" were discovered. According to the report the "Samant attempted to make a pun on the Holocaust in a 2017 Instagram post. Posing in the Berlin Holocaust Memorial, Samant used the caption "The memorial *CASTS* a *HOLLOW* dream of the past atrocities and deeds. Reflecting on it gives us the power to live with the past vouching for a better future. #holocaustMemorial #uniqueArchitecture".
More such posts then surfaced and Samant was reportedly called out for these posts attributed to her. As the issue and her resignation gathered steam online, she later wrote an opinion in News 18 that she quit because her "values taught me to be 'sensitive': sensitive to the feelings of the people who reposed faith in me, sensitive to my convictions that above all we need to respect fellow human beings, and sensitive to the welfare of the student community that deserves a working SU, and at the personal level, sensitive to the effects of cyberbullying that is targeted against me in name of 'sensitivity'!"
Samant wrote that she was wrongly called "insensitive and racist" based on her older social media posts, adding that "those posts are not a reflection of my hatred towards communities. They were the posts of a teenager who just had access to the world of social media. I again reiterate my apology to those genuinely hurt for my ignorance but not to those with malicious intent who targeted me on 'insensitivity'." She alleged that even her apology got "vile reactions" and that she was "discredited and bullied (often through anonymous messages with comments on my race, the colour of skin and upbringing) in various ways in social media."
According to Samant, "The incessant bullying drove me to catch the first flight home to India." Though here she did not claim that this was an attack on her as a Hindu, this is when the right wing eco system seems to have stepped in and taken over the issue. Samant was soon invited on television news shows and scores of right wing individuals spoke up for her, and sometimes for her. She soon began amplifying all those opinions as well.
No Hindu should ever go through the humiliation and harassment that I did, including you!!! It has to stop now!!! https://t.co/AvLc819WVz

— Rashmi Samant (@Rashmidvs) March 5, 2021
However, as reported by Boom and others the Oxford SU Campaign for Racial Awareness and Equality (CRAE) were not convinced by Samant's explanations and issued a statement: "The repetitive and sustained nature of Ms. Samant's actions suggest considerable ignorance at best, but active discrimination at worst. The President-Elect has demonstrated unwillingness to take accountability for her actions, which we believe to be a crucial aspect of self-education and making amends."
Samant announced her resignation on Facebook on February 16 and reportedly apologised for her actions in a statement: "I fully accept my error in not appropriately researching topics before posting about them. In the almost five years since this post, I have changed as a person, scholar, and activist; I am sure many other people have experienced drastic change in themselves and their personal lives in a five-year period. I reaffirm my commitment outlined in my campaign manifesto to continually learning, changing, and bettering myself to serve in this position as well as possible," she added.
Meanwhile, UK police and Oxford University have begun investigations after receiving complaints about the bullying of Rashmi Samant. According to a news report in the Times Of India, "Dr Abhijit Sarkar, an Indian-origin postdoctoral researcher at Oxford University, put up an Instagram post and a photo of her parents indicating they are Hindus, saying: 'She has come to Oxford from Karnataka, which is a bastion of Islamaphobic far right forces… Far right desi forces … want to reinstate sanatan Hindutva culture … Oxford students are still not ready for 'Sanatani' president."
A complaint was filed by British Indian Satish Sharma, managing director of the global Hindu Federation, has filed a police complaint on Samant's behalf accusing Sarkar of inciting religious hatred and bullying and harassment. The TOI reported that UK police confirmed it was investigating an alleged hate incident. Samant has initiated her own complaint with Oxford University about Sarkar.
The news report quoted a Oxford University spokesperson who confirmed the investigation and said the university was fully committed to creating an environment where Hindu students and staff can feel welcome, saying, "We have strong policies in place to protect our students and staff against all forms of harassment. An investigation is ongoing."
Samant is now reportedly continuing her one-year masters online from India and has said she doesn't "feel safe going back to Oxford. I don't see any concrete actions by the university and the fact a faculty member has made a statement has emboldened other students who continue to make defamatory statements about me."
Samant has continued to claim that she had been a target of racism and 'Hinduphobia'. More fuel for "influencers" out on a right wing mission under various guises, using various tones and tenors so as to appear 'neutral'. The ones such as Abhi and Niyu have earlier made videos 'simplyfying' the farm laws, some on the 'science' behind religious practices, and even one titled "The Truth about veer #Savarkar" where they say "it is so sad that people don't know about his contribution! Let's say Thank You to him on his birthday".
Related
A lady dressed in ripped jeans rips apart eternal 'Bharatiya' culture
Freedom of Religion and Christian minorities in India
What is India's stand on humanitarian aid to those fleeing Myanmar violence?
Battleground Bengal: So, is it Advantage Didi in Singur and its neighbourhood?