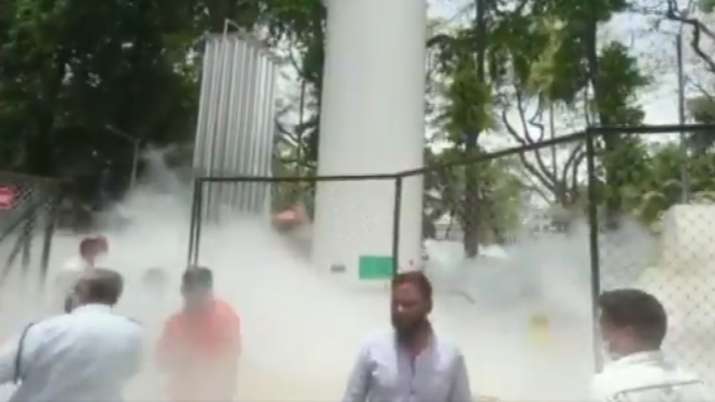 In the latest of a series of fires in hospitals since last August, at least 22 Covid patients have died at municipal corporation run Zakir Husain Hospital in Nashik after an oxygen tanker leaked causing shortage of supply
According to news reports, all the victims were on ventilators and in need of constant oxygen supply. Around 150 patients were either oxygen-dependent or on ventilators and 31 patients have been shifted to other hospitals after the tragic incident.
Maharashtra's Health Minister, Rajesh Tope told NDTV, "As per the information available with us, 11 patients who were on ventilators at the hospital in Nashik have died. The leakage was spotted at the oxygen tank which was supplying oxygen to these patients. The interrupted supply could be linked to the deaths of the 11 patients in the hospital."
The Cabinet Minister for Food and Drugs administration, Dr Rajendra Shingane told the media, "It's an unfortunate incident. As per preliminary info, we've learnt that 11 people died. We're trying to get a detailed report. We've ordered an inquiry as well. Those who are responsible will not be spared."
Some relatives of the deceased Covid-19 patients have alleged that the "lowered supply of oxygen" claimed the lives of their kin, reported The Live Mint.
Bharatiya Janata Party (BJP) leader and former chief minister Devendra Fadnavis was quoted saying by the media, "I demand that the other patients be helped and shifted if needed. We demand a detailed inquiry."
While politicians are bound to, given the climate in the country presently, jump in to point fingers,the Shrey hospital in Ahmedabad (August 2020) had a similar shocking fire wherein eight persons had died, all being treated for Covid-10. Then in November last year, Rajkot;s Uday Shivananda hospital saw a similar fire that claimed five lives and injured another six patients. In March this year, Mumbai's Sunshine hospital at Mulund claimed 10 precious lives. The issue of poor safety norms in clinics and hospitals is rarely addressed by the authorities.
With the rising infection rate in the State of Maharashtra with almost seven lakh active cases, the Uddhav Thackerey government is set to take a decision on a complete lockdown by today, April 21. Currently, Delhi is under a complete lockdown till April 26 and the Jharkhand government has imposed a one-week lockdown from April 22 to April 29.
The Maharashtra Government has also decided to cancel the 10th state board exams. Maharashtra School Education Minister Varsha Gaikwad told The IE, "The state government has taken the decision to cancel the 10th state board exams. The assessment of students will be based on internal assessment. Several states have taken a decision to cancel 10th board exams and promote students based on internal assessment. We wanted to bring uniformity in this policy. We are deliberating on how to address the issues related to deriving aggregate marks or grades."
Related:
Shrey Hospital Fire: The curious case of the missing phones
Shrey Hospital case: Victims' families demand CBI inquiry
Ayesha Tirmizi was recovering when her life was cut short
8 killed in Ahmedabad Covid-19 Hospital Fire
Another fatal inferno in Gujarat Covid hospital!
Facing outrage, Centre extends insurance scheme for Covid warriors