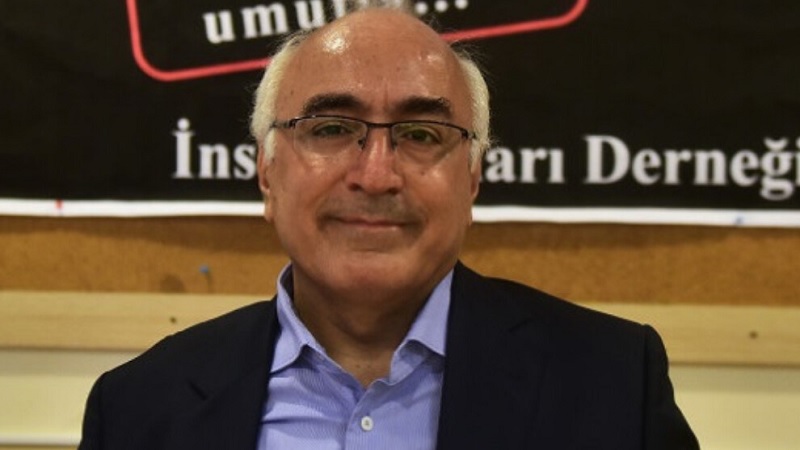 Image Courtesy:anfenglish.com
Öztürk Türkdoğan, Co-chair of Human Rights Association Turkey was arrested from his home on March 19. Amnesty International has demanded that he be released unconditionally and also remind the country's leadership of their "obligations to protect human rights defenders under international law."
Co-chair of the Human Rights Association (Turkey) Öztürk Türkdoğan, who was detained from his home this morning, must be released immediately.

Once again, we remind the authorities of their obligations to protect human rights defenders under international law. pic.twitter.com/R1AwHHdJmr

— Amnesty Turkey (@aforgutu) March 19, 2021
Öztürk Türkdoğan, is the President of Turkey's most prominent human rights organisation, and was arrested after police raided his home, police have reportedly detained ten other individuals as well.
Breaking news: Mr Ozturk Turkdogan, İHD president, was arrested by police officers. His house was raided this morning.
Our lawyers try to obtain information about this case.
His arrest is a blatant human rights violation.
He must be released now. pic.twitter.com/FDYx5WjJnC

— İHD Genel Merkezi (@ihd_genelmerkez) March 19, 2021
Amnesty International's Senior Research Adviser for Europe, Esther Major has called Öztürk Türkdoğan's arest outrageous and says it comes even before the ink has dried on the 128-page Human Rights Action Plan announced by Turkey's President Erdoğan two weeks ago. This arrest, she said, has exposed that "this document is not worth the paper it is written on." Amnesty has demanded that Türkdoğan "must be immediately and unconditionally released," adding that this arrest "makes a mockery of Turkey's hollow attempts to improve its image on human rights.
The most prominent human rights figure in #Turkey has been arrested, just 2 weeks after Turkey launched its Human Rights Action Plan @ihd_genelmerkez.
The arrest of Öztürk Türkdoğan makes a mockery of that document and he must be released immediately.https://t.co/XzvO4SYoeM ? pic.twitter.com/7VHccgeZpG

— Amnesty International (@amnesty) March 19, 2021
"Ironically Öztürk Türkdoğan, the head of the country's most prominent human rights organisation, was among those consulted by the Ministry of Justice before the drafting of the Action Plan," said Esther Major. Amnesty added that Turkey must end the "criminalisation of human rights defenders and of the Human Rights Association". It stated that the country "must abide by its international obligations to protect human rights defenders and facilitate their work."
Türkdoğan was arrested by "Turkey's anti-terror police". According to information shared on social media even lawyers have been barred from seeing him. International rights organisations have started calling world attention to this arrest.
This morning Turkey's anti-terror police detained Öztürk Türkdoğan, co-chair of the Human Rights Association, Turkey's oldest rights organization. Lawyers are barring from seeing him for 24 hours. He should be released immediately. Government attacks on rights groups must end. pic.twitter.com/Rx4d0yN4ZH

— Kenneth Roth (@KenRoth) March 19, 2021
Related
Swiss Vote for Burqa Ban and Its Reaction among Indian Muslims
20 years after they were destroyed, Bamiyan Buddha resurrected virtually
UN raises concerns about attacks on Human Rights Defenders
Convert Hagia Sophia As the Inter- Religious Faith Centre of Peace and Harmony