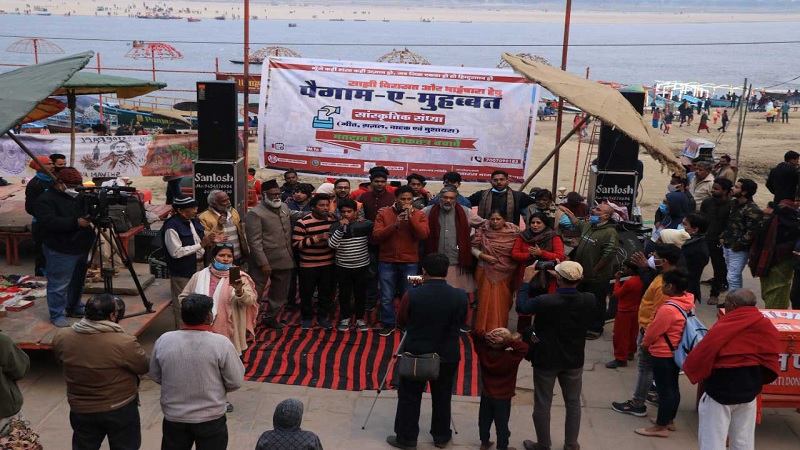 2022 started on a worrying note with extremist elements pasting communal posters all over Assi Ghat in Varanasi, Uttar Pradesh. However, this act of aggression failed to prevent secular-minded citizens from coming together at the same spot for Paigam-e-Mohabbat's mushaira event.
A citizen's initiative, Paigam-e-Mohabbat (Message of Love) is a Varanasi-focused campaign that aims to preserve India's composite culture and protect the communal harmony, something that comes under attack every time there's an election. The secular campaign is spread across 18 localities of Varanasi city and neighbouring villages. A coalition of organisations like the Vishwa Jyothi Sanchar Kendra (VJSK), Manav Rakt Foundation Trust (MRFT), Saja Sanskriti Manch, Lok Samiti and others planned the events for this movement.
"We feel politicians create religious divides, especially around elections for the sake of votes. In this, the composite culture and constitutional legacy of India is ruined," said MRFT Founder and organiser Abhu Hashim who was concerned about how discriminatory elements in Varanasi, divided places, colours, even vegetables by religion. For example, the colour green was blindly associated by Islam. Even the Ghat poster incident was borne from the same mindset as seen by the words, "This [non-Hindus not entering the ghat] is a warning, not a request."
"We do not want to ruin relations by listening to political speeches. So, we started this movement in November 2021 with oncoming UP elections in mind," said Hashim.
The coalition organised the rural play "Hunger vs Religion" a mute play wherein members of VJSK's theatre troupe Prerna Kala Manch portrayed how people fight about religion and ignore the hungry. Through the lives of a Muslim beggar and a Hindu beggar, the play shows how religion is used to divide when in fact the focus on hunger should help us unite.
"The play was a great success, especially at the Ghat. Local citizens and the floating population gathered to applaud and clap. Our cultural programmes were never interrupted," said VJSK Founder Fr. Anand.
According to Hashim, the campaign has inspired as many as 10 to 12 youths from Bhimnagar, Assi Ghat area and other places to discard their communal mindsets and join the campaign.
The secular people of Varanasi
Apart from the play, the Paigam-e-Mohabbat also organised mushairas (poetry events) where locally reknowned Urdu poets talked about the Hindu-Muslim culture, its history and the need for its preservation. The meet also included songs that spoke about unity in diversity, need for patriotism, and the role of legacy and diversity, not as a weakness, but as a testament.
After January 6, these same events were observed at the ghats on January 8, in response to the hate speech and divisive ideologies propagated by the fundamentalist forces. Hashim recalled that four to five youths came to disrupt the event. However, organisers were pleasantly surprised to see how the chowki pandit and mala-makers nearby stopped the miscreants and scared them away.
"They challenged the youth asking them – What are they doing wrong? They stood in solidarity with us," said Hashim.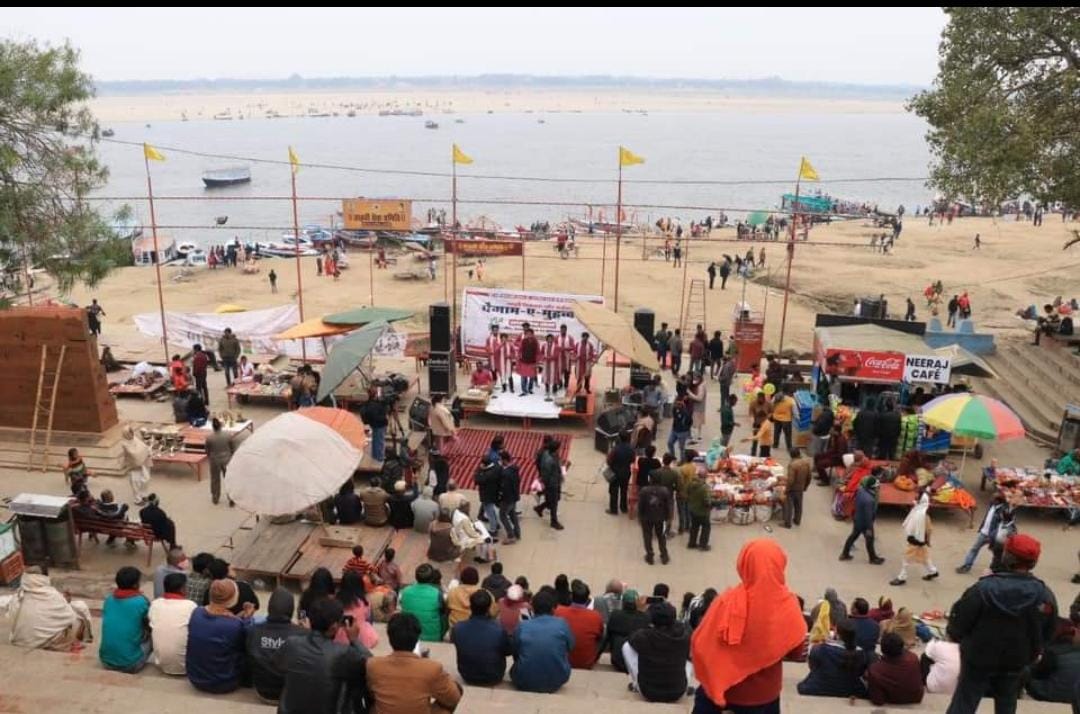 Image by Abu Hashim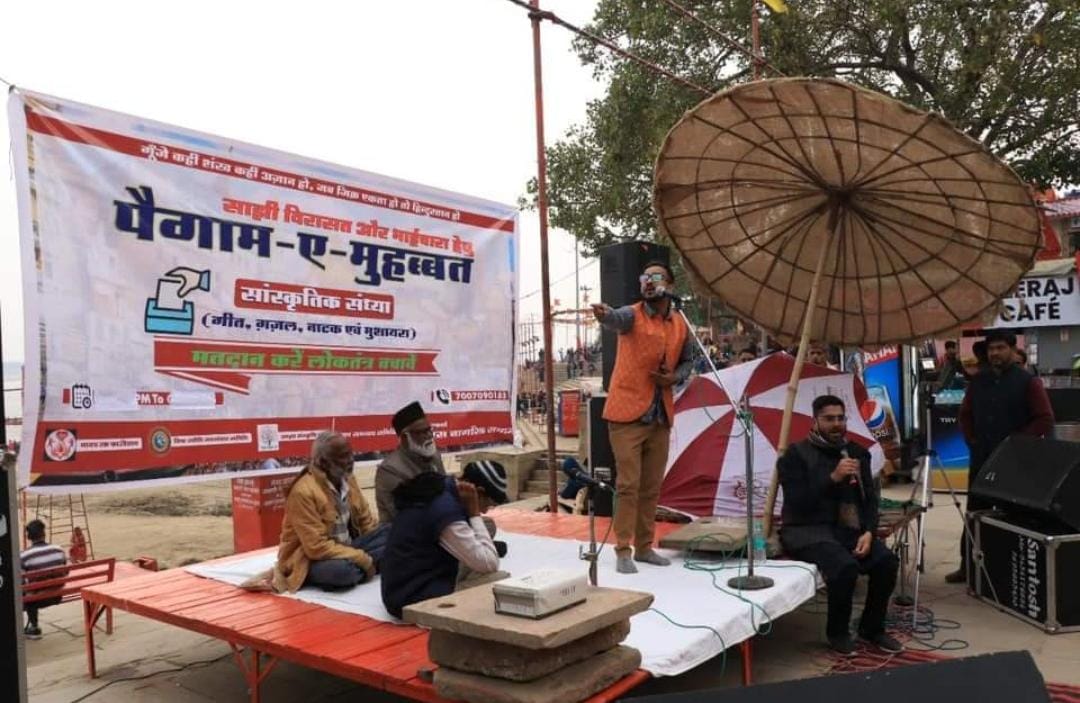 Image by Abu Hashim
Encouraged by this, organisers with renewed vigour continue such events all over the area until the end of state elections in March. Following the issuance of Covid and elections guidelines, groups have focused their meetings at the society-level. Even there, the campaign is appreciated for its secular message. The campaign has also added another goal of voting awareness. Members visiting localities encourage people to participate in India's voting process, regardless of which party they favour.
Muslim minority in UP
Looking back at the past five years of the BJP-led administration, Hashim said people have grown scared of the Bharatiya Janata Party (BJP) because of their anti-Islamic tendencies. Professionals like weavers and butchers – who often hail from the Muslim community – worry that the state government will stop providing schemes that benefit them.
"Muslims are scared. Already, butchers face an excess charge for selling buffalo meat even though nobody in the state sells cow meat," said Hashim.
For the organisers, it is important that the masses don't simply observe the conflicts between BJP leader Yogi Adityanath (Ajay Bisht) and SP leader Azam Khan. They feel that people must also realise that these politicians sit together when the parties need to discuss issues.
"That is what we want people to realise. But it's difficult to convince people who think we only want to talk against the BJP. When we talk about love, they talk about temples," said Hashim.
He said Varanasi was suffering from growing communalism where people are sucked into the "mandir vahi banega" narrative without thinking about its impact on constitutional values.
At the same time, Hashim said that no party was free of this "Us vs them" narrative. While agreeing some party workers do indeed act in a secular manner, he said that no party was blameless. It may be noted that while the Congress party does mention "youth unity" during speeches, no manifesto of influential parties talks about addressing the evil of communal divide.
Christian minority in UP
Meanwhile, Fr Anand squarely blamed the BJP for the growing communal divide saying community members were traumatised by the instances of violence and police repression in recent years.
"UP was a very peaceful state before. Yes, there were incidents of divide in Muzaffarnagar before but such incidents have increased during the BJP rule. Attack on Christians has become a regular thing nowadays," he said.
He recalled the attacks on churches around Christmas on December 21. Similarly, he said there were as many as 104 attacks on Christians in 2021 in UP alone. Local churches were attacked and children and women were beaten.
Fr. Anand also condemned the UP police that arrested the wounded victims who called them for help at such times. As such, he said that the campaign was to resolve such issues of conflict. So far, there have been four to five Paigam-e-Mohabbat events. The most recent event took place in Chitauni village where organisers interacted with students. The youth and teachers joined the programme and participated in the day's event.
Related:
Citizens reclaim Varanasi ghats: VHP, Bajrang Dal's communal posters fail
'No Entry' for non-Hindus at Varanasi Ghats?
Assembly election dates announced for five states
Meet CT 'Desh ke gaddaron ko goli maro' Ravi, a repeat hate offender