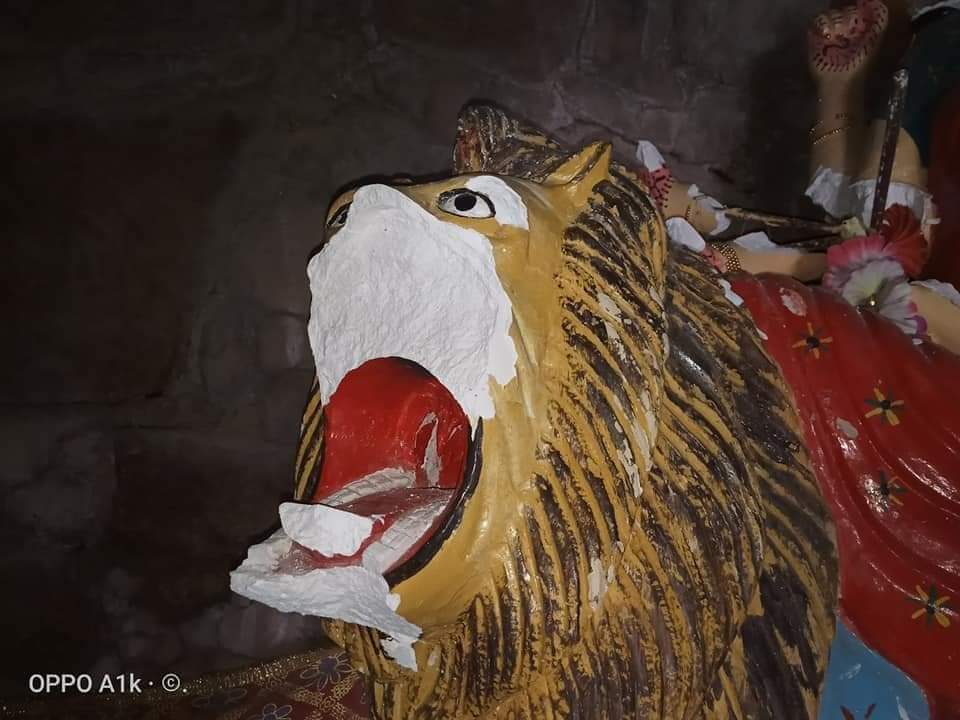 Image: Twitter
Pakistani Hindus remain one of the most vulnerable minority communities in their own country. Much like Indian Muslims, Dalits, and Christians, they are attacked for their faith in their homeland, and after initial outrage from civil society, and basic action from the administration, the attacks are swept out of sight… till the next attack on the minority community is reported.
The latest such attack was a couple of days ago, when the Hindu community of Pakistan was also observing the nine day Navratri festival last week. According to news reports from local Pakistan media and news agencies, Hindu temple was vandalised, and the idol of the Goddess desecrated in Nagarparkar area of Pakistan's Sindh province.
The attack reportedly took place on Saturday after the Hindu community had offered the day's prayers. The vandals even desecrated the Goddess Durga idol in an obvious act of hate. According to news reports, senior Sindh police officials have, however, 'assured that they are aware' of the incident and will soon be making arrests of the people responsible for the disrespectful act. No updates have been reported so far, four days after the incident.
Hindu temple in Nagarparkar vandalised and idol of a deity desecrated after the community held Navratri prayers. pic.twitter.com/4KsnAGzjdA

— Naila Inayat नायला इनायत (@nailainayat) October 24, 2020
PM Imran Khan why don't you speak a word for when a Hindu temple was vandalised in Nagarparkar in Sindh, Pakistan.

How about the Uighurs Muslims in China.

And How about your own Islamic army is killing Baloch muslims in Balochistan.. Mr Prime Minister???.#IAmWithFrance pic.twitter.com/9VAmrz7QW0

— Fazila Baloch?☀️ (@IFazilaBaloch) October 26, 2020
That the attack was launched on one of the one of the most auspicious days of Navratri sends an obvious message of disrespect to the area's Hindu community. Goddess Durga is worshiped as the divine mother by many Hindus, and such attacks are aimed at hurting the community's sentiments and are an obvious example of fanning communal hatred. There has been no words of empathy or assurance of security, towards the minority community from the Pakistan authorities so far.
Congratulations to PM Imran Khan on ?? Pakistan's election to the U.N. Human Rights Council.

Credentials: Persecutes Hindus, Christians, Sikhs, Shias, Ahmadis; hosts terror groups Afghan Taliban, HQN, LeT, JeM; backs Chinese genocide of Muslim Uighurs; abducts journalists. pic.twitter.com/NGouACyPKB

— Hillel Neuer (@HillelNeuer) October 18, 2020
In September, one Rahat John Austin, who describes himself on Twitter as "Lawyer, Author, Activist" made social media posts on atrocities on Hindus in his home country of Pakistan. Austin had claimed that around 171 Hindus in Pakistan's Sindh province had been converted to Islam. The information he shared was picked up, and reported on by the Times Of India the next day. According to the news report Rahat himself told TOI that the Hindu men, women and children were inducted into the Muslim faith at a a mass ceremony "held at madarsa Ahsan-ul-Taleem, Sanghar in Sindh province of Pakistan."
He claimed that "a former member of Islamic Ideology Council Noor Ahmad Tashar converted them to Islam." However, according to the TOI report, Pakistan Muslim League (Nawaz) leader and Member of the National Assembly (MNA) Kheal Das Kohistani, a Hindu, expressed his "ignorance about the incident". The report stated that MNA and patron in chief of Pakistan Hindu Council Ramesh Kumar Vankwani did not pick the phone despite repeated attempts by the reporter. The news report quoted sources as confirming that all the Hindus, who were converted to Islam allegedly by "various allurements", were from Bhil community, one of the most vulnerable and marginalised among the minority communities of Pakistan.
It is noteworthy, that Bhils are a tribal community following animist traditions. In India they are considered Adivasis and designated as a Scheduled Tribe in many states.
Ironically, those who claim to be representatives and activists of 'Hindutva' and dream of a Hindu undivided India, have been conspicuous in their silence. Not just in India, but in the larger global communities who claim to have Hindutva at their core, more than being devotional Hindus. There is a strange silence on the matter in Indian media as well, apart from a token report here and there, that too using news agency information.
Hindus in precise.
When atrocities happen on hindus in Pakistan, we react like we want to save them but helpless.
When it happens in West Bengal, we react like why people don't vote BJP.
When it happens in BJP ruled state, we react like "E to saala hona hi tha".
.
Kuch samjhe. pic.twitter.com/CRbIRDou50

— Manpu (@ipunamchoudhary) October 27, 2020
It is a known fact that Pakistan's Sindh province has witnessed regular attacks on minorities by religious extremists. On October 10, another temple was reportedly ransacked in Badin area of Sindh. The priest of the temple told the local media that a group of unknown people entered the temple premises at midnight, closed the door and broke the idol. The Express Tribune reported that one person was arrested and a case had been registered. Again, there were almost no protests reported from Hindu activists. According to the news report Sindh police registered the complainant Ashok Kumar alleged that suspect Muhammad Ismail damaged the idols kept in the makeshift temple in the remote Badin district and fled. The report added that a Badin police spokesperson said that the suspect was arrested within a few hours of receiving the complaint, "we are yet to confirm if he (Ismail) is mentally stable and deliberately destroyed the murtis (idols)."
According to various data sources, often reported by news agencies Pakistani Hindus number at 75 lakh, making them the largest minority community in the country. Many live in Sindh province.
In June 2020, the Government of India had told the Pakistani High Commission that 'Systematic and targeted attacks on Hindus' were being noticed. According to news reports a strong demarche was issued to the Pakistani High Commission over the "systematic" and "targeted" demolition of houses belonging to the minority Hindu community in Pakistan's Punjab province.
"India issued a strong demarche, a diplomatic protest note, to the Pakistani High Commission on the systematic and targeted demolition of houses belonging to minority Hindu community in Chak 52/DB, Yazman, Punjab in Pakistan," reports quoted an official government statement.
The Week reported that the diplomatic protest note stated that India hoped that the Pakistan government in discharge of its responsibilities will look after the safety, security, rights and freedom of its citizens belonging to minority communities.
In January 2020 too, India had summoned a senior official of the Pakistan High Commission and issued a strong demarche over the abduction of a Hindu girl from her wedding in Sindh province. Even then a demarche regarding the desecration of Mata Rani Bhatiyani temple in Tharparkar, Sindh province was issued and the Pakistan government was asked to take immediate measures to "bring the perpetrators of such despicable and heinous acts to justice." India had asked the Pakistan government to take urgent action for protecting and promoting the security, safety and welfare of its citizens including the minority Hindu community.
Related:
The False Binary of the Secular versus Islamic Needs to Be Broken
171 Hindus 'converted' to Islam in Sindh: Pakistani lawyer
Pakistan Now Turns on Its Shia Citizens
Pakistan Abases its Ahmadi Citizens, yet Again
Will Imran Government Arrest the Man Who Tutored His 4-Year Son to Threaten Hindus?
Namo's India a parody of Zia's oppressive regime in Pakistan?