"It is not a part of Muslim tradition, but of the West": Pakistan President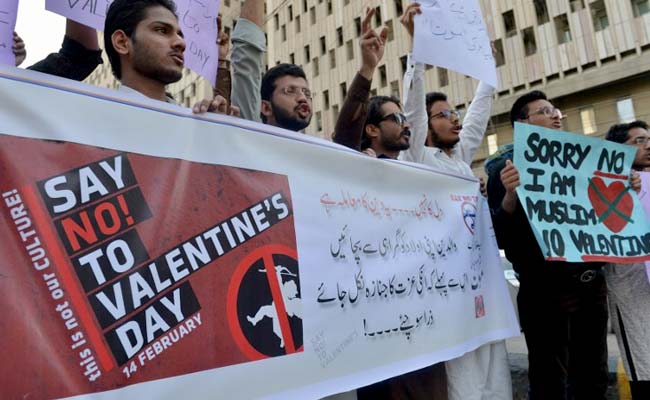 The Islamabad High Court on Monday banned Valentine's Day celebrations "with immediate effect."
Justice Shaukat Aziz has ruled, "No event shall be held at official level and at any public place".
While it is not clear whether any Valentine's Day was ever observed in Pakistan at the "official level", the court order clearly prohibits lovers from any show of romance in any public place.
The ruling was based on a petition filed by one Abdul Wahid who asked for the Valentine's Day to be declared "un-Islamic".
The court has directed Pakistan's Electronic Media Regulatory Authority (PEMRA) to monitor social media platforms and share any information that shows that the ban has been flouted.
Pakistan's conservatives view the observance of the day as a sign of Western vulgarity and indecency.
President Mamnoon Hussain made a statement in last February, saying Valentine's Day was "not a part of Muslim tradition, but of the West". The Jamaat-e-Islami and other Islamist parties hold campaigns every year asking people to stay away from participating in the day's festivities.
Not every Pakistani however subscribes to such a view and the ruling has triggered a virtual war on Twitter.
"I salute Islamabad High-court for decision against Valentine's Day," wrote a pro-ban Pakistani, while another responded with "To hell with Islamabad high court happy #valentinesday."
"Wow! As is #ValentinesDay will hurt anyone. Am not a fan myself but why deny society a harmless fun-fest. It's not like we don't have bigger probz," tweeted Pakistan People's Party leader and former information minister, Sherry Rehman.
One Amira Yunis put it best: "We #Ban expression of #Love (in public places) but all such places are open for expression of #Hate#Violence then V complain."
Meanwhile businessmen and shopkeepers who had invested substantial sums in Valentine's Day goodies are lamenting the losses they now have to absorb.
It may be recalled that right wing Hindu organisations in India too have also consistently agitated and campaigned against observance of Valentine's Day in the country.
Happy Valentine's Day!