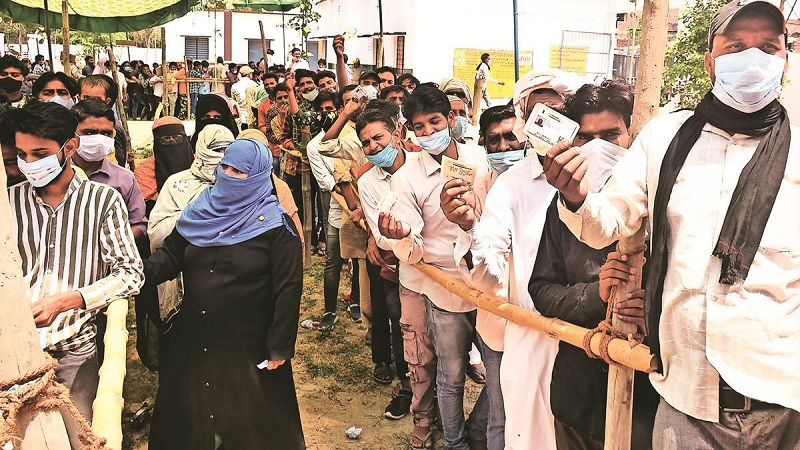 Image Courtesy:indianexpress.com
Voting for the second phase of Panchayat elections is taking place in Uttar Pradesh today. Over 3.48 lakh eligible voters across twenty districts will decide the fate of over three lakh candidates vying for different positions in various local bodies including zila panchayats, kshetra panchayats, gram panchayats and gram wards.
Polling is taking place in the state capital of Lucknow and also in Varanasi. Other places where votes are being cast today include Amroha, Azamgarh, Badaun, Baghapt, Bijnor, Chitrakoot, Etawah, Etah, Gautam Buddh Nagar, Gonda, Kannauj, Lakhimpur Kheri, Lalitpur, Maharajganj, Mainpuri, Muzaffarnagar, Pratapgarh and Sultanpur.
Many of these areas such as Muzaffarnagar, Gautam Buddh Nagar and Bijnor are communally sensitive, areas such as Badaun have been in the news for incidents of sexual violence, often against women from oppressed and marginalized communities. Meanwhile, the entire state is reeling under the Covid-19 pandemic that is showing no signs of abating. Even the Chief Minister himself was forced to go into self-isolation after contracting the virus.
The first phase of polling had taken place on Thursday, April 15 when voter turnout was recorded at about 71 percent. However, the Election Commission has ordered repolling in at least 20 booths following allegations of poll rigging. These include Fatehabad and Jagner blocks in Agra; Milkipur, Sohawal and Bikapur in Ayodhya; Soraon block in Prayagraj; Moth block in Jhansi among others.
Related:
Lucknow: High demand for "Jai Shree Ram" masks
UP: Former District Judge blames administration for Covid affected wife's death
Uttar Pradesh is reeling under Covid-19 crisis, who is in charge?