22-year-old Kanupriya, a second-year student of MSc in Zoology, became the first woman president of the Panjab University Campus Students' Council (PUCSC).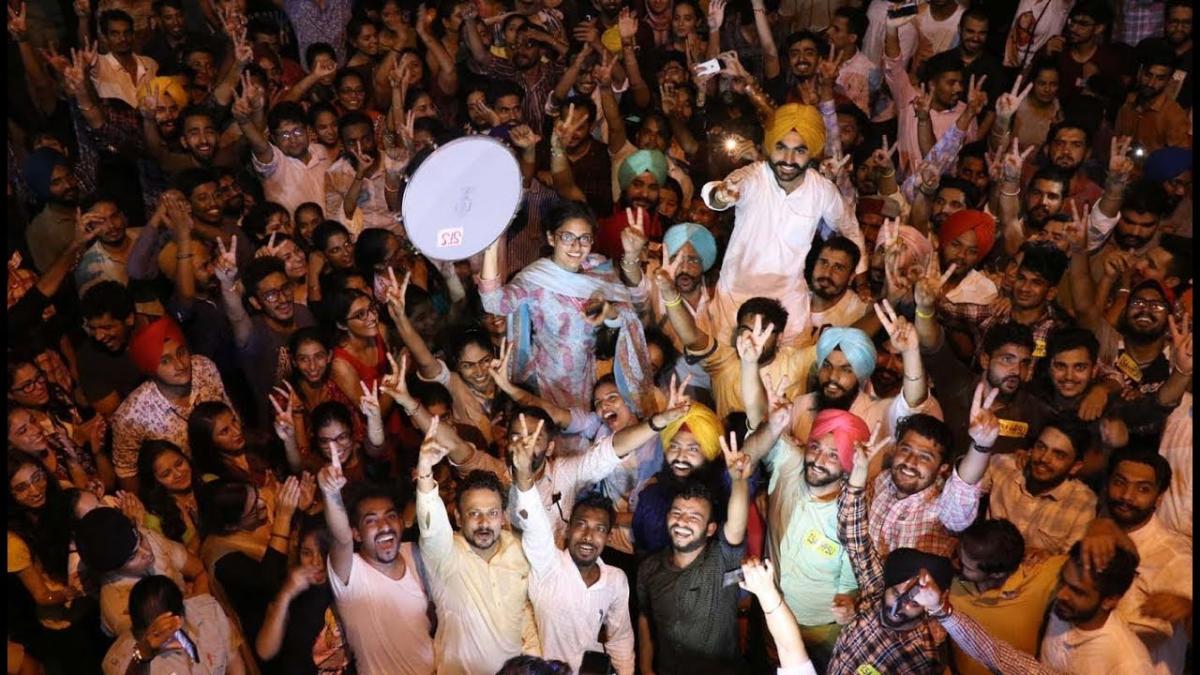 Chandigarh: History was again made on Thursday when Panjab University elected its first woman president. 22-year-old Kanupriya, a second-year student of MSc in Zoology, became the first woman president of the Panjab University Campus Students' Council (PUCSC).

"A member of the left-leaning student wing Students for Society (SFS), she defeated five male candidates fielded by Akhil Bharatiya Vidhyarthi Parishad (ABVP), Students Organisation of India (SOI), National Students Union of India (NSUI), Panjab University Students Union (PUSU) and Punjab Students Union (Lalkaar). Over 15,000 students voted on Thursday to elect the four office-bearers of the Panjab University Campus Students' Council (PUCSC) amid allegations that the authorities failed to act against the Akhil Bharatiya Vidyarhti Parishad (ABVP) for poll code violations," reported Hindustan Times.

The elections were a clear win for left leaning politics. "Left-leaning Students for Society (SFS) won the polling for Panjab University's Students' Council on Thursday by a margin of 719 votes, winning 2802 votes. Akhil Bhartiya Vidyarthi Parishad (ABVP) procured 2083 votes, Students Organisation of India (SOI) got 1997 votes, National Students Union of India (NSUI) got 1583 votes and 209 votes went to NOTA," reported News18.

She hails from Patti village in Tarn Taran district and has been at the university since 2014. Her mother is a nurse, while her father is in a private job.

"The university strongly needed a change. There was a perception earlier that girls would not vote for a woman candidate, but this was not the case. Many girls encouraged me to go ahead with this election," she told ThePrint.

"We had learnt a lot of lessons from last year's election, when SFS had fielded a woman candidate for president. This is why we took the risk to field another woman candidate, even though there were a lot of other candidates under consideration," she said in the report.

"SFS has, in the tradition of Leftist organisations, held demonstrations and organised street plays to raise awareness about issues. It has been a vocal critic of gender discrimination in the university's rules, and has also hit out at the 'gedi' culture prevalent in Chandigarh and within the PU campus — where groups of boys roam around in cars and catcall at girls. The party's manifesto has promised to "remove curfew timings for girls' hostels", "struggle for the regularisation of self-financed courses", and "work harder on making the campus vehicle-free," the report added.

"More than 40 students affiliated to the SFS group were arrested last year for unprecedented violence on the campus against the fee hike. The student group has always had the Leftist tag attached to it but its leaders say that it does not have any affiliation to any mainstream political party apart from being only an independent students group with an opinion which may be similar to the Leftists. "We are not shy of the tag. It is a good thing but we are not attached to any political party in the traditional sense," said SFS president Damanpreet Singh in a report by The Indian Express.

"The left-leaning outfit forced other established parties — NSUI and SOI — to take up student issues more vigorously and mocked them for offering freebies to students. The SFS was founded in 2010 by five students, of whom only one — Sachinderpal Pali — is actively involved in its affairs now. "The regressive money and muscle power politics and a view that a woman cannot be the president have been broken by the win," said Pali in a report by HT.
"Students for Society, that has led successful struggles against privatization and fee hikes has now created another history in Punjab University by winning the students union elections. In the face of unprecedented attacks on universities by the fascist Modi regime, they have successfully reasserted the revolutionary legacy of Bhagat Singh and Pash. Comrade Kanupriya is also the first woman to become the President of PUSCS. This message from the students will rattle the highest corridors of power," said Umar Khalid, student activist from JNU.

Daler Singh of ISA (SOI alliance) won the vice president's post, Amarinder Singh of INSO (SOI alliance) won the secretary's post and Vipul Atray of the NSUI won the joint secretary's post.

"In what may be seen as a worrying development by political parties, especially with general elections due next year, the Panjab University Campus Student Council (PUCSC) elections saw a marked increase in takers for the 'None of the Above (NOTA)' option this year. Introduced in the 2016 student council elections, NOTA, also known as "against all" or a "scratch" vote, is designed to allow voters to indicate disapproval of all of the candidates in the fray. What is more significant is that for the posts of secretary and joint secretary, the number of votes polled in favour of the NOTA option is more than the winning margin," reported HT.