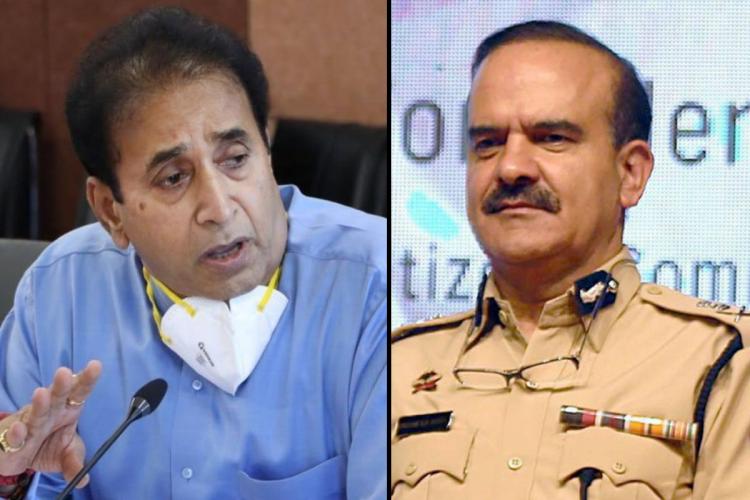 Mumbai's ex-Police Commissioner Param Bir Singh who was hastily transferred after API Sachin Vaze was implicated in the case of bomb scare outside Mukesh Ambani's house, has filed a plea before the Bombay High Court seeking a CBI probe against Maharashtra Home Minister Anil Deshmukh.
Singh has alleged that Deshmukh engaged in corrupt malpractices, and has sought a CBI inquiry into the same. In his petition Singh has submitted Deshmukh had been holding meetings in February, 2021 at his residence with police officers including Sachin Vaze of Crime Intelligence Unit, Mumbai and Sanjay Patil, ACP Social Service Branch, Mumbai, bypassing their seniors. He alleged that Deshmukh had instructed them that he had a target to accumulate Rs. 100 crores every month and had directed them to collect money from various establishments and other sources.
Singh had first moved the Supreme Court but the court refused to entertain his petition and directed him to approach the Bombay High Court instead.
In his plea, Singh has prayed for directions that transfer of police officials should not be done on any consideration of pecuniary benefits to any politicians nor in contravention of the guidelines issued in Prakash Singh & others vs Union of India. He has also sought the file containing the report of Rashmi Shukla Commissioner of (Intelligence), in which there is mention of corrupt malpractices in postings / transfers by Shri Anil Deshmukh based on a telephonic interception. He has also sought directions that an independent agency should take custody of the CCTV footage of Deshmukh's residence to prevent its destruction.
Apart from this, two petitions have been filed before Bombay High Court, including Param Bir Singh as a respondent as well. One petition, filed by Advocate Jaishri Laxmanrao Patil, seeks independent probe into the role played by Deshmukh as well as Singh. Another petition filed by RTI activist Hemant Patil asks that an FIR be filed against Chief Minister Uddhav Thackeray, Deshmukh and Singh for gross negligence in taking action against corruption.
All these major developments followed after the explosive letter written by Singh to the Chief Minister Uddhav Thackeray in which he alleged that Sachin Vaze was called for several meetings by Deshmukh where he instructed him to accumulate Rs. 100 crores a month in an extortion bid by collecting money from bars, restaurants and other establishments in Mumbai. While there has been constant political pressure for Deshmukh's resignation, NCP Chief Sharad Pawar has defended him saying that Deshmukh was ailing and in hospital at the time he was allegedly discussing an extortion racket with police officers.
The incidents that took place one after the other, after a car with gelatin stick and a threatening letter was found outside Mukesh Ambani's Mumbai house have opened a can of worms. The Maha Vika Aghadi government ruling Maharashtra appears to be in peril.
Related:
SC directs Param Bir Singh to approach Bombay HC
Parambir Singh-Sachin Vaze controversy: Will Maha Vikas Aghadi survive?
Bom HC: Two petitions filed seeking probe into corruption allegations against Maha gov't