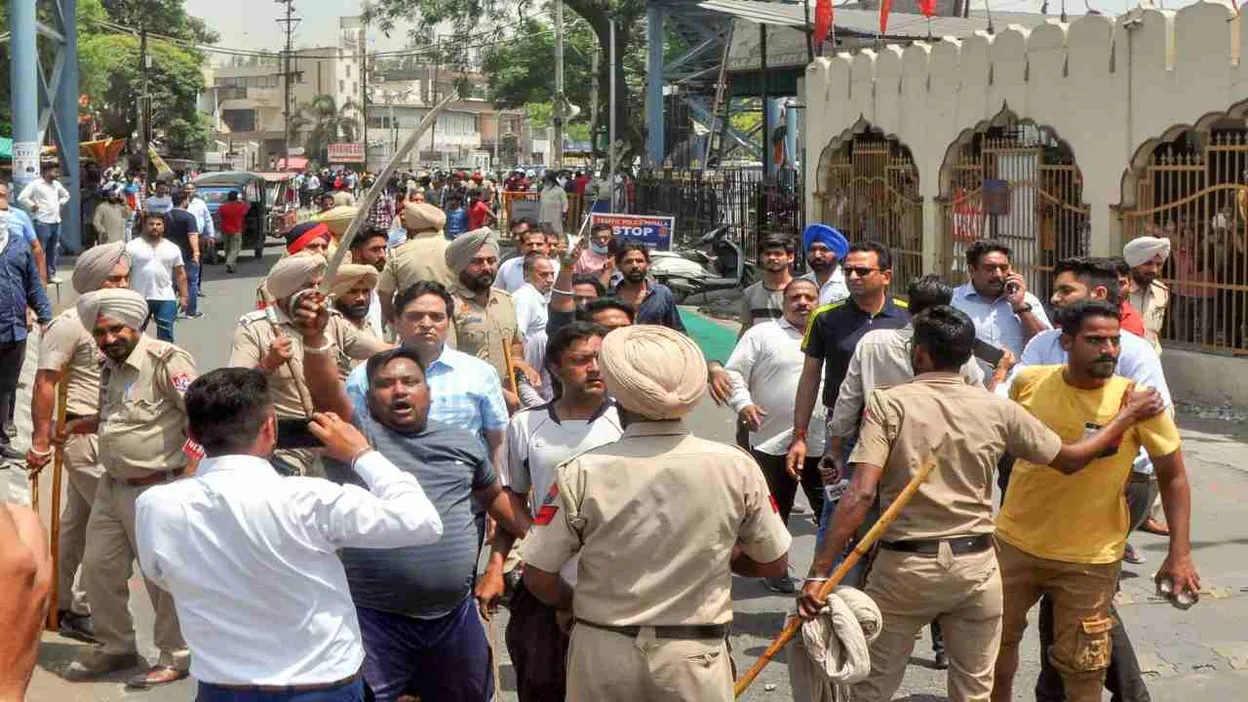 Image: PTI

After four people were hurt in clashes near Kali Mata temple a curfew was imposed in Patiala, Punjab on Friday evening. Expelled Shiv Sena leader Harish Singla was arrested by Punjab Police on Friday after the violent clashes during a reportedly illegal 'anti-Khalistan march' in the city. According to news reports, Singla, seems to be a hate offender who had already been expelled from the Shiv Sena for his "anti-party activities". Singla was arrested after a high-level meeting was chaired by Punjab Chief Minister Bhagwant Mann.
पटियाला में हुई घटना पर DGP और सभी बड़े अधिकारियों की मीटिंग बुलाई। मामले की तुरंत जांच के निर्देश दिए हैं और अधिकारियों को सख़्त हिदायत दी है कि एक भी दोषी को बख्शा न जाए।

पंजाब विरोधी ताकतों को किसी भी कीमत पर पंजाब की शांति भंग नहीं करने दी जाएगी।

— Bhagwant Mann (@BhagwantMann) April 29, 2022
The curfew was imposed from Friday to Saturday, based on "incidents of breach of peace and disputes between certain different groups in the district, which can result in further disturbance of peace and maintenance of law and order in the state". The order was issued by Patiala district magistrate Sakshi Sawhney.
What happened in Patiala?
The clash took place when members of a right wing outfit that calls itself 'Shiv Sena (Bal Thackeray)' started a "Khalistan Murdabad March". According to news reports, a group of Sikhs, including Nihangs, took out a counter march against it. The two groups came face to face near the Kali Mata temple and reportedly clashes broke out between them.
Stones were allegedly pelted and four people, including a policeman were injured. According to news reports, Police fired in the air to bring the situation under control. Nanak Singh, SSP, Patiala, told the media that "both the groups were intimated earlier that they are not allowed to take out a procession. They sought permission but were refused. Due to some rumours, the atmosphere became tense. Four people were injured and an investigation is underway."
According to reports the 'Sena' outfit had "planned the march as a reply to the announcement by Sikhs for Justice to mark the 'foundation day of Khalistan' on April 29." The National Commission for Minorities has also written to Punjab chief secretary Anirudh Tiwari and sought a report within seven days.

Why is the word 'Khalistani' being used?
In the last two years, especially soon after the farmers' protest gathered strength on the borders of Delhi, the word 'Khalistani' has been used to target Sikhs. Most used by the right wing eco system, it has been thrown abut casually to attack the farmers from Punjab and equate them with terrorists.
As the farmers from Punjab are predominantly Sikhs, the right wing organisations kept branding them "Khalistanis", or those seeking a separate Sikh homeland of Khalistan. During the farmers' nationwide agitation against the three contentious agriculture legislations, the National Investigation Agency (NIA) had summoned around 40 protesters for their alleged involvement in raising funds under the banner 'Sikhs for Justice'. Sikhs for Justice is a foreign-based group banned by the Ministry of Home Affairs in 2019 for advocating secessionist and pro-Khalistani activities in India.
Last year, Delhi Assembly's Committee for Peace and Harmony sent a notice to actor Kangana Ranaut , asking her to appear before it. Ranaut had allegedly "blanketly labelled the Sikh Community as 'Khalistani Terrorists'" and was accused of hurting the religious sentiments of the Sikh Community.
Related
Khargone violence: Administration a mute spectator, says CPI-RJD investigating team
Delhi: 'Rohingya Bangladeshi' taunts putting other Muslim dominated areas on the buldozer map?
Lovely Professional University professor allegedly sacked over opinion on Hindu deity
SKM breaks down demand for MSP to masses
Jal Satyagraha as part of farmers' MSP week protests
Lakhimpur Kheri case: SC questions HC order granting bail to Ashish Mishra, reserves order on challenge