The hasty manner in which the Bharatiya Janata Party (BJP) airdropped its 2-member Human Resources Development (HRD) Ministry team to Srinagar to look into the matter at Kashmir's National Institute of Technology (NIT) and then replaced Jammu & Kashmir Police with the Indian paramilitary Central Reserve Police Force to provide security to outstation students at the campus has again reignited the "Hindu India versus Muslim Kashmir" debate.

To add fuel to the fire, 150 students, sponsored and backed by the Sangh Parivar have commenced a protest march from Delhi to Srinagar to hoist the Indian Tricolour. The 'students' are led by BJP national secretary RP Singh.

To make even matters worse, authors, filmmakers, actors and academics like Chetan Bhagat, Ashoke Pandit, Anupam Kher and Madhu Kishwar have tried their best and worst to stoke communal passions with their vitriolic commentary on social networking sites.
Gowhar Geelani explains how a minor issue of scuffle between local and non-local students over a cricket match was badly handled to turn it into a major crisis for the newly installed PDP-BJP government, which is largely seen as an "unholy alliance" by the local population…..
There is eerie calm at Srinagar's National Institute of Technology (NIT). The stalemate between the non-Kashmiri students and NIT administration enters day nine, though several demands made by the outstation students have been met and a State-level inquiry initiated. However, the J&K government has not accepted their "non-negotiable" demand, that of shifting the campus from Srinagar.
Formerly known as Regional Engineering College (REC), the campus no more looks like a premier engineering college of the Kashmir valley. It resembles a fortress. Yes, just like another military camp or army cantonment in the heavily militarised and restive Himalayan valley.
As many as five companies of the Indian paramilitary Central Reserve Police Force (CRPF), numbering about 600 personnel, are guarding the campus. The paramilitary has replaced the local police personnel, who are now manning the NIT entrance.
A Cricket Match Disturbs Peace
All it took it took to throw Srinagar's NIT into turmoil was the result of a cricket match between India and the West Indies in the just-concluded ICC Twenty 20 world cup 2016.
On March 31, India lost the semi-finals to the West Indies by seven wickets at Mumbai's Wankhade Stadium, which brought delight to many Kashmiris cheering for the Caribbean. Some local engineering students studying at NIT Srinagar also jumped with joy to celebrate West Indies' victory, much to the annoyance of the outstation students who outnumber the locals here.
Earlier, when India had beaten Pakistan at Kolkata's Eden Garden on a damp wicket the non-Kashmiri students at NIT had celebrated India's victory. They had reportedly made some objectionable remarks against Pakistan and Kashmiri Muslims while shouting at the local students, who are in minority on the campus.
With India's defeat in Mumbai, it was 'payback' time for the Kashmiri students at NIT.
Traditionally, Kashmiris have always favoured other cricket teams like Pakistan, the West Indies and Australia over India.
In October 1983, when the Indian team played the West Indies at Srinagar's Sher-i-Kashmir cricket stadium the local Kashmiri crowds overwhelmingly supported the Caribbean team and booed the Indian players. India's legendary cricketer, Sunil Gavaskar, records this moment in his 'Runs n Ruins'. What saved Gavaskar from being hooted was a gesture when he, while pointing towards a poster of Pakistan's iconic cricketer Imran Khan, said that the latter was just like his brother.
Traditionally, Kashmiris have always favoured other cricket teams like Pakistan, the West Indies and Australia over India
Anyway, the recent trouble at Srinagar's NIT started on March 31. Some students from outside Jammu & Kashmir – who vastly outnumber local students by more than two-thirds — objected to their Kashmiri colleagues celebrating West Indies' victory over India, claiming it hurt their "patriotic feelings".
A verbal brawl turned into a scuffle and eventually snowballed into a major crisis for the newly-installed PDP-BJP government, which is largely being perceived as an "unholy alliance" in Jammu and Kashmir.
Chant 'Bharat Mata Ki Jai'
Many outstation students lost their cool and resorted to violence. They attacked some of the staff members at the NIT canteen, disturbed the furniture and threw eatables around. Afterwards, a large group of non-Kashmiri students beat up 20-year old Imtiyaz Sheikh, a local courier, who is still nursing his wounds. He had entered the campus on April 1 to deliver regular mail.
Non-local students reportedly wanted Sheikh to chant 'Bharat Mata Ki Jai' slogan, which he refused to do. Still not satisfied, a group of angry students ran after him and one of the members hit him with a cricket bat and a glass object.
A hapless Sheikh told The Hindu: "As I rode the scooter, a student hit me with a cricket bat and a glass object was struck on my arm. I bled profusely. They wanted me to chant Bharat Mata Ki Jai. I refused. I told them I am a Kashmiri Muslim and can't chant the slogan." (April 8)
The Jammu and Kashmir Police later released a video which shows many non-local students resorting to violence, vandalising the property with stones and sticks in their hands. (link) On their part, the non-local students also released a video to highlight the police action against them. The police had chased the protesting non-Kashmiri students with lathis as they were attempting to take out a protest march.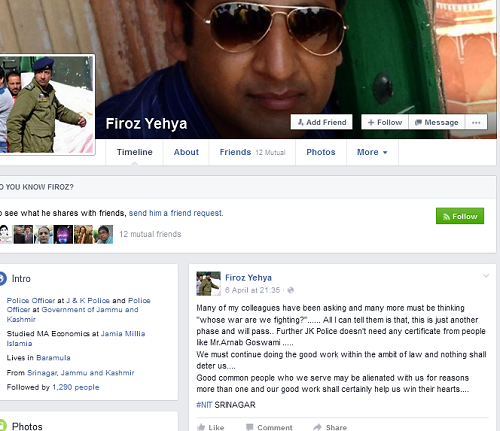 J&K Police: 'Collaborators' in Kashmir, 'Anti-nationals' for Delhi
Violent acts against Kashmiri students, a local courier and some staff members did not fully satisfy the non-Kashmiri students. They decided to take out a protest march outside the campus. This is exactly when the Jammu and Kashmir Police swung into action. They did exactly what they have been trained to do to quell the local protesters since the eruption of popular anti-India uprising in 1989.
Local policemen thrashed the protesting outstation students too, leaving some of them badly injured. The police action triggered an angry reaction from many Indian television anchors, well-known for their ability to shout on top of their lungs over trivia, in their primetime shows.
Some television anchors, who fashionably wear patriotism on their sleeves, raised questions regarding the local police's 'loyalty' and 'competence' and condemned their use of force against the non-local students. [1] In its defence, the J&K Police released a statement to claim that they took action only after the "students turned violent" and took law into their hands.
The Jammu and Kashmir Police has been accused of killing more than 120 boys, mostly in their teens, during the wave of massive anti-India and pro-freedom demonstrations in 2010. Not a single policeman has been punished thus far.
When J&K Police used force against the outstation NIT students, the Indian Human Resource Development Ministry stepped in to replace local police with the CRPF. This unprecedented decision and political interference from New Delhi in Kashmir's local affair angered the state police.
Many senior officers of ranks such as senior superintendent and deputy superintendent vented their frustration on social networking sites. Some of them questioned whose war they were fighting in Kashmir?
Imtiyaz Hussain, SSP North Kashmir's Baramulla district, expressed his rage on Twitter: "100s of our colleagues in JKP hv gone bck 2 deir homes in coffins wrapped in #Tiranga fighting to uphold it's honour.Stand with #JKP #NIT." Image ?
A top ranking police officer that the author spoke to said, "J&K Police force has been performing professional duties to combat militancy in extraordinary circumstances, which has resulted in several mistakes, leading to local peoples' alienation at times." The officer further said that the way J&K police force was replaced by the CRPF has been "demoralising".
In the wake of the NIT crisis in the Kashmir valley, many officers of J&K Police find themselves caught between a rock and a hard place. On the one hand, the police are disparaged as "collaborators" and "killers" by the local population for fighting the popular indigenous militancy. On the other, New Delhi just made obvious its distrust of the police – or so the officers believe – by replacing them with the paramilitary to provide security at the NIT.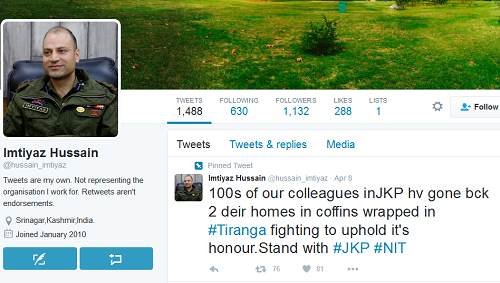 "It is a double-edged sword for us. Our society, by and large, dubs us collaborators and killers. We are stigmatised and ostracised. And now we are anti-nationals for people outside Kashmir," said an officer who didn't wish to be named."We have killed thousands of militants, both local and foreign, in our counter-insurgency operations. See the irony that thousands of people attend a slain militant's funeral, but when a policeman dies in a militant attack hardly four to five people take part in his funeral," he added.
Firoz Yehya, a deputy superintendent of police, wrote on his Facebook timeline that, "Many of my colleagues have been asking and many more must be thinking, 'whose war are we fighting?' All I can tell them is that this is just another phase and will pass. Further, the J&K police doesn't need any certificates from people like Mr. Arnab Goswami."
Kishwar, Kher, Pandit & Bhagat Stoke Communal Passions
Even academic activists like Madhu Kishwar and the rightwing Kashmiri Pandits, mostly Modi bhakts like Anupam Kher and Ashoke Pandit, wrote provocative commentaries on Twitter.
Ms Kishwar said that J&K Police force was "heavily infiltrated by secessionists" (April 6) while filmmaker Pandit and actor Kher also made controversial comments.
On April 10, both Kher and Pandit tried to stoke communal passions with their publicity stunts. Minting grief, they visited Srinagar while claiming to express solidarity with the non-local NIT students. However, the local administration stopped the controversial duo at the Srinagar airport and forced them to return to Delhi.
Kashmir's Pro-Azadi Camp Douses Fire
While people like Arnab Goswami, Chetan Bhagat, Madhu Kishwar, Anupam Kher and Ashoke Pandit tried their best and worst to spread a hate campaign in order to make a verbal brawl between students appear look like a war between Hindu India and Muslim Kashmir, the pro-freedom camp in Kashmir behaved maturely and appealed for calm.
Kashmir valley's three leaders, vocal in their support for 'azadi' (freedom) — Syed Ali Geelani, Mirwaiz Umar Farooq and Mohammad Yasin Malik— on the contrary, appealed for peace, assured safety to the non-local students pursuing engineering at Srinagar's NIT and urged them to resume their class work without further delay.
Even Kashmir's civil society made a passionate appeal to both local and non-local students to maintain peace and tranquility at the campus. Barring a small protest inside the University of Kashmir by a small group of students, Kashmiri people in general displayed a quiet maturity to defeat the nefarious designs, from visible and not so visible forces, that were hell bent on creating communal tensions.
Pro-Pakistan Hurriyat leader Syed Ali Shah Geelani, who returned to Srinagar on April 6 after undergoing treatment for heart ailment in New Delhi, asked all NIT students to "concentrate on studies". The octogenarian said that "the non-local students are our guests and we always welcome them here".
Speaking exclusively to Sabrangindia, the Srinagar-based head priest and chairman of his faction of pro-Azadi conglomerate All Parties Hurriyat Conference (APHC), Mirwaiz Umar Farooq strongly condemned "anti-student activities" and the alleged use of force by J&K Police against the student community. "The sad part is this disturbing news that some students have been thrashed by the police. I strongly condemn this police brutality," the Mirwaiz said. Making a reference to the 2008 Amarnath land row (which divided Kashmir and Jammu on regional and religious lines) and the devastating floods of 2014, the head priest said that "even in the most difficult times Kashmiris have protected outsiders as their guests at the cost of their own safety."
"Following our age-old tradition of harmony, hospitality and warmth, even in those difficult times not a single Amarnath pilgrim or tourist was touched by Kashmiris," he said. At his Nigeen residence, which is only a stone's throw away from NIT Srinagar, Mirwaiz Farooq appealed for calm while requesting both local and non-local students to "concentrate on their studies and move on".
However, the Hurriyat chairman expressed surprise and disappointment over what he described as the Hindu 'supremacist' Bharatiya Janata Party's "more than desired interference" in the NIT issue. "The BJP government in New Delhi has unnecessarily interfered in this matter by sending a team from HRD Ministry. The BJP has overdone it," he said. He also questioned the "double standards" the manner in which non-Kashmiri and Kashmiri students were being treated in Jammu, Jodhpur, Mewar, Jaipur, Bhopal, Bihar, Meerut and Delhi.
On April 7, a group of Kashmiri students was assaulted in Jodhpur's Vyas Dental College in an alleged backlash against the alleged police action against non-local engineering students at Srinagar's NIT. Armed with sharp knives and iron rods, a group of around 30 people had attacked Kashmiri students in Jodhpur.
Similarly, many Kashmiri students were also attacked in Jammu.
Earlier, in February 2014, as many as 67 Kashmiri students from the Swami Vivekanand Subhrati University in Meerut were suspended and forced to leave the campus for celebrating the Pakistan cricket team's win against arch-rivals India in Asia Cup game.
The Mirwaiz said that no HRD team is ever formed to come to the rescue of Kashmiri students, and accused the Narendra Modi led BJP government in New Delhi of "unnecessary interference" in Kashmir's local affairs."When Kashmiri students were suspended in Meerut, arrested in Rajasthan or harassed in New Delhi during the JNU row and beef crisis, there was no direct interference from the BJP or its HRD ministry to ensure safety of our students. Narendra Modi led government in Delhi has only exposed itself by turning the NIT Srinagar campus into a fortress by deploying five companies of CRPF here," he said.
He said that this also "speaks volumes about the trust deficit that exists between New Delhi and Jammu and Kashmir's government." "Basically New Delhi is telling us that it does not even trust the institutions that it creates," he said.
According to the Mirwaiz, the NIT issue could have easily been resolved by Srinagar's district administration and local police. "Ironically, everything in Kashmir is controlled and managed by Delhi," he said.
"Our sincere message is that all non-local students are safe here in Kashmir. There is no threat perception. Let us not politicise this issue," he said, adding that "Let us understand that Kashmir is a conflict zone. There are emotions and aspirations involved. It is a sensitive place. Students should not indulge in politics. Instead, they should focus on their studies," he added.
Like Mirwaiz Umar, the chairman of pro-independence Jammu and Kashmir Liberation Front Mohammad Yasin Malik also believes that some electronic channels based in Delhi and Mumbai were "stoking communal passions with their misreporting of facts from Kashmir." Malik said, "See, they [electronic media] are creating war hysteria through jingoistic reporting on this small issue at NIT."
Voicing concern against the growing attacks on Kashmiri students in many Indian states, Yasin Malik called for a complete shutdown in Jammu and Kashmir on April 12. Apart from Geelani and Mirwaiz led Hurriyat factions, J&K High Court Bar Association lent its support to JKLF's strike call.
Thankfully, a small group of well-meaning Kashmiri Pandits also appealed for calm and condemned the acts of violence against Kashmiri students in various parts of India as reprisal.
Demands of Outstation NIT students
The non-Kashmiri students at Srinagar's NIT want permission to hoist the Indian Tricolour in the campus while some demanded that the campus be shifted from "Kashmir to India". Reportedly, several female outstation students sung the Indian national anthem and chanted slogans like 'Bharat Mata Ki Jai'. One of their demands is "stern action against the NIT staff and police officials".
The NIT administration has offered protesting non-local students separate exams, a safe transit to their home states with an aim to break the stalemate. However, their unrealistic demand to shift the campus has been summarily rejected.
On its part, the J&K police released video footage of outstation students indulging in rioting and damaging of public property. The police are mulling action against the 'culprits'. Jammu and Kashmir's Education Minister Naeem Akhtar hoped that "all the issues will be resolved soon." "Situation is being closely monitored. All the issues will be resolved soon. An inquiry committee has been asked to submit its report within 15 days to establish the sequence of events and fix responsibility," Akhtar said.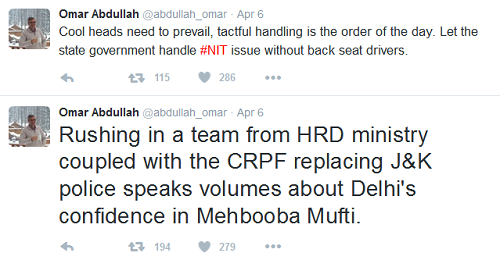 Campus Turned Into a Fortress
Srinagar's NIT is probably the only campus with its entire security handed over to the paramilitary CRPF. [2]
After the non-local NIT students updated the situation inside the engineering college on their social media profiles and made frantic phone calls to their relatives and friends, the Human Resources Development (HRD) Ministry sent its 2-member team to the NIT, a decision which was not received well by the people of Kashmir.
Also, the strange decision to replace J&K Police with the CRPF hasn't been appreciated by many people. Former Chief Minister Omar Abdullah took to micro-blogging site Twitter to express his displeasure. "Rushing in a team from HRD ministry coupled with the CRPF replacing J&K police speaks volumes about Delhi's confidence in Mehbooba Mufti," the junior Abdullah tweeted. A senior political analyst while commenting on the decision said that "an insult has been hurled at the local police."
"Those who have broken the backbone of militancy since 1989 in Kashmir; killed hundreds of teenaged protesters in 2009 and 2010, and blinded scores of local boys in anti-India demonstrations with pellet guns are not even trusted by the Government of India to handle a small issue at Srinagar's NIT," he said, adding that "This is a slap on the face of J&K Police. This is insulting. Even Sepoys under British India enjoyed more respect than this."
Kashmir's Civil Society Responds
Kashmir Centre for Social and Development Studies (KCSDS) voiced its concern over what it described as "unavoidable incident" that took place at NIT Srinagar on March 31. "The society does not expect such happenings in the educational institutions where students' primary objective is to pursue education and enlightenment in order to serve the society in a better way in various capacities, the KCSDS said in a press release.
"Despite different ideological leanings which are permissible but should not become a cause of skirmishes, divisions, disaffection, resulting in mutual bitterness, animosity and hatred. In such situations the vested interest are ready to add fuel to the fire to create anger and hatred against each other," it said.
In the final analysis, the Peoples Democratic Party led by Mehbooba Mufti is responsible for the present crisis for more than one reason. One, the PDP re-stitched its partnership with the ideologically antithetical Bharatiya Janata Party (BJP) after Mufti Mohammad Sayeed's demise on January 7 to allow the Hindu supremacist party and its communal backers like the RSS a field day in Kashmir. Secondly, an efficient government could have easily handled this minor issue of a tiff between the two groups of students without turning the campus into a cantonment.
(Gowhar Geelani is a journalist, commentator and political analyst from Srinagar. He is South Asia Journalism Programme/ Chevening fellow 2015 and Munich Young Leader 2014. He formerly served Deutsche Welle (Voice of Germany) as Editor in Bonn for several years.)
Footnotes:
[1] Aabid lone ‏@aabidlone786 Apr 8 @Times Now J&K Police doesn't need any certificate from people like Mr. Arnab Goswami J&K Police Hits Back #NITSrinagar
[2] The Campus of the Hyderavad Central University has also since March 22, 2016 turned over to private security agencies under the tutelage of suspended Vice Chancellor Appa Rao