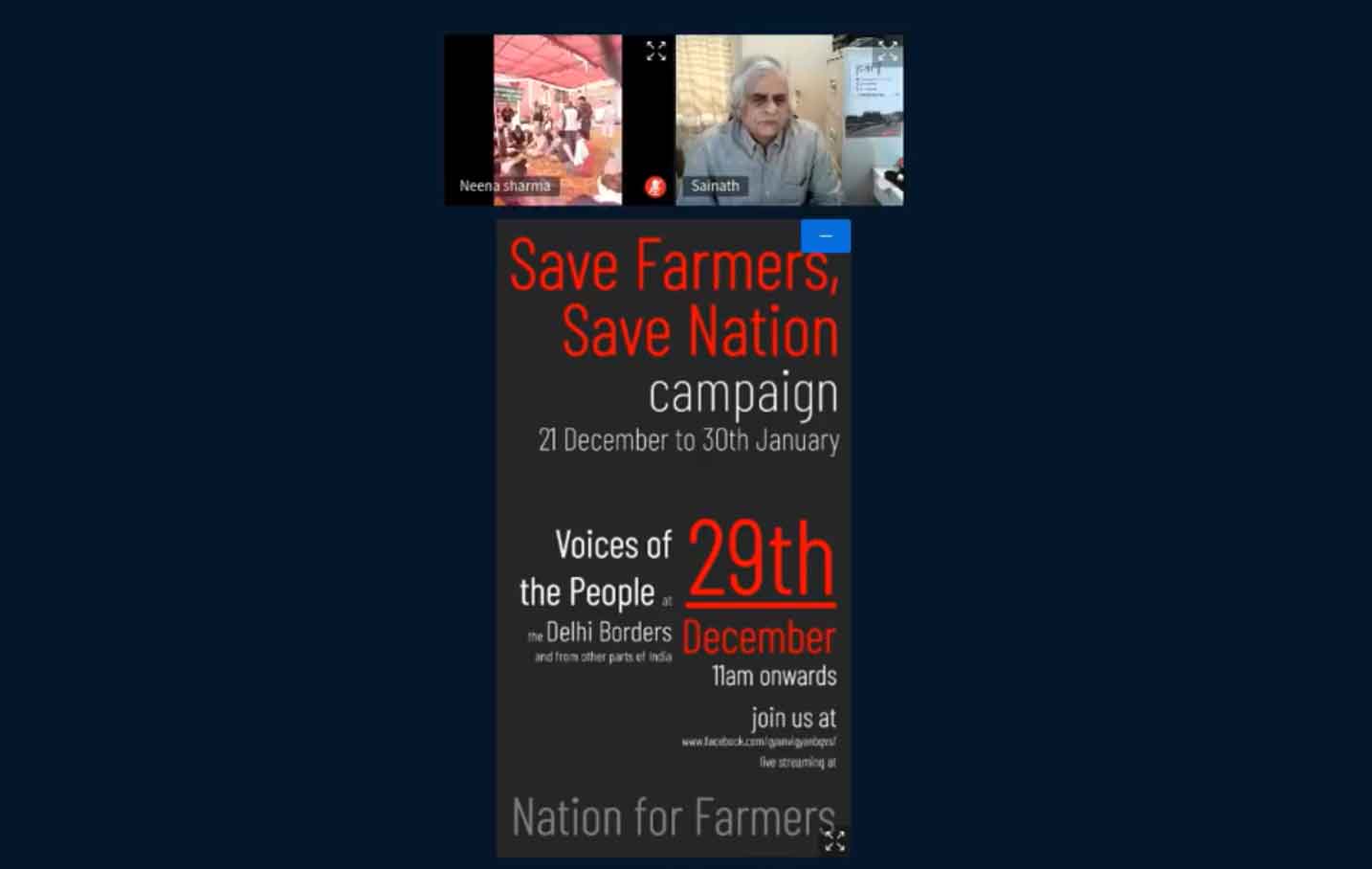 Pro-farmers platform Nation for Farmers on December 29, 2020 called for people at the grassroot level to create 'Save Farmers, Saver Nation Committees' in every district and village of India during a Facebook Live titled 'Save farmers, save nation' campaign.
The organisation, created for the benefit of farmers in 2018, stated that its members have begun establishing such committees all over India since December 21 to strengthen and unify the country's farmers' movement. People taking up this initiative will continue to visit many areas in India till January 30. As per the poster of the virtual conference, the goal of such committees was to amplify the voices of people already protesting at Delhi borders.
According to member P. Sainath, who expressed solidarity with farmers protesting in Delhi, "Anybody can form a Save Farmers, Save Nation committee. The intention is to unite people supporting farmers at the district and taluka level."
Every committee will put forward the following demands to authorities at the grassroot-level: repeal of the three laws – the Farmers (Empowerment and Protection) Agreement on Price Assurance & Farm Services Act, the Farmer's Produce Trade and Commerce (Promotion and Facilitation) Act and the Essential Commodities (Amendment) Act; call for a special Parliamentary session to discuss India's agrarian crisis and related issues; Complete debt waiver for farmers.
Further, Sainath said committees can boycott those corporations at the ground-level that harm farmers' interests. Similarly, members can bring up local issues voiced by peasants and monitor the functioning of mandis and Minimum Support Price (MSP) in their areas.
"Nation for Farmers is there to help you coordinate this matter. But you [people who establish committees] are autonomous, you can show the action and create such committees wherever you are," said Sainath.
During the conference, the Bharat Gyan Agyan Samiti coordinating the event showed visuals of one of the first Save Farmers, Save Nation committee in Kanyakumari that was already observing a protest on Tuesday decrying the three farm laws. The regional coordinator stated that while many people were willing to join the protest, the group had to restrict its mobilisation due to pressure from the Tamil Nadu government.
"Until Farmers succeed, we will supply all possible material and mobilise agitations under the banner of the Nation for Farmers," said the coordinator.
The event also included various solidarity statements and ground reports from Palwal district in Haryana and Shahjahanpur border.
Many students from Jawaharlal Nehru University, and other areas such as Dehardun, Uttarakhand posted videos expressing solidarity with farmers. Jamia Millia Islamia University Professor Sonia Gupat also assured her support to the peasant movement.
Similarly, women's groups in Gujarat and the All India Democratic Women's Association (AIDWA) also promised their support as did various gram panchayat level workers from Himachal Pradesh, Madhya Pradesh, Tamil Nadu, Andhra Pradesh, Haryana and other areas. A resident from Chamoli, Uttarakhand also sent in her video criticising the government for introducing laws during such an inopportune time.
Moreover, an All India People Sense Network member Rajamanickam promised the organisation's support from across 25 states and some union territories that had functional units. Rajamanickam also introduced a local farmer from Thangalacheri village in Madurai district who spoke regarding the movement in Tamil. Another supporter Anshuman spoke in favour of farmers from Assam.
Finally, a Food Sovereignty Alliance member warned against the three laws by referring to the delicensing of dairy farmers that spelt doom for small and marginal farmers who left the dairy business. She said that those laws only benefitted corporations the same as the new farm laws.
"Therefore, we stand with farmers and demand repeal of farm laws," she said.
Related:
Farmers lament Centre's vague and nonspecific letter for talks
Advocate dies for farmers' struggle, leaves behind a note for "Modi, the Dictator"
Centre agrees to meet farmers on December 30, end of stalemate?
Farmers' movement: UP Govt using police to intimidate protesters?
Haryana farmers receive help from toll plaza workers who open gates
Rajasthan julloos at par with Delhi protests! Farmers observe relay fast
Are the new farm laws constitutional?