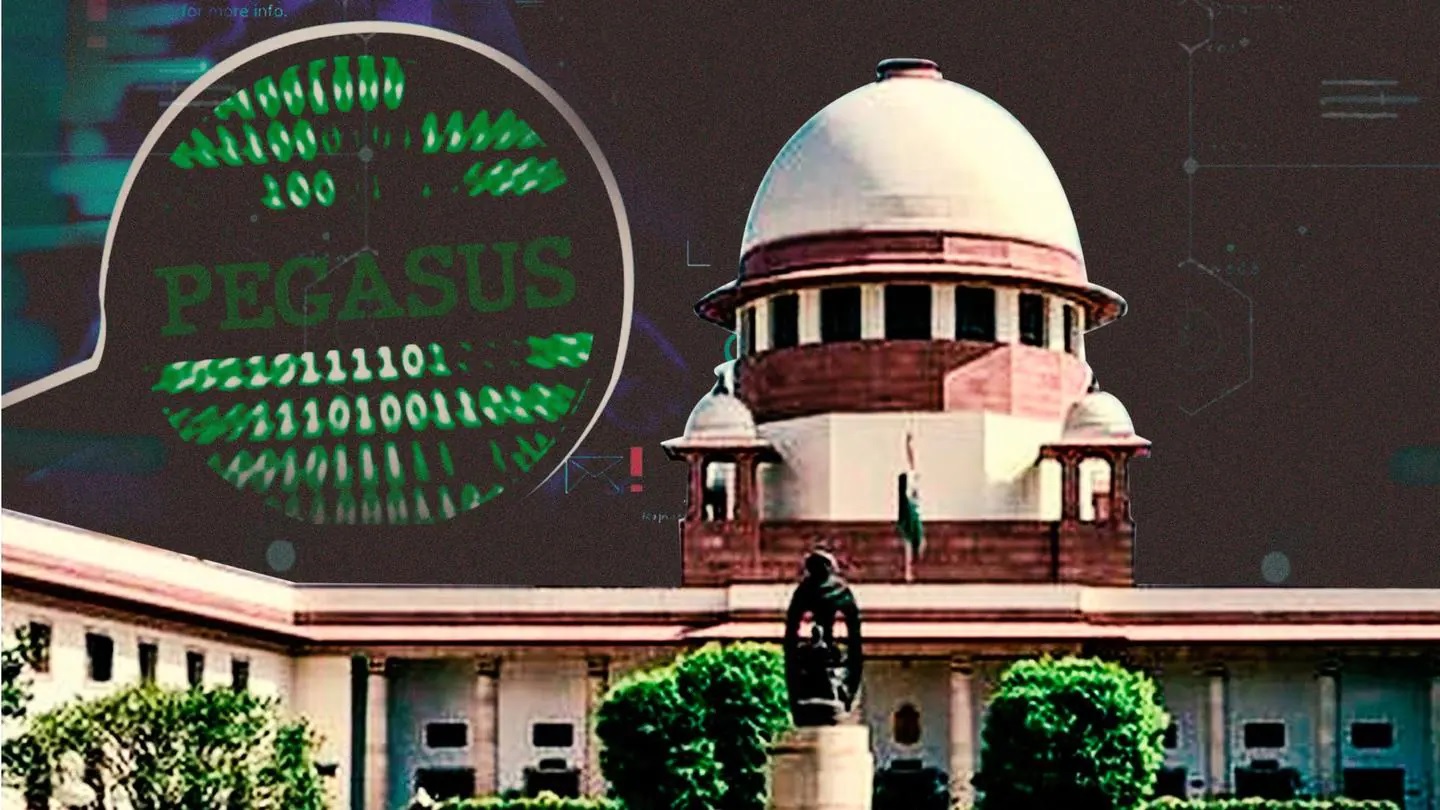 The Supreme Court bench of Chief Justice NV Ramana, Justice Surya Kant and Justice Hima Kohli has taken on record a sealed report submitted to it by the Committee set up by the court to probe allegations of the spyware Pegasus being secretly installed in the mobile phones of human rights activists and journalists.
The Telegraph reported that the court revealed that the Committee has examined 29 devices so far and found that five of them were infected by malware, though it was not Pegasus. LiveLaw also reported that the bench orally remarked that the Committee had submitted that the Government of India (GoI) had not cooperated. The publication quoted the bench as saying, "One thing committee has said, Government of India has not cooperated. The same stand you took here, you have taken there…"
Brief background of the Pegasus scandal
The scandal was first reported by French organisation Forbidden Stories in association with several global partners including The Wire in India. Their investigation revealed that the phones and other electronic devices of several Indian politicians, activists and journalists, had been placed under surveillance using the Pegasus spyware. Many of the people on the list voluntarily had their devices tested to get confirmation, following which the story broke and generated public debate and outrage.
In late July and early August 2021, after a Rajya Sabha Member of Parliament and a few journalists, all targetted by the spyware moved Supreme Court, the Centre that had been hitherto avoiding making any formal statements, finally made its first official comment on the matter in response to a question raised in Parliament.
The written response provided on August 9, by Ajay Bhatt, Minister of State in the Ministry of Defence, said, "Ministry of Defence has not had any transaction with NSO Group Technologies." This is significant because NSO, the Israeli manufacturer of the spyware that was used to snoop on as many as 300 Indians including journalists, activists and dissenters, only engages in transactions with "vetted governments". In hindsight, this appears to be just a carefully-worded non-denial.
Readers would recall that in September 2021, the GoI had refused to answer key questions pertaining to the purchase of Pegasus, a spyware developed by NSO Group of Israel, and only sold to vetted governments. The GoI had refused to budge from its stand citing national security concerns.
The SC had then taken umbrage to this stand and had observed, observed, "It is a settled position of law that in matters pertaining to national security, the scope of judicial review is limited. However, this does not mean that the State gets a free pass every time the spectre of "national security" is raised. National security cannot be the bugbear that the judiciary shies away from, by virtue of its mere mentioning."
In fact, the Government will not be allowed to have its way was made clear in the very beginning of the judgment that began with an Orwellian quote:
"If you want to keep a secret, you must also hide it from yourself." ­
___George Orwell, 1984
In October 2021, the SC ordered the formation of an independent expert committee to look into allegations of the use of the Pegasus spyware for targeted surveillance of several journalists, activists and political dissidents.
A three-member committee of technical experts was constituted to probe the allegations. The three technical experts were:
Dr. Naveen Kumar Chaudhary, Professor (Cyber Security and Digital Forensics) and Dean, National Forensics University, Gandhinagar, Gujarat.

Dr. Prabaharan P., Professor (School of Engineering), Amrita Vishwa Vidyapeetham, Amritapuri, Kerala.

Dr. Ashwin Anil Gumaste, Institute Chair Associate Professor (Computer Science and Engineering), Indian Institute of Technology, Bombay, Maharashtra.
The functioning of this committee was overseen by Justice RV Raveendran, former Judge, Supreme Court of India, and he was assisted by:
Mr. Alok Joshi, former IPS officer (1976 batch)

Dr. Sundeep Oberoi, Chairman, ISO/IEC JTC1 SC7 (International Organisation of Standardisation/ International Electro ­Technical Commission/Joint Technical Committee)
Shocking revelations by the New York Times
In February 2022, New York Times revealed that the Government of India had purchased Pegasus way back in 2017, as part of a package included in a $2 billion defence deal with Israel. This left many wondering if the government has been willfully gaslighting its own citizens all this while?
The report titled The Battle for the World's Most Powerful Cyberweapon said, "Though the Israeli government's oversight was meant to prevent the powerful spyware from being used in repressive ways, Pegasus has been sold to Poland, Hungary and India, despite those countries' questionable records on human rights."
It further elaborated, "In July 2017, Narendra Modi, who won office on a platform of Hindu nationalism, became the first Indian prime minister to visit Israel. For decades, India had maintained a policy of what it called "commitment to the Palestinian cause," and relations with Israel were frosty. The Modi visit, however, was notably cordial, complete with a carefully staged moment of him and Prime Minister Netanyahu walking together barefoot on a local beach. They had reason for the warm feelings. Their countries had agreed on the sale of a package of sophisticated weapons and intelligence gear worth roughly $2 billion — with Pegasus and a missile system as the centerpieces. Months later, Netanyahu made a rare state visit to India. And in June 2019, India voted in support of Israel at the U.N.'s Economic and Social Council to deny observer status to a Palestinian human rights organization, a first for the nation."
Will at least some part of the Committee's report be made public?
Now, the Supreme Court appointed Committee has submitted its report in three parts in a sealed cover to the Supreme Court. While there is much curiosity about the findings of the Committee, not all parts of the report are likely to be made public as it not only contains information pertaining to malware and public research material, but also material extracted from private mobile instruments which may contain confidential information. But the part by Justice RV Raveendra, who was overseeing the probe, could be uploaded to the court website. For now, the report remains in sealed cover. The case has been adjourned for four weeks.
Related:
Pegasus scandal: Did GoI engage in an elaborate cover-up?
State can't get free pass every time spectre of "national security" is raised: SC in Pegasus case
Pegasus scandal: SC stays Justice Lokur Commission probe
Defence Ministry has had no transaction with Pegasus developer NSO Group: Centre in RS
Centre refuses to disclose use of Pegasus in affidavit, pleads national security
Pegasus Project: 5 targeted journalists move SC, say have been subject to intrusive hacking
Pegasus Snoopgate: RS MP, Journalists move SC for court monitored probe