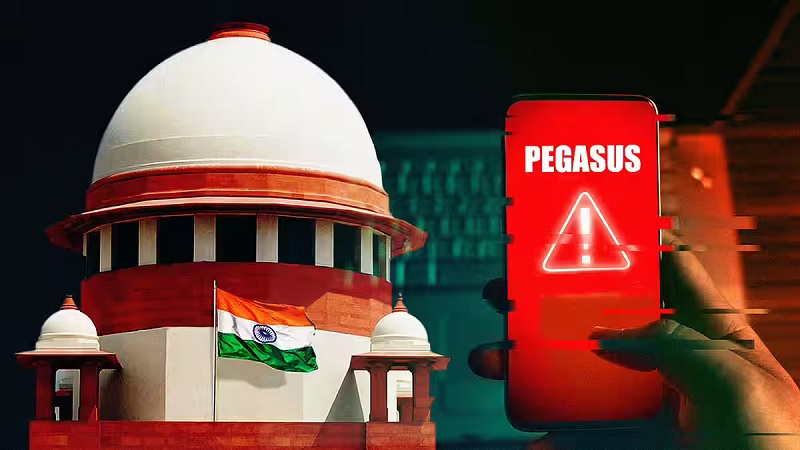 Image Courtesy:newslaundry.com
The Supreme Court is likely to deliver judgment in connection with a batch of petitions seeking a probe into the surveillance scandal revolving around the use of the Israeli spyware Pegasus, that was allegedly used to spy on Indian activists, journalists and human rights defenders.
Brief background of the case
On July 18, it had been revealed that the Israeli spyware Pegasus had been used to target many journalists including over 40 from India. The Wire news portal broke the story in India, and its founding editors Siddharth Varadharajan, and MK Venu were on the list of journalists being tracked along with their investigative writer Rohini Singh and others. Journalists from the Hindustan Times, among others, were also on the list.
Denial by Indian authorities
While NSO, the Israeli manufacturer of the spyware, had categorically stated that the software was only sold to "vetted government", Indian authorities first made vague statements and then denied purchasing or using Pegasus. Minister for Information Technology, Ashwini Vaishnaw had stated in Parliament on July 19 that there was no substance behind the snooping reports and that it was an attempt to malign the Indian democracy. "Hon'ble Speaker Sir, when we look at this issue through the prism of logic, it clearly emerges that there is no substance behind this sensationalism," he submitted.
In a written response submitted before the Rajya Sabha on August 9, Ajay Bhatt, Minister of State in the Ministry of Defence, said, "Ministry of Defence has not had any transaction with NSO Group Technologies."
West Bengal leads the way
On July 26, the West Bengal government appointed a two-member Commission headed by retired judge of the Supreme Court, Justice Madan Lokur and Calcutta High Court Chief Justice Jyotirmay Bhattacharya to inquire into the Pegasus scandal.
Affected parties move SC
Shortly afterwards, Rajya Sabha Member of Parliament John Brittas, and senior journalists N Ram and Sashi Kumar, approached the Supreme Court in two separate petitions, seeking a court monitored probe into allegations of use of Pegasus spyware for "surveillance" of citizens.
In August, five journalists: SNM Abdi, Prem Shankar Jha, Paranjoy Guha Thakurta, Rupesh Kumar Singh and Ipsa Shataksi, had moved court through Advocate-on-Record, Prateek Chadha, stating in their petition, that they have been subjected to a "deeply intrusive surveillance and hacking by the Government of India or some other third party."
A bench comprising Chief Justice NV Ramana, and Justices Surya Kant and Hima Kohli had heard the matter and reserved judgment on September 13. It is noteworthy though that the Centre refused to file an affidavit pertaining to the use of Pegasus due to "national security reasons". Solicitor General of India, Tushar Mehta, had said at the time, that the government would constitute a committee of domain experts, saying, "Revealing whether Pegasus was used or not, would not be in national interest. Allow the government to constitute the committee, independent of the government."
Senior counsel Kapil Sibal, appearing for one group of the petitioners (journalists, N Ram and Sashi Kumar) had countered this saying, "All we want to know is if the State has used Pegasus. But my learned friend [Tushar Mehta] is saying that it will be detrimental to national interest. I am sorry, to not say that will be detrimental to justice. This spyware is per se illegal. It cannot be used. Ordinary citizens were targeted. This is a serious issue. State cannot say that they cannot tell the court."
Bar and Bench meanwhile reported that on September 23, CJI ramana had said in open court that the SC was mooting constitution of an expert committee to probe the scandal.
Related:
Defence Ministry has had no transaction with Pegasus developer NSO Group: Centre in RS
Centre refuses to disclose use of Pegasus in affidavit, pleads national security
Pegasus Project: 5 targeted journalists move SC, say have been subject to intrusive hacking
Pegasus Snoopgate: RS MP, Journalists move SC for court monitored probe