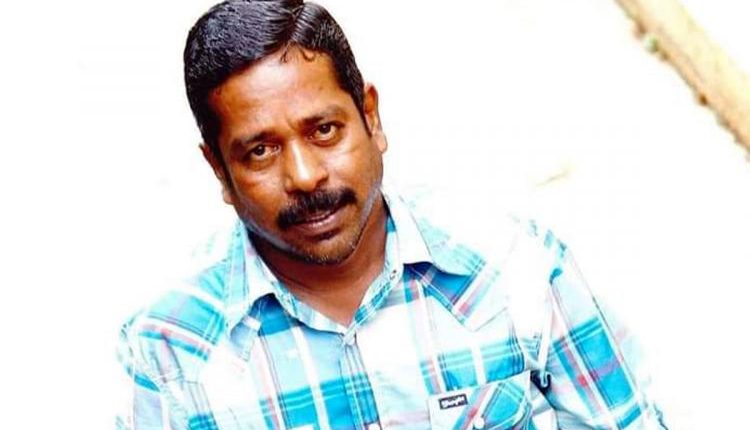 Image: The News Minute
Media circles are still in shock how a massive 60-month (5-year) backlog of salary and lack of emergency financial support, was probably the main reason behind senior photojournalist and Bureau Manager, T. Kumar's death y suicide on Sunday. Kumar (56) had died in the United News of India's (UNI) Chennai office where he had worked for over three decades.
According to news reports, Kumar's son called a colleague to say that his father had not returned home. The colleague went to the office and found T Kumar's body in the newsroom on Sunday night, and police were informed. Kumar was taken to the Kilpauk Government Medical College Hospital where he was declared dead. The body was handed over to his family after an autopsy.
He is survived by his wife, a daughter and a son. According to a statement issued by Shailendra Jha, president and Mahesh Rajput general secretary of UNIFront, the union formed by a group of employees of UNI, Kumar and his family has been under major financial stress for some time now but did not find the support he sought from his workplace.
"Kumar's wife had met with an accident a few months ago and he had applied for an amount of at least Rs. 1 lakh against his pending dues for her treatment. However he was sent a paltry sum of Rs. 25,000/- only. Also, Mr. Kumar's daughter's engagement was scheduled to be solemnised next week and it is learnt that he had applied for Rs. 5 lakh for the same, but the management was yet to respond," stated UNIFront.
The union has demanded that the tragic death should be thoroughly investigated and "strict legal action" be taken "against those found responsible for abetting the suicide". They have also asked that "UNI should pay a compensation of Rs. 10 lakh immediately and clear all his legal dues within a week, failing which we will be compelled to launch an all-India level agitation. The incident has shaken up all the 250-odd UNI employees across the country, who continue to deal with severe financial pressure as the delay/non-payment of their earned wages have continued for more than a decade now.
"There is a backlog of 60 months of salaries, yet the management's callous attitude toward the dire crisis of the employees is unchanged. This month itself, a decision has been taken to stop payment of Rs. 10,000/- against the pending statutory gratuity, pending salaries and other legal dues payable to former employees," stated the union adding that the UNI Board and management at the New Delhi, Head Office, "have created this crisis in the company due to which the employees are suffering. Against a 60-month-salary backlog, the management has been doling out a sum of Rs. 15,000/- in lieu of monthly salaries."
On October 2, 2021, the UNIfront had sat on a peaceful protest, on the streets outside UNI's New Delhi office. Sitting on a relay hunger strike, the group of senior journalists had asked for their wages that had remained unpaid for 56 months! Five days later, the serving and former employees of UNI, who were protesting marked their first victory and called off the agitation after the UNI management, for the first time ever called UNIFront for three rounds of discussions "which resulted in agreement on several points and assurances of action on others," UNIFront had said. A joint Statement of UNI Management and UNIFront then stated "Management team headed by Ajay Kumar Kaul, Editor-in-Chief, accepted that the backlog of 56 months' salary, which is a legacy issue, represented a grave state of affairs."
However, Kumar's death seems to have exposed the loopholes yet again. According to UNIfront, "The UNI Board and management at the Head office, i.e. New Delhi, have created this crisis in the company due to which the employees are suffering. Against a 60-month-salary backlog, the management has been doling out a sum of Rs. 15,000/- in lieu of monthly salaries. At superannuation, no employee gets gratuity, pending salaries and other legal dues."
UNI, a national news agency, is run by a Board of Directors, its chairman is Sagar Mukhopadhyay of Manipal group, one of UNI shareholders. The other two directors are Binod Mandal, who is also Head Legal and Group Company Secretary Manipal Group, and Pawan Kumar Sharma. Shareholders include Jagran Prakashan Ltd, Kasturi & Sons Ltd, Express Publication (Madurai), HT Media Ltd, Statesman Ltd & Nava Bharat Press (Bhopal) Ltd, ABP Pvt Ltd., and Times of India among others.
According to UNIFront, while there have not been any fresh investments, UNI now has an additional "monthly 20 lakh (approximate) expenditure appointing more than 30 contractual employees on key positions with hefty paychecks". The UNIFront statement may be read here.
Media bodies demand justice for Kumar's family
Media bodies including the National Alliance of Journalists (NAJ) and the Delhi Union of Journalists (DUJ) have expressed shock at Kumar's death. "We hear that he was the first photographer to become state head of the agency in Tamil Nadu. We note the circumstances leading to his death and the fact that UNI in general is not paying its employees their dues regularly, with a heavy backlog. The grim story of UNI being miss-managed over the years and the semi starvation of many employees who have not got their past dues and the government squeeze of the premier agency is recorded," they stated adding that the "matter will be discussed along with the deplorable state of this once premier agency, at our special meeting of the Executive on Wednesday."
The Brihanmumbai Union of Journalists (BUJ) also expressed shock and anger at the tragic death by suicide of T Kumar. "The BUJ grieves with his family and with his colleagues and stands in solidarity with them in this hour of sorrow," the statement issued by Indra Kumar Jain Hon. Secretary, stated and added that denial of Kumar's request for financial assistance was a "criminal" act adding that the crisis in UNI has not been resolved for several years.
In a statement on Oct 3, 2021, the BUJ had said, "Not only is such a state of affairs untenable and illegal but it also constitutes a colossal breach of faith on the part of the UNI Board of Directors and management. Despite an agitation by the UNI employees and promises proffered by the UNI management, nothing was done. The tragic death of T Kumar bears testimony to the rank indifference and callousness to the plight of the employees."
The BUJ has demanded "a thorough investigation by law enforcing agencies against the UNI board of directors and management and strict action against those responsible for this tragic death and for the larger state of affairs in UNI." It has also asked that "immediate compensation be paid to the family."
Related:
New press accreditation rules can be misused to punish journalists
Unique 5-day Satyagrah by UNI employees ends in the hope that dues will be paid