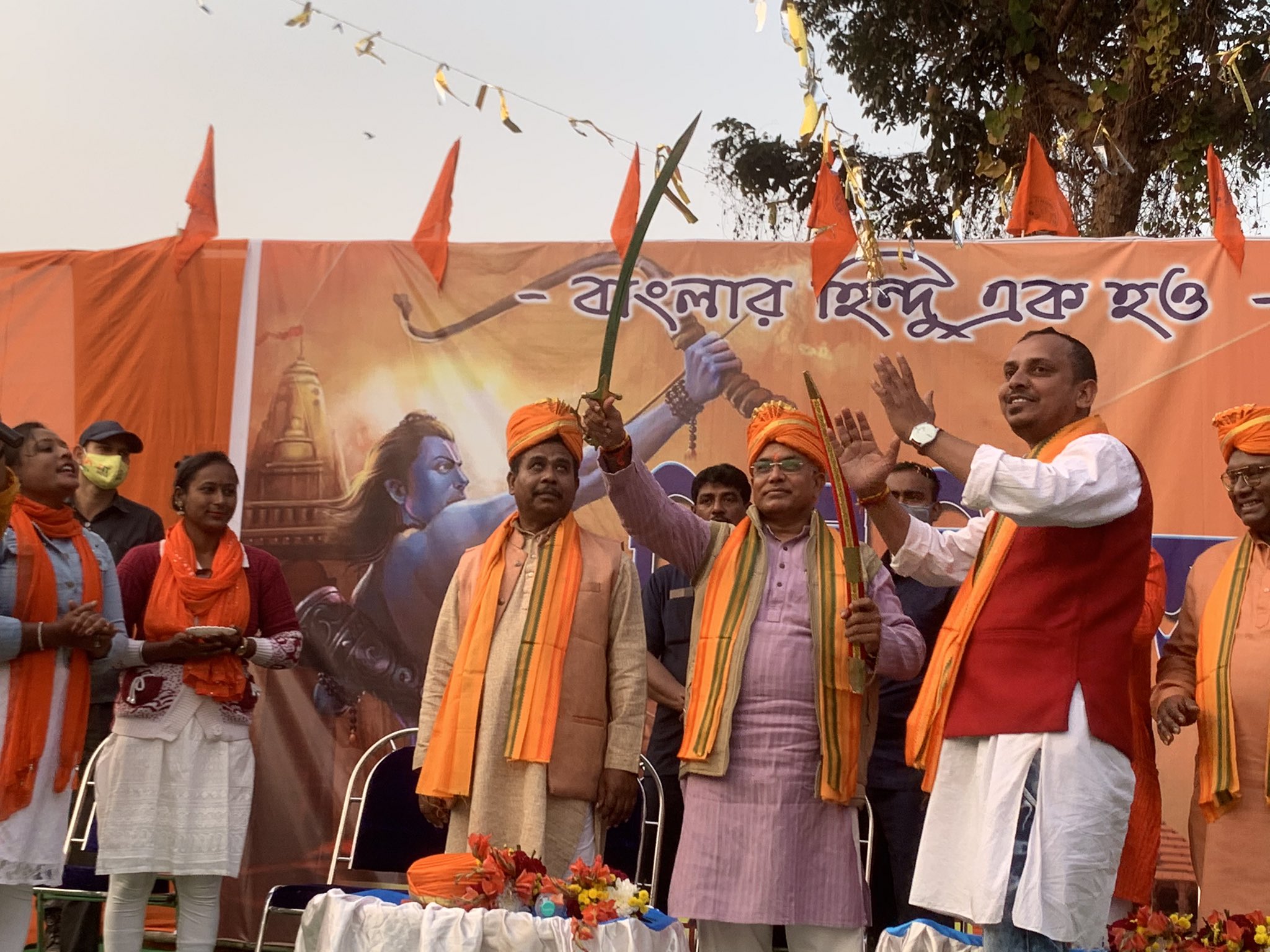 According to the Bharatiya Janata Party's chief in West Bengal, the Constitution of India has provisions that allow "taking up arms to protect the dignity of women". He said the "Constitution has given the right to use weapons" to protect "honour", he taunted that the Hindu youths' hands had gone so soft and weak that they could not even pick up a sword now. He told them that they should take up arms to protect, and implied that they will be protected under the law. While inciting the gullible audiences of the speech, he is not heard mentioning what Article of the Constitution he was quoting from.
Dilip Ghosh's remarks made on Tuesday, were in line with his track record of making controversial, and provocative statements, especially addressing Hindu groups. According to a report in The Statesman, Ghosh added that "Lord Ram had taken arms at a very young age. To protect the dignity of our mothers and sisters, the Hindu youths need to be united. If need be, they should take up weapons." He was speaking at a public event of Hindu Jagaran Manch in West Bengal's Paschim Medinipur. "The Constitution has given us the right. To take up arms in protection of our religion, pride and life is not illegal. We'll do exactly that," he added.
If asking young men to carry and use weapons freely was not enough, Ghosh added that they should seek "revenge" first before they invoked the law, "Take the revenge first then go to the police station," Ghosh announced.
Few moments from "Hindu Sammelan" at Garbeta, Paschim Medinipur organised by "Hindu Jagaran Mancha". pic.twitter.com/fmFIZSh1Hq

— Dilip Ghosh (@DilipGhoshBJP) December 30, 2020
Ghosh has in the past also issued violent 'warnings' to party workers of Trinamool Congress, days after Union Home Minister Amit Shah's visit to West Bengal, saying "All brothers of Didi better mend their ways in six months. Otherwise their arms, legs, ribs and heads will be broken. You will either end up in the hospital or the crematorium!" Before that he had called the state a "second Kashmir" alleging there were more terrorists in Bengal than in Kashmir when addressing BJP workers in Birbhum. "All terrorists have taken shelter in Bengal. Arrests (of terrorists) were made twice from Murshidabad. Bengal has become second Kashmir," he had said taking a communal jibe at West Bengal's Muslim population that traditionally does not vote for the BJP. Thus, 'othering' and demonising Muslims, appears to be BJP's strategy to consolidate the Hindu vote bank, in a bid to win the assembly elections scheduled to take place in the state next year. And now he has crossed another limit by falsely invoking the Constitution, and urging gullible young men to take up arms.
The truth is that India has one of the strictest gun laws in place. A licence has to be first secured for "acquisition and possession of firearms and ammunition." The law states that: "No person shall acquire, have in his possession, or carry any firearm or ammunition unless he holds in this behalf a licence issued in accordance with the provisions of this Act and the rules made thereunder. Further details of the Act may be read here: http://legislative.gov.in/sites/default/files/A1959-54_0.pdf
Related:
10 most hate-driven statements by Indian politicians
Mamata dubs attack on BJP convoy "nautanki", Dilip Ghosh promises revenge
You will either go to hospital or crematorium: Dilip Ghosh