How will trotting out a list of small-scale measures help tackle the shock to the economy?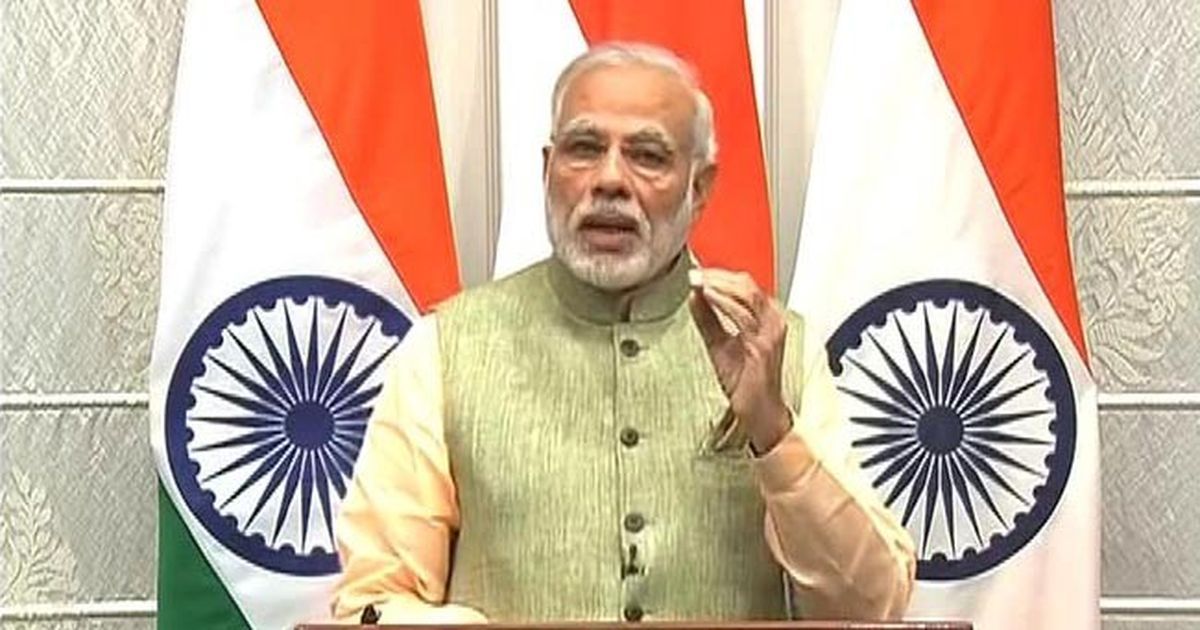 Photo Credit: Scroll.in
On Saturday, large numbers of Indians had a rather unusual New Year's Eve plan: watch the Prime Minister speak. Narendra Modi's last televised speech on November 8 had seen him drop a bombshell: the demonetisation of 86% of India's currency. This time – for better or for worse – there was no such big announcement. The prime minister, instead, went in for some avuncular moralising and then proceeded to announce a slew of welfarist measures, ostensibly as a balm for the pains that his government's demonetisation has caused.
While Modi's welfarism represents the completion of a full U-turn from the prime ministerial candidate who had promised "minimum government", the measures themselves would do little to address the ill-effects of demonetisation other then, weakly, manage the optics of Modi being seen to be doing something to help the citizens in their time of need.
Morals and sops
Modi started off with some homilies in keeping with the moral politics that he has tried to institute ever since November 8. "In God's creation, humans are endowed with fundamental goodness," sermonised the prime minister. "With time, the distortions of badness creep in". It was to take out this "badness" that the "shuddhi yagya", purity sacrifice of demonetisation had been conducted, explained Modi. But in this sacrifice, Modi was aware of the "pain and sorrow" of the common people: "You had to queue up, and face difficulty in withdrawing your own money."
The second half of Modi's speech consisted of a slew of small-scale sops and measures, targeted mostly at rural India. Some of these are:
An interest rebate for small loans under the Pradhan Mantri Awaas Yojana in urban areas. Loans less than Rs 9 lakh will see an interest cut of 4% and those less than Rs 12 lakh will see a cut of 3%. An interest cut of 3% for loans of up to 2 lakh rupees taken in 2017, for new housing, or extension of housing in rural areas.
A 33% increase in the number of homes built in rural India under the Pradhan Mantri Awaas Yojana.
Three crore Kisan credit cards will be replaced by RuPay cards.
The underwriting of loans given by banks to small businesses by the Union government will go up from Rs 1 crore to Rs 2 crore. Moreover, credit limit for small industry from will be raised from 20% of the turnover to 25%.
Tax reduction for small business: Reduction of rate of tax from 8% to 6% for small business having a turnover less than Rs 2 crore.
Financial assistance to expectant mothers: Rs 6000 will be transferred directly to the bank accounts of pregnant women who undergo institutional delivery and vaccinate their children.
Welfare optics
In all of these small sops to citizens and small industry the one thing that stood out was that…nothing stood out. A plan to build more houses under the Pradhan Mantri Awaas Yojna or a slightly lower rate of tax for some small businesses were so banal that they wouldn't even make the headlines in a Union budget speech.
Moreover, a few schemes were already part of the Union government's policy matrix: the maternity benefit exists as a part of the National Food Security Act, passed in 2013, and the RuPay card is hardly a new idea.
Other than the optics of managing anger due to demonetisation and making a show of the government caring, it is unclear how these small schemes will help India get over the shock of demonetisation.
It is also apparent that Narendra Modi has by now completely given up on his minimum government programme. Sops is what the prime minister turns to as a crutch in times of need. The fact that the prime minister had to now pull out a provision of the United Progressive Alliance's 2013 Food Security Act – which both the UPA and his government had denied to women – is telling.
Of course, it is unlikely these small sops will do anything to ease the pain of demonetisation. As India steps into the new year, mitron, it's clear that the pain will continue.
(Republished with permission from Scroll.in).