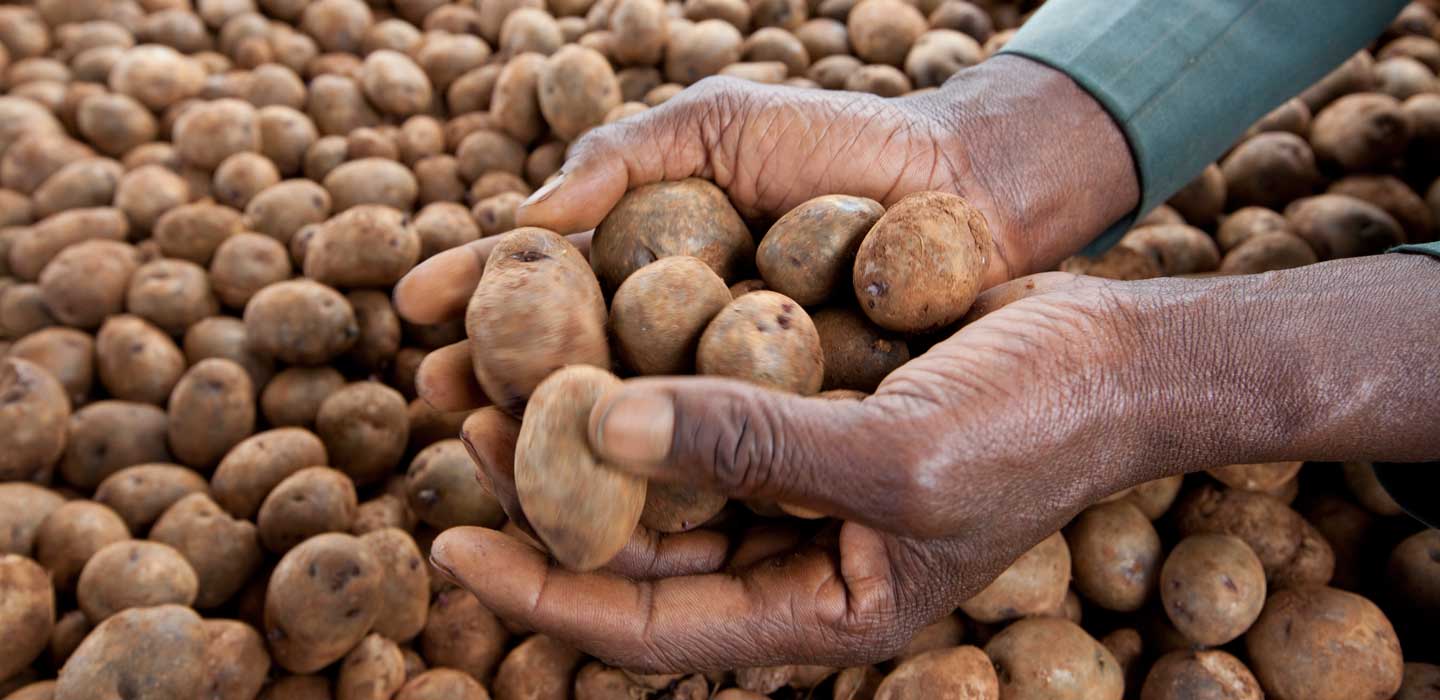 The last fortnight has seen a steep fall in the prices of potatoes and other agricultural harvest produce, forcing the Indian farmer to stare at steep losses. On November 21, farmers sold potatoes for Rs3,400 per quintal. A month later, the price has plummeted to Rs700. This in the midst of a propaganda blitz of the government that it has been busy procuring goods to keep the farmers' economic health stable.
Facts from the ground speak otherwise leading to sharp assessments by economists and practioners (farmers) in the agrarian sector.
Of all the options available to the central government, repealing the laws is the best alternative, Jawaharlal Nehru University Professor Vikas Rawal told SabrangIndia on December 24, 2020 while talking about falling prices of agriculture produce in India. Farmers and the Union government continue to stand at odds regarding the Farmers (Empowerment and Protection) Agreement on Price Assurance & Farm Services Act, the Farmer's Produce Trade and Commerce (Promotion and Facilitation) Act and the Essential Commodities (Amendment) Act.
The situation has escalated to the point where farmers are clear and have given an ultimatum to the regime. They will not end their struggle until the laws are repealed. The Modi government however insists that farmers will benefit from the Acts as the Minimum Support Price (MSP) system will continue along with these laws.
In the current scenario, says Professor Rawal, accepting the demand for repeal of the three laws may benefit the government because: "In a situation in which MSP is much higher than the open market prices, providing a statutory guarantee of MSP has become impossible for the government. The government simply does not have the capacity to procure, store and dispose of all the produce it will have to procure if MSP is/was made statutory." Alternatively, he said that the central government could also make the implementation of these laws contingent on enabling laws to be passed in state legislatures.
Is this a viable solution? The suggestion has its advantages considering the various laws currently operational in different states.
For example, according to Karnataka Rajya Raitha Sangha (KRRS) Belagavi President R. Vilas Naik, farmers have suffered due to state amendments to the State APMC Act and the Land Reforms Act along with the three central farm laws. "Prime Minister promises that these new laws will help us. But what we want is for APMC markets to continue for another 12 months at least with the same APMC officers working in the areas. These officers should make sure nobody buys crops below MSP," said Naik.
Personally advocating for the recently enacted three farm laws, Prime Minister Narendra Modi has iterated time and again that the laws allow farmers to sell their produce wherever they want. However, Naik pointed out that farmers have had this option even before the new laws were hurriedly enacted. In fact, he said Belgavi farmers often entered Maharashtra to sell their produce in the neighbouring state. However, during COVID-19 lockdown, all nearby APMC markets were closed down as the government claimed to have no money to keep the markets open. On the crucial issue of the current going price of maize per quintal, he said maize crop is nowadays sold at Rs. 1,400 – Rs. 1,500 per quintal even though the MSP is Rs. 1850 per quintal. This means a Rs. 400- Rs. 500 loss per quintal of crop even though, in 2019, maize was sold at Rs. 1800 per quintal. Naik blamed the sudden lockdown, severe rains and poor produce for the drastic fall in prices.
"The loss in poultry farming is also a significant factor for the sudden decline in prices. Last year, prices even reached a peak of Rs. 2,500 per quintal much higher than the MSP for the year," said Naik. Similarly, the vocal farmer leader also said there was Rs. 500 to Rs 1,000 loss for every crop unit this year. Regarding sugarcane, he said that while sugar farmers received the Fair and Remunerative Prices (FRP,) prior discrepancies in confirming the price ultimately resulted in a loss for farmers.
SabrangIndia has previously talked to Bihar farmers who talked about similarly poor sales despite a boom in maize crop harvest.
When asked about the impact of lockdown on falling crop prices, Rawal said that prices may have been affected in two respects: disruption of market supply chain and the demand effect. Further north, the All India Kisan Sabha (AIKS) Maharashtra Treasurer Umesh Deshmukh said that no crop in the state has received MSP in 2020 barring sugarcane that received FRP payment in two instalments.
Illustrating his point, Deshmukh said that cotton crops, that fared better than most crops of 2020, were sold at Rs. 4,000 per quintal. However, the 2020-2021 MSP for cotton ranges from Rs. 5,515 to Rs.5,825 per quintal. Moreover, fruits like grapes were practically given away for free during the corona virus (Covid-19) lockdown.
Offering a reason for these severe price fluctuations, Deshmukh said that while MSP is decided assuming a favourable market environment, the ground-level reality is quite different. Farmers dealing with perishables like cotton and sugar are in a hurry to make their sale. As a result, they often end up losing out on proper prices. "The Union government makes false claims about the benefit of these new laws for farmers. Worse still, corporate farming will rob us off our land; these policies are clearly made for corporations," he said.
Additionally, Rawal said that due to increased integration with the world market over the last three decades, low international prices of commodities such as edible oils and pulses depress the prices for domestic producers.
On the eastern front, Jai Kisan Andolan West Bengal Convener Sattam Bhattacharya told Sabrangindia that maize was sold at approximately Rs. 1,100 per quintal in the northern region around September 2020. The crop suffered a significant drop in price compared to last year when prices were around Rs. 1,300 to Rs. 1,400 per quintal. Rice on the other hand was sold at a range of Rs. 900 to Rs. 1,100 while the MSP was Rs. 1,700 per quintal.
Seriously concerned about the impact of the new laws, he explained: "In the current state farmers can at least ask for MSP. But if this new situation is allowed then what will farmers do? Due to coronavirus (Covid-19), crops could not be taken to market; government offices were not working properly at the mandis (markets)."
Meanwhile, Rawal said that in case of rice and wheat, there is a glut in the market because the government has accumulated a historically high level of stocks. "These stocks are a result of the fact that the expansion of distribution of grain has not been commensurate with the procurement. While the government is forced to procure more because of the increasing gap between the MSP and the open market, they have not expanded the distribution. Accumulation of stocks puts downward pressure on price realisation for farmers in states where facilities for government procurement do not exist," he said.
Even in Modi's home state, farmers seemed to have suffered a severe price fall. The South Gujarat Khedut Samaj Gujarat (KSG) President Ramesh Patel said that the dangar crop, a staple food of the state, suffered successively low prices in the last four years. The crop price went from Rs. 441 per 20 kg four years ago to Rs. 350 in this year. Thus, the price has fallen below the MSP of Rs. 370 per 20 kg. When asked about Modi's price assurances he said, "This is all talk. We won't believe him until he gives us these assurances in writing." While expressing his opposition to the three laws, Patel also warned that the policies would not even benefit consumers. Farmers saying otherwise are all BJP workers presenting themselves as farmers, he said.
On the call of the farmers' organisation coordinating the protest, Patel had travelled to Shahjahanpur border to support the farmers' struggle. Thereafter, he returned to his homeland on December 23 to educate local farmers about the dangers of the new laws. His organisation planned a meeting in Surat but their plans were ruined after police intervention. Patel said many local leaders had to face house arrest. "They talk about the Gujarat model but in reality, farmers are repressed and not allowed to voice themselves," he said.
Related:
Farmers leaders dismiss false claims of the central government
No Boris Johnson visit to India, till demands met: Farmers to write to British MPs
Modi-government provoked extreme step of farmers, say farmer leaders
Boycott Ambani-Adani products, 'Thali Bajao' on December 27 during PM Modi's Mann Ki Baat.
Rajasthan julloos at par with Delhi protests! Farmers observe relay fast
Karnataka farmers stand steadfastly with protesting Delhi farmers, will reach Delhi border on Dec 25
Are the new farm laws constitutional?