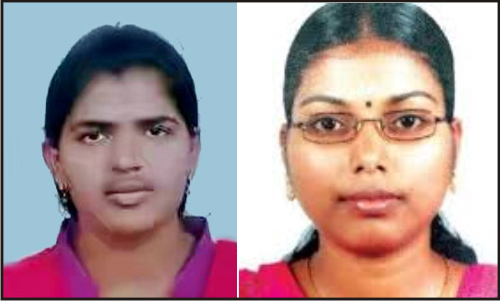 Delta Meghwal (left); Jisha (right)

Barely 38 days ago, on March 29, a brutal rape and murder, also of a bright young Dalit student, Delta Meghwal, 17 years old, studying to become a teacher, took place in Barmer, Rajasthan close to the Pakistan border. It was three days later that the story was pushed by web portals and the social media – triggering protests in six different cities – on April 3 and thereafter, while a strangely selective media, hardened to prioritising issues, simply refused to pick up and project the story.Mahendra Meghwal, Delta's father made a heart-rending appeal to the nation: "I want Justice Not Character Assassination but the television channels remained unmoved.
It started almost the same way with Jisha. A 30-year-old Dalit woman, brutalised in a sickeningly sensational way, raped and killed, in Kerala on April 28 – a month after Delta was found dead.
Only on May 3 did the national media pick up and run the story. NDTV India's Ravish Kumar in his inimitable style raised questions about the media's role in his nightly telecast last night (May 4).
By the afternoon of May 5, the gruesome story could no longer be ignored. And, now it is sure to make front page news. At 12.24 p.m. on May 5, NDTV India reported that PM Modi will visit the mother of Jisha on May 11. It is election season in Kerala and the news that the "jumlebaaz" PM will fly down south to condole with Jisha's inconsolable and seriously unwell mother who has been hospitalised will surely capture the news moment. And the nation will wait with bated breath for the outcome of what will be a much-publicised visit. Television cameras and journos caught napping when the incident first came to light will wake up, make up with much overdue coverage, now.
Sorry Delta. It was not election season in Rajasthan when you were allegedly traumatised by your PT teacher, raped before being cruelly done away with it. The school authorities did not see fit to even wait for your parents before the post-mortem was done. There is still a deathly silence on the incident: its fallout and investigation. Sorry, Delta, that your dreams to teach and share knowledge creatively were not to be.Your teacher tells us that your lesson plans were exceptional and you would have made a wonderful teacher. But sorry again, Delta, a nation that dreams of 'Skill India' has little value for the teacher, or the student. Sorry, Delta, also that you were born – and died — in the wrong state at the wrong time. In BJP ruled Rajasthan at a time when elections are far away.
The prime minister had also flew down to the southern-most tip of India when an awful temple fire broke out weeks ago. It took a bold director general of police to say that Modi, and Rahul Gandhi's visit, hampered, not helped the emergency relief efforts.
Modi did not however drive down to Sunpedh village in Haryana where two young Dalit children – one just a baby – were burnt down allegedly by Rajputs on October 23, 2015. Just seven months ago. The distance of Sunpedh from the national capital could not have been the issue; it is barely 35 kilometres from the national capital, no big deal for the globe-trotting PM. Two days after upper caste Rajputs allegedly set fire to the home of a Dalit family in Sunpedh, killing two young children aged two years and nine months (Vaibhav and Divya) sleeping within, the minister of state for external affairs made remarks that invited widespread condemnation. The minister who was in Ghaziabad at the time was quoted by The Indian Express on October 23 as saying, " "To harc heez par, koi wahan par pathar maar de ya kutte ko to, sarkar jimmewaar hai? Aisa nahi hai. (For everything…like if somebody throws a stone at a vehiclw or a dog, then the Central Government is responsible? …it is not like that)". The allegorical reference to a dog, demeaning when two young children had been brutally killed, though much criticised, drew no response from the prime minister. That Haryana is also a BJP ruled state and there were no elections due there either, may not be a coincidence.
The list of pregnant silences and selective condolences can be quite long even though this government has been in power only for 23 months: since May 2014. It could make an interesting calendar depicting the 'Ayes' for when it was politically expedient for the PM to visit and condole, and 'Nayes' for when it was prudent to remain silent and look, literally, the other way.
Radhika Vemula will not ever have Modi or Irani's shoulder to cry on, especially since she, as her son Rohith Vemula, is a vocal critique of the Sangh. She has now converted with her surviving son, Rajah, to Buddhism.
The Mohsin Shaikh, the Mohammed Akhlaq,the Mazloom Ansari and Imtiyaz Khan killings. Perhaps I need not even mention them here as their birth, names and community are not those that Modi or the Sangh in any way concern themselves with. Mohsin was lynched to death in Pune on June 2, 2014, within days of Modi's swearing in ceremony. Akhlaq was lynched to death in Dadri by those riding high on the 'Save Gau Mata, Hate Beef Eaters' campaign. Speaking on the ghastly incident on October 14 to the Anand Bazar Patrika Modi had said, "The incident is sad, but what is the Centre's role?". What we wonder is the Centre's role in Jisha's brutal rape and murder in Kerala?
The sight of Mazloom and Imtiyaz hanging from a tree in Latehar, Jharkand – again a story that the national media chose to gloss over – should have made any civilised 'nation' cringe in shame. Shame and decency are not emotions that go down well with the bullish sangh regime.
Mohsin in Pune, Mohammad Akhlaq in Dadri, Mazloom and Imtiyaz in Latehar — they have all, in the language and politics of the sangh parivar — been born in the wrong homes, to the wrong families, in the wrong faith. So why waste tears on them?
Rewind to six years back, 2008, Mumbai. Hemant Karkare was shot dead by terrorists from Pakistan on November 26, 2008, Mumbai's 9/11. The siege was still on, Mumbai shocked and traumatised, television cameras still trained on the Taj and Trident hotels. Modi, who was then the chief minister of Gujarat – having won a second term — had flown down from Gandhinagar, and was spotted outside the Trident in South Mumbai.
He was actually booed by grief-stricken relatives and Mumbaikars, who had no use for his posturing. Undeterred, he had driven down to central Mumbai to Karkare's residence to condole with his widow, Kavita Karkare. Grief-stricken, she had first refused to even see him. Later, as she sat stiff and uncomfortable in his presence, Modi condoled in the way he knew best. He announced Rs 1 crore as 'compensation' to the family of Karkare and other police officers killed in the attack. Kavita Karkare firmly, and immediately turned down the 'offer'.
India Today had then reported: "Modi along with other leaders of the BJP, including prime ministerial candidate, LK Advani and others from the Shiv Sena have been baying for Karkare's blood post the Malegaon investigations into the allegations of terrorist activities by the saffron brigade."
Self-respect and dignity have no price, Mr Prime Minister. And condolences, if they are selective and self-serving, really of no value.