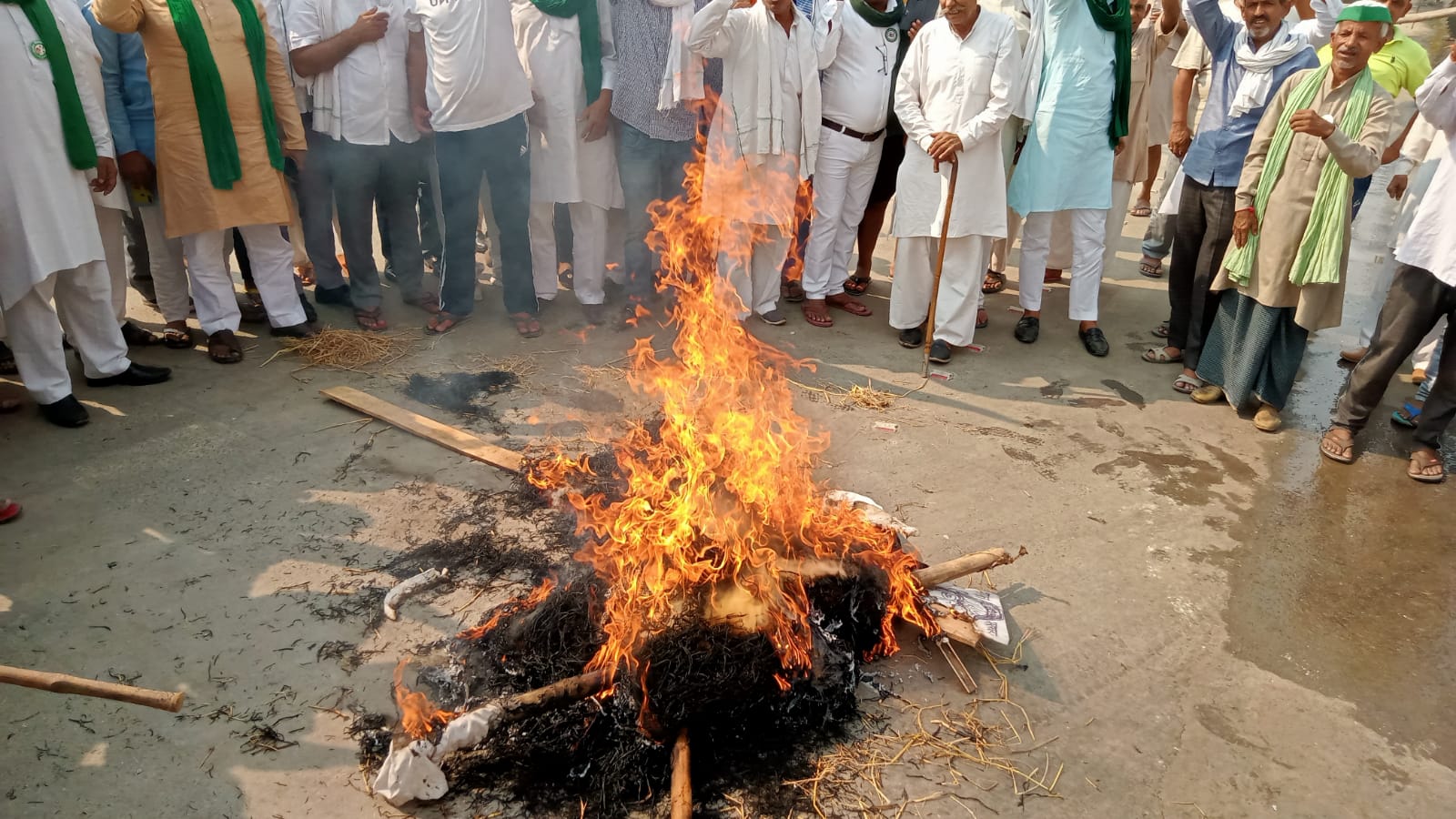 Ghazipur border farmers condemned local police on October 16, 2021 for allegedly attempting to take away effigies of government officials to be burnt during Dassehra festivities by protesters.
"Police told us that we can't burn models of Prime Minister Narendra Modi and we were told to vacate the protest stage area, where we wanted to hold the demonstration," said farmers legal cell member advocate Vasu Kukreja.
Farmers group Samyukta Kisan Morcha (SKM) earlier called upon all farmers to burn effigies of Modi, Union Home Minister Amit Shah, and other officials like Minister Yogi Adityanath, Narendra Singh Tomar, Ajay Mishra, etc. on Dussehra – October 15. The idea was to condemn the brutal killing of four farmers and a local journalist in Lakhimpur Kheri Uttar Pradesh allegedly by Union Minister Ajay Mishra's son Ashish.
Farmers reiterated demands to dismiss Mishra from his position in the union Cabinet. However, the time for the burning was extended to Saturday as well, in consideration of local situations.
Protesters at Ghazipur border responded accordingly, but they were interrupted by police who tried to take the effigies away from protesters. Farmers condemned this attempt of the government to prevent protests. Eventually, they cleared the protest stage and burnt the dummies in another part of the border protest site.
During the protest, farmers said that the government must accept the struggle's main demands of withdrawal of the three farm laws, legal guarantee to MSP and other legislatures that discriminate against farmers. Farmers said their demonstrations will continue on October 18 when a nationwide rail roko will take place.
Related:
Lakhimpur Kheri killings: GoI officials urged to talk about farmer deaths
Lakhimpur Kheri deaths: India honours martyrs
After farmers, now protesting students face police brutality