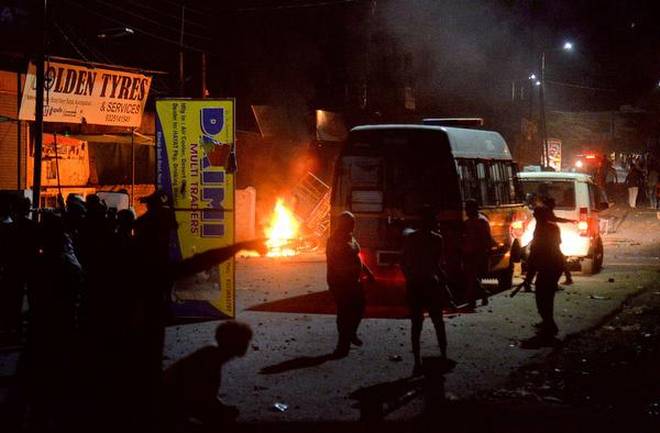 Four to five incidents all over Maharashtra have marred Ram Navmi processions in the state, Shambhajinagar (Aurangabad), Jalgaon and Malad in Mumbai.
The insistence of processionists, mostly unchecked by the administration to keep to routes where Masjids (mosques) and churches have exacerbated the problem, In erstwhile Aurangabad, according to a report by Tv9, it was the tireless efforts of MP Imtiaz Jaleel that activated a sparse contingent of policemen (barely 15 for a crowd of thousands) that goaded the administration to bring matters under control. Jaleel a former journalist is from the All India India Majlis-e-Ittehadul Muslimeen (AIMIM) with Lokmat and NDTV and was previously, in 2014 elected to the state legislative assembly from Aurangabad. He is also the state president of All India Majlis-e-Ittehadul Muslimeen in Maharashtra as well as a member of the Standing Committee of the Urban Development (UD).
In an interview with the channel, he has desisted from making any allegations but demanded that an independent inquiry that probes the violence, including analyzing the CCTV footage of the processionists and their behavior is announced. Jaleel, a former journalist told Tv9 that most of the processionists were in an uncontrolled state, having appeared to have consumed some substance.
Jaleel has also bemoaned the fact that the normally professional police force was absent in adequate numbers. He was himself injured by heavy stone throwing from the procession. Each time, this elected representative called the police to insist on action he was told, "We are coming, we are coming."
Meanwhile, instead of putting pressure on the police administration, other opposition leaders from the Congress and Shiv Sena have blamed Jaleel for instigating the violence.
The interview on Tv9 may be viewed here:
Related:
Ram Navami: West Bengal administration on alert as 2000 celebrations planned
Police to closely monitor Ram Navami processions in Hyderabad and Mumbai