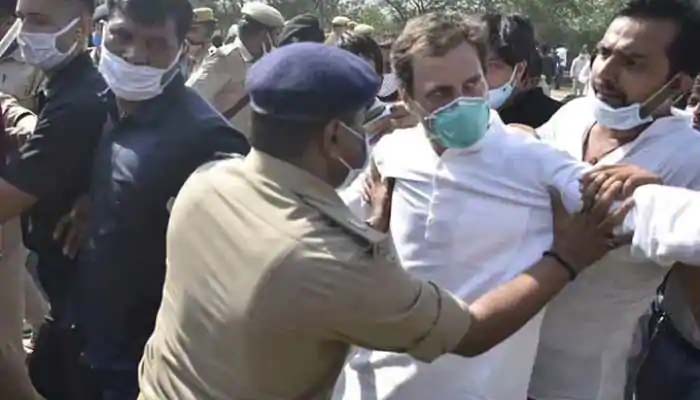 Congress leader Rahul Gandhi was roughed up and pushed to ground when he and his party members decided to walk over 160kilometers to Hathras, Uttar Pradesh. The police and party workers scuffle broke out in UP territory when cops tried to prevent him from moving on from the Greater Noida area on Thursday afternoon.
He was accompanied by his sister Priyanka Gandhi and a large number of party leaders, and workers. The group was trying to make their way to reach Hathras and meet the grieving Dalit family whose daughter was raped, murdered, killed by 'upper-caste' men, and then her body hastily cremated by the local administration.
Now the Uttar Pradesh police has used force, including lathi charge, as seen in some visuals on social media, in their attempt to stop the Congress leaders and the massive crowd of workers. According to a report in the India Today, Rahul Gandhi was pushed to the ground by the police personnel.
The Uttar Pradesh Police stopped them at the Yamuna Expressway, citing imposition of Section 144, which prohibits the assembly of four or more people. However the visuals show how the police themselves charged at the unarmed crowds. Priyaka Gandhi shared photos of injured partyment and said when the police initially stopped their vehicles they decided to walk the over 160 km to hathras, "We were repeatedly stopped, the police used lathis in a barbaric manner. Many workers are injured," she said.
हाथरस जाने से हमें रोका। राहुल जी के साथ हम सब पैदल निकले तो बारबार हमें रोका गया, बर्बर ढंग से लाठियाँ चलाईं। कई कार्यकर्ता घायल हैं। मगर हमारा इरादा पक्का है। एक अहंकारी सरकार की लाठियाँ हमें रोक नहीं सकतीं। काश यही लाठियाँ, यही पुलिस हाथरस की दलित बेटी की रक्षा में खड़ी होती। pic.twitter.com/lRq9kLSHJz

— Priyanka Gandhi Vadra (@priyankagandhi) October 1, 2020
एक घमंडी सत्ता मासूम बच्चियों के मृत शरीरों पर अपनी ताकत का प्रदर्शन कर रही है। अन्याय को रोकने के बजाए, खुद अन्याय कर रही है।

महिलाओं के लिए एक सुरक्षित समाज और प्रदेश के लिए- जहां वो आज़ादी से जी सकें और आगे बढ़ सकें – हमारा संघर्ष जारी रहेगा।

— Priyanka Gandhi Vadra (@priyankagandhi) October 1, 2020
Earlier the UP administration banned large gatherings citing coronavirus situations in the area, and as reported by NDTV, barricades have been put up and the borders sealed. Now as the police tried to stop Rahul and Priyanka Gandhi, and the visuals of them recorded by India Today TV team, show the police personnel manning the UP border in Greater Noida trying to physically stop Rahul Gandhi from going any further on the Yamuna Expressway.
Their convoy was stopped near the Pari Chowk junction in Greater Noida. Rahul Gandhi reiterated that he wanted to meet the family of the victim's family and was "ready to go all alone on foot" to Hathras, stated the news report adding that the police did not relent, and during the "sharp exchanges between Rahul Gandhi and the officials" kept citing that "prohibitory orders" were in place in Hathras, where the administration has "imposed CrCPC Section 144" and restricted outsiders from entering the district.
दुख की घड़ी में अपनों को अकेला नहीं छोड़ा जाता।

UP में जंगलराज का ये आलम है कि शोक में डूबे एक परिवार से मिलना भी सरकार को डरा देता है।

इतना मत डरो, मुख्यमंत्री महोदय!

— Rahul Gandhi (@RahulGandhi) October 1, 2020
Rahul Gandhi and Priyanka Gandhi were taken into custody by the Uttar Pradesh police.
It is reported that Rahul Gandhi then said, "I want to walk to Hathras alone. Please tell me under which section are you arresting me." The police personnel said, "We are arresting you under Section 188 IPC for violation of an order" stated news reports. This section deals with obstructing or preventing government officials from carrying out their duty.
According to India Today TV, Rahul Gandhi and Priyanka Gandhi are being kept at the International Buddh Circuit guest house on Yamuna Expressway. Other senior Congress leaders, who have also been detained by the UP Police include Randeep Surjewala, Adhir Ranjan Chowdhury and KC Venugopal.
The cowardly UP Govt has arrested Shri @RahulGandhi & Smt @PriyankaGandhi for seeking justice & trying to meet the bereaved Hathras victim's family.

I appeal to all PCCs and @INCIndia workers to protest today against the arrest of Rahul ji, Priyanka ji & other party leaders.

— K C Venugopal (@kcvenugopalmp) October 1, 2020
The UP Police have come under heavy criticism form the opposition parties for detaining the Congress leaders. Senior leaders have condemned the UP Police's violent behavior.
UP police is a law into itself. None of the laws of the country seem to apply to it

What is wrong if the leaders of a political party protest against a gruesome crime and wish to visit the victim's family?

— P. Chidambaram (@PChidambaram_IN) October 1, 2020
Strongly condemn manhandling & arrest of @RahulGandhi by UP police on way to Hathras to meet family of victim of #HathrasHorror along with @priyankagandhi. Is it a crime now to even share grief of an Indian? The voice of outraged nation can't be suppressed with high-handedness.

— Capt.Amarinder Singh (@capt_amarinder) October 1, 2020
It is duty & democratic right of the Opposition parties to protest against every indiscriminate misuse of power by the oppressive regime!
Voice & will of the people cannot be silenced or suppressed!
We unequivocally condemn the arrest of Shri @RahulGandhi & Smt @priyankagandhi ji

— Tejashwi Yadav (@yadavtejashwi) October 1, 2020
UP government should treat @INCIndia senior leaders @RahulGandhi @priyankagandhi and others with great care and caution. They are fighting for a just cause. Protest is a democratic right. They should be released immediately. @myogiadityanath

— H D Devegowda (@H_D_Devegowda) October 1, 2020
Related:
Why are rapists and 'upper-caste' supremacists getting bolder in UP?
Hathras Dalit girl rape: Why are Smriti Irani, PM Modi, UP CM Adityanath quiet
No dignity even in death for Dalits
Hathras rape a case of Caste Supremacist Atrocity: AIPWA
Do the dead have rights in India?
Lynched, raped, left for dead: Dalits, women remain easy targets for criminals in UP
How many rapes and murders will it take before the UP govt takes action?