Delhi University (DU) professor Nandini Sundar, Jawaharlal Nehru University (JNU) professor Archana Prasad and eight others were booked on Saturday for the alleged murder of a tribal villager in conflict-ridden Sukma district of Chhattisgarh.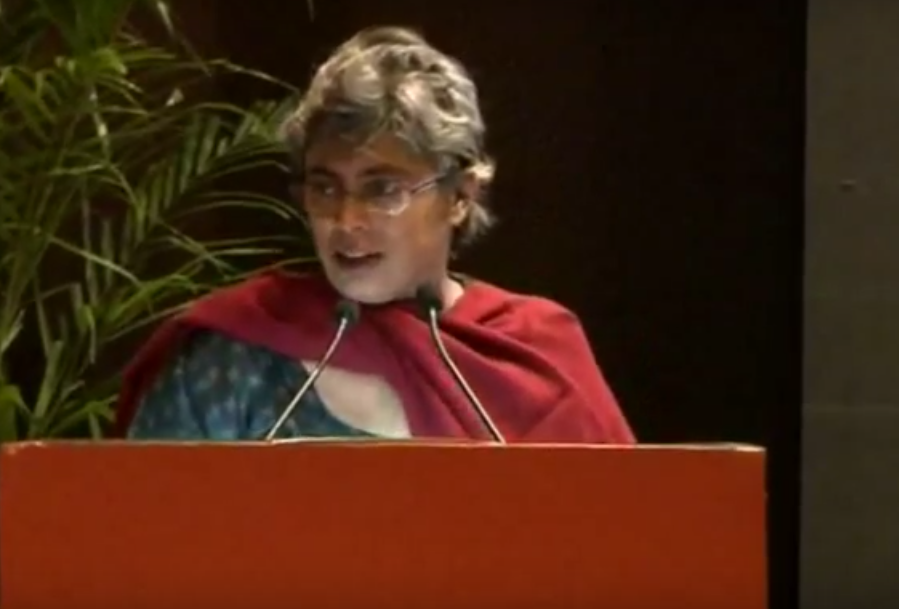 Prof Archana Prasad. Image credit: Youtube
Police said 10 persons have been booked under sections 120 B (criminal conspiracy), 302 (murder), 147 (punishment for rioting), 148 and 149 of IPC.
The FIR based on the complaint lodged by the deceased's wife also names Vineet Tiwari associated with Delhi's Joshi Adhikar Sansthan and Sanjay Parate, state secretary, Chhatisgarh CPI (M) and other localites.
Bastar SP Rajendra Dash told SabrangIndia, "This is an extremely serious issue. FIR has been registered and investigation is underway."
Interestingly, Prof Prasad told SabrangInidia that she hasn't been to the village in last six months, and Prof Sundar has told ANI that she hasn't been to the area since May.
When questioned about the role of the Delhi-based professors and the political leader in the case, he said, "All of them are Naxalites. All of them. Strict action will be taken against them."
Armed Naxals had allegedly killed the villager, Shamnath Baghel, with sharp weapons on late night on Friday (November 4) at his residence in Nama village of Tongpal area. Earlier this year in April, Baghel had filed a complaint against Sundar and others with the police and had accused them of inciting tribals against the government and seeking their support for Maoists.
Dubbing the charges against her 'baseless', Prof Arachana Prasad told SabranIndia, "This is clearly done by Chhattisgarh government in an attempt to keep Salwa Judum alive. This is the reason they're looking for scapegoats and we're being targeted, because we're academicians. I've been going to Bastar since last 30 years and know a lot more than the police, who're speaking of 'strict action'. All of this is politically motivated."
Prof Prasad also said that she hasn't been to Bastar in last six months and claimed that there is no connection whatsoever between her and the alleged murder.
Prof Prasad accused the government of waging an attack on activism through such scheming. "They [CPI (M)] are not Maoists. They have a political party. They're trying to put the onus on democratic political parties. They (government) are obviously trying to attack the political activism."
Parate expressed similar concerns over the allegations and said, "This is nothing but an offensive on the very structure of the democracy. It's happening everywhere in the country, not just in Bastar. They are trying to impede the activities of political parties. They don't want political parties who are speaking up for tribals, who're taking a stand against the oppressors. They want to eliminate our activism."
Calling the charges against him and the professors 'bogus' he said, "Even they (police) know that there is no case. Still, they'll drag us into it just to make things difficult for us. But, it won't work."
Parate also said that a state-wide protest will be planned to condemn the alleged framing of the professors and political activists.