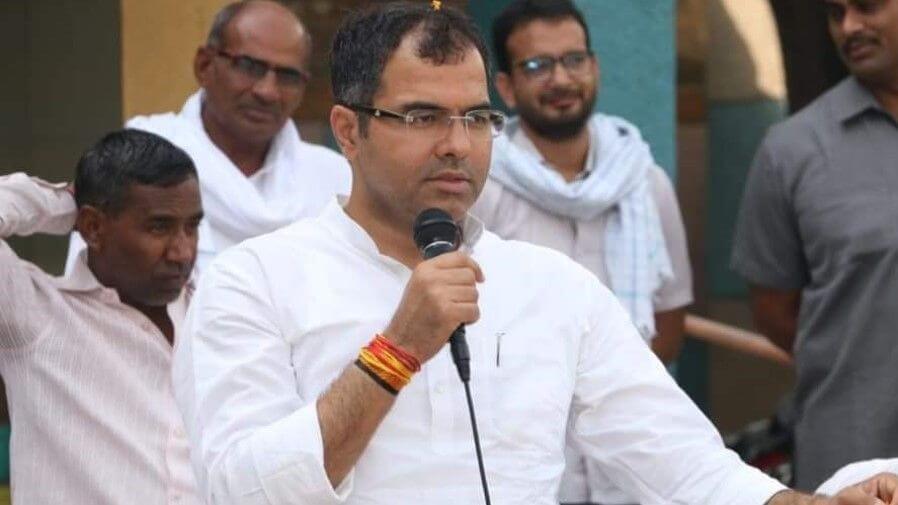 Delhi Police seems to have merely 'scolded' Member of Parliament Parvesh Singh of the Bharatiya Janata Party for spreading rumours and posting an old video of a Muslims offering namaz together. He had posted on Twitter: "Does any religion permit this kind of act during coronavirus (pandemic)? Lockdown and social distancing norms have been completely destroyed. The maulvis whose salaries have been increased by Arvind Kejriwal — their salaries, if cut, such acts will stop automatically… Or have you taken an oath to destroy .Delhi?"
The visual he shared was from an old video and filmed before the lockdown was announced, and all congregational prayers and gathering banned. Mosques, and Churches, Gurdwaras and temples, across the country had shut down congregational prayers and instructed the devout to pray inside their own homes. Many had begun to conduct the prayer services and rituals online.
However, the MP representing West Delhi of course did not bother to verify the outdated video and posted it with his acerbic comment, attacking Delhi Chief Minister Arvind Kejriwal for 'increasing salaries' of 'maulvis' .
As expected, the BJP MPs fake news Tweet targeting Muslims, got enough traction from his followers online, and perhaps some more from his critics. But then the false news Tweet was spotted by Delhi Police's East Delhi DCP's Twitter handle, which posted a sharp reply: "This is totally false. An old video is being used with a malicious intent to spread rumours. Please verify before posting and spreading rumours."
Singh later deleted his tweet, reported The Indian Express and told them that: "Someone sent me the tweet… when I got to know about the authenticity of the video, I deleted it." The new report also quotes DCP (East) Jasmeet Singh as saying, "The video has been going on for four-five days and I have been telling people that it's fake. People are aware now. We aren't taking any action."
Interesting to note while the BJP Member of Parliament got away with what appears to be a soft scolding, social media posts and personal opinions of many others have seen Delhi Police take strict actions against the author.
However, Dr. Zafarul Islam Khan, Chairman of the Delhi Minorities Commission had to seek protection from coercive action by the Delhi police. The protection is valid till the next date of hearing on June 22. In his plea, Dr. Khan had asked for urgent relief of protection for arrest and coercive action in, what is, a 'frivolous' and 'motivated' case. The Police had charged Dr Khan with sedition because he of a social media post where while appreciating Kuwait for standing in solidarity with Indian Muslims, he had emphatically stated that Indian Muslims do not seek or require external help in India. He has always a firm stand of non-interference in India's internal affairs. His message was then maliciously distorted and falsely broadcasted by trolls, and certain sections of the media. An FIR was lodged against Dr. Khan and he was charged with sedition and for promoting enmity.
As reported earlier, septuagenarian Dr Khan's is perhaps the only one holding a Constitutional post to be charged under Indian Penal Code section 124 A (sedition) and 153 A (Promoting enmity between different groups on grounds of religion, race, place of birth, residence, language, etc., and doing acts prejudicial to maintenance of harmony). On May 6 evening the police landed up at his doorstep. His lawyer, Vrinda Grover, has issued a statement making Delhi Police aware that their actions are against a senior citizen and the law does not permit them to call him to the police station.
However, scores of human rights defenders including Safoora Zargar who is pregnant, Gulfisha Fatima, Khalid Saifi, Meeran Haider, Shifa ur Rehman and Sharjeel Imam remain behind bars and have been charged under various acts including the dreaded Unlawful Activities Prevention Act (UAPA). Delhi Police has also seized the mobile phone of former DU student, human rights defender and lawyer Kawalpreet Kaur.
Delhi Police action against these minority voices of dissent, especially those who participated in the anti-CAA protests, has continued even as the Covid-19 pandemic rages on and a national lockdown is in place. Safoora in fact has also been a victim of online vilification, character assasination and abuse. It is not known if the Delhi Police has taken any action against those who have been spreading fake news, and feeding vicious social media campaigns against Safoora and others.
Journalists too have been questioned for doing their work. The Press Council of India (PCI) recently issued a statement of concern over Delhi Police's questioning a journalist from The Indian Express and warning him of criminal prosecution. The PCI has asked the Delhi Police commissioner to submit a report on the matter. "Since the incident matter affects the free functioning of the press, while taking suo-motu cognizance of the matter, a report on facts of the case is being called for from the Commissioner of Police, Delhi," stated the PCI.
Earlier the Editors Guild of India had also slammed the Delhi Police for telling the journalist to join its probe after he had reported that police investigations allegedly found that it was possible that an audio clip of Tablighi Jamaat leader, Maulana Saad, may have been doctored. The reporter was informed that failure to join the probe could result in legal action against him under Section 174 of the IPC ((a prison term and fine). The Guild stated that it was concerned over 'growing pattern of misuse of criminal laws to intimidate journalists.'