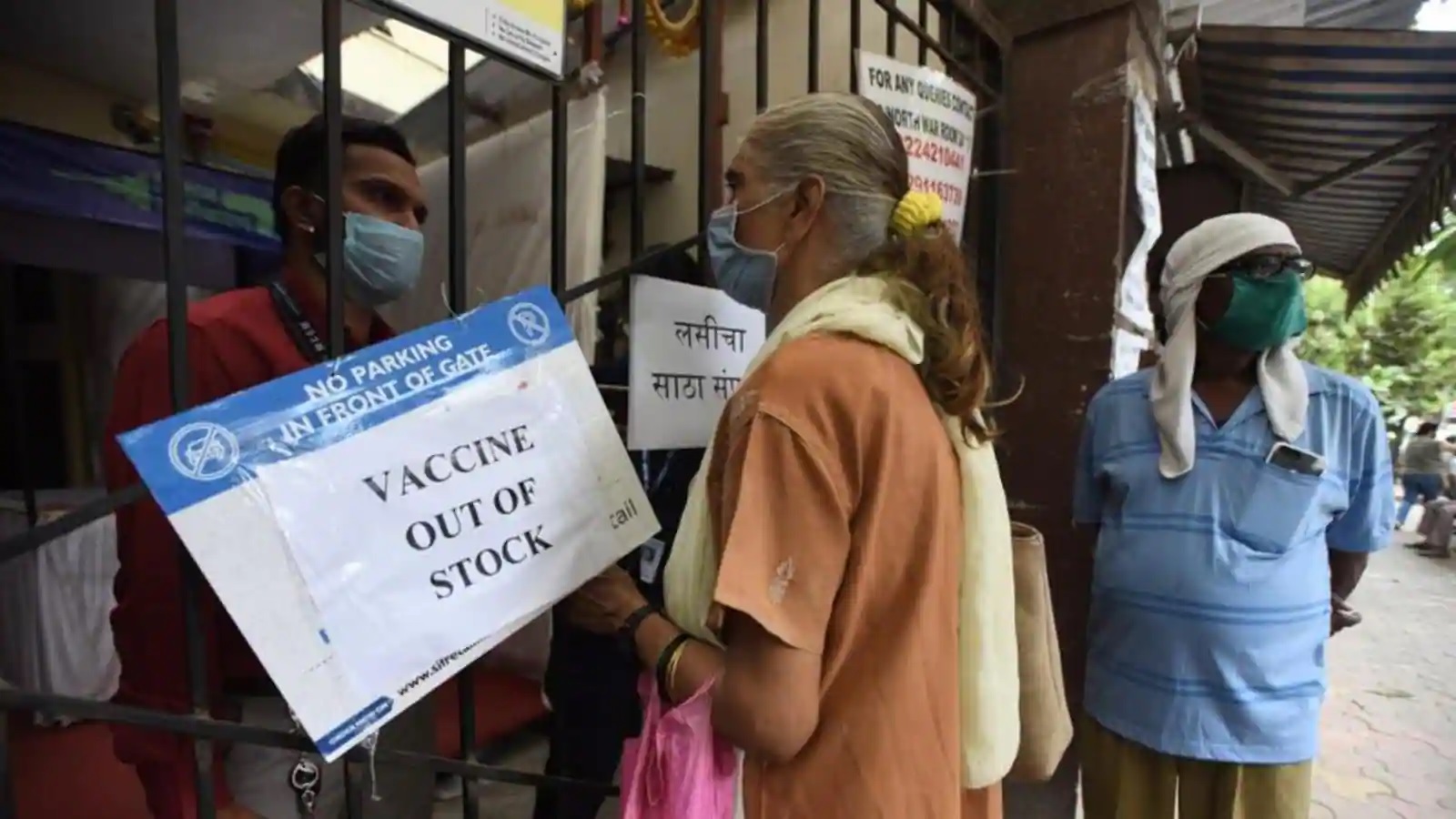 Image: Satish Bate/Hindustan Times

India has now reported 1,26,789 new Covid-19 cases in 24 hours. Yet another unfortunate milestone has been set and the second wave of infection continues to gain speed. The total number of cases since the first recorded infection in India in January last year now stands at over 1.29 crore. That has put India at number three slot of the worst-hit countries after the United States and Brazil.
However, politics, rather than a concrete strategy to combat this fresh wave of Cocid-19 infections refuses to die out. In some parts of Maharashtra, which has been demanding additional doses of the Covid-19 vaccine, the vaccination drive was reportedly halted last evening. According to information shared by Nationalist Congress Party (NCP) MP Supriya Sule, this was because doses were unavailable in areas such as Satara, Panvel and Pune.
109 centers remained shut today because they had no stock of vaccines.Our momentum may be lost due to lack of stock,we remain determined to vaccinate every consenting person to save lives,to break the chain of infection and to get our economy back on its feet at the earliest..2/3

— Supriya Sule (@supriya_sule) April 7, 2021
Alluding to disproportionate allocation of vaccines, to NCP leader Jayant Patil, who is Maharashtra's Minister, Water Resources Department & CAD, the state "has received 85 lakh vaccines" for a population of 12.30 crore. He said Gujarat has gots 80 lakh vaccines, even though it has a much lower population at 6.50 crore.
Maharashtra has received 85 lakh vaccines but the population of Maharashtra is 12.30 crore & the number of active patients is approx 4.73 lakhs. On the other hand Gujarat gets 80 lakh vaccines, its population is 6.50 crore & the number of active patients is approx 17 thousand.

— Jayant Patil (@Jayant_R_Patil) April 8, 2021
Maharashtra health minister Rajesh Tope told the media that "said Gujarat population is six crore & they got one crore vaccine doses while Maharashtra's population is double than Gujarat, but got only 1.4 Cr vaccine doses." Meanwhile Dr Harshvardhan the Union Health Minister has blamed states, especially attacking Maharashtra government for the surge in Covid numbers.
On Thursday Union minister and senior BJP leader Prakash Javadekar, also alleged that five lakh doses of the COVID-19 vaccines were "wasted in Maharashtra due to a lack of planning by the state government." Javadekar held a press conference at the Bharatiya Janata Party (BJP) office and said that "23 lakh doses of the vaccines are available with the Maharashtra government…which is a stock for five to six days."
However, the Centre is yet to make any such remarks for Bharatiya Janata Party ruled states such as Uttar Pradesh, where Chief Minister Adityanath allowed Lucknow administration to impose night curfew in the Lucknow municipal corporation area. The curfew will be on between 9 pm and 6 am and will continue till April 16 morning. Night curfew has also been announced in areas such as Noida, Ghaziabad etc. In Lucknow, according to news reports, the district administration has also issued orders to shut all government, private and government aided colleges, educational institutions and coaching institutions, except medical, nursing and paramedical institutions, till April 15.
Meanwhile, Indian Express reported that at least 30 doctors from the King George Medical University (KGMU) in Lucknow tested Covid-19 positive. According to officials at the university, nearly half of these doctors were given their second dose of Covid vaccine in the end of March, and the remaining of them have taken their first shot. Lucknow alone has reported 1,333 positive cases in the last 24 hours, stated the IE. Reports of crematoriums getting overwhelmed have started coming in too.
Thread …To anyone of us still not willing to see the cost of the #COVIDー19 pandemic , these are videos from outside Lucknow 's designated covid crematorium. There is unimaginable pressure on both relatives and those cremating bodies that just keep on coming in … pic.twitter.com/2FskTmbP72

— Alok Pandey (@alok_pandey) April 8, 2021
Yet the state finds only a passing mention in the Central government's Covid-19 bulletins, that state: "ten States including Maharashtra, Chhattisgarh, Karnataka, Uttar Pradesh, Delhi, Madhya Pradesh, Tamil Nadu, Gujarat, Kerala and Punjab have shown a rise in the COVID daily new cases. 84.21% of the new cases are reported from these 10 states.Maharashtra has reported the highest daily new cases at 59,907. It is followed by Chhattisgarh with 10,310 while Karnataka reported 6,976 new cases." The graphic that follows, however speaks for itself. The record single-day spike of 1,26,789 new Covid cases, total infections are now at 1,29,28,574, the daily death toll is over 685.
Madhya Pradesh, which also has a Covid-19 surge has already announced a lockdown In Urban Areas till 6 am Monday. According to NDTV, Chief Minister Shivraj Singh Chouhan said "appropriate action" will be taken for cities with rising cases after a meeting of crisis management group. The state reported over 4,000 cases in the last 24 hours taking the total tally to over 3.18 lakh.
Related
Union Health Minister blames states, citizens for Covid surge
Covid-19: Highest surge so far as 1,15,736 new cases reported across India in a single
Activists request meeting with CM Thackeray to discuss new Covid-19
Covid-19: One lakh cases in a day, what is the Govt's plan to combat surge?
Surge in Covid-19 cases has gone "from bad to worse": Dr. VK Paul