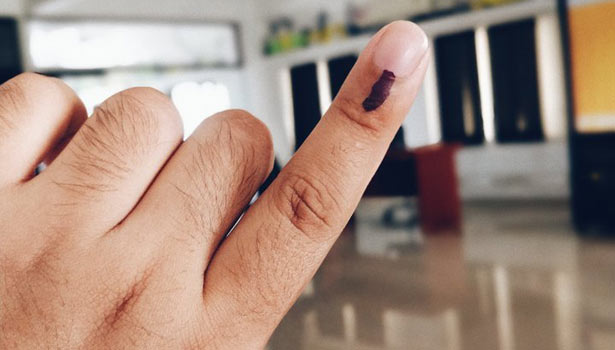 South India voted peacefully on April 6, in the single phase election to choose the next state governments in Tamil Nadu, Kerala, Puducherry.
Tamil Nadu: Scores of political celebrities and film stars were all captured as they cast their vote on April 6. Tamil Nadu's hot contest is said to be between the AIADMK-led alliance hoping to renew its mandate, with Edappadi K. Palaniswami as its Chief Ministerial candidate and the DMK with its president MK Stalin as a potential Chief Minister leading a "rainbow alliance". The state has recorded a voter turnout of nearly 65%, till the end of voting hour on Tuesday evening. According to news reports many voters came in an hour before voting concluded, and the final numbers will only be declared once the postal ballots are counted. DMK MP Kanimozhi, who had tested positive for Covid-19 a couple of days ago, wore a PPE kit and cast her vote in Mylapore. She voted between 6-7 P.M, the hour designated for Covid-positive voters. Meanwhile, the AIADMK has reportedly lodged a complaint against DMK leader Udhayanidhi Stalin accusing him of violating EC's code of conduct. It has been reported that Udhayanidhi was seen at a polling booth wearing a shirt that sported the DMK logo.
According to multiple news reports polling was largely peaceful across constituencies. In Chennai, the Hindu reported that the city police commissioner Mahesh Kumar Aggarwal was seen visiting sensitive areas. He said police had "made elaborate arrangements across the city" and that "polling was largely peaceful without any incident."
Glimpses of the ongoing #AssemblyElections2021 in Tamil Nadu. #AssemblyPolls2021 pic.twitter.com/oatiyA9mkB

— Sheyphali Sharan (@SpokespersonECI) April 6, 2021
Many celebrities also showed up to vote very early in the morning to beat the crowd. Many were greeted by fans and they all posed showing their inked fingers, after the vote. Some fans managed to get up close and maybe even get a selfie with the 'stars'. Tamil Nadu had the maximum Assembly constituencies at 234, and 88,937 polling stations.
Puducherry: The Union Territory recorded around 80.55 % polling till Tuesday evening. Here the contest is said to be between the Congress and the All India N.R. Congress. According to the Election commission of India Puducherry's 30 constituencies have 558 Polling stations. No untoward incident was reported so far during polling from the UT. It was in February that the Union Territory's V Narayanasamy-led government was pulled down. However the former CM had bowed out of the poll contest, stating that he had decided to focus on poll related work instead. However, the NDA, had made it a poll issue and had claimed that the Congress refused a ticket to Narayanasamy "in spite of his long service in the party". The BJP and AIADMK are the other constituents of the AINRC-led NDA here. According to news reports tight police security had been deployed at all booths and polling was mostly peaceful.
Kerala: The state which had been hotly contested saw around 70.42% polling by the end of voting day. There are 140 constituencies and 40771 polling stations here. According to a report in the Hindu, the most enthusiastic participation here was from the community of Kurichiyad Kattunayakka, which is a Vulnerable Tribal Group (PVTG ) settlement in the Wayanad Wildlife sanctuary. It was reported that 57 out of the 58 eligible tribe members cast their vote on Tuesday. According to The Hindu, a polling booth was set up in a school building in the settlement. The only one who could not cast her vote was a woman voter named Kully, who had moved to Karnataka.
In all the states that went to polls, the ECI allowed postal ballot facility to persons with disabilities, and Senior Citizens above 80 years of age, apart from those with suspected Covid-19 infections, and persons employed in essential services.
Related:
Policy or popularity, how will TN vote tomorrow?
"Like Judas Betrayed Jesus Christ": PM attacks Pinarayi Vijayan Government
Hindu Sena Chief seeks Delhi LG's sanction to prosecute Kamal Haasan
Madras HC directs UIDAI to enquire about BJP using Aadhaar data for votes
Puducherry: BJP denies accessing Aadhaar data for votes