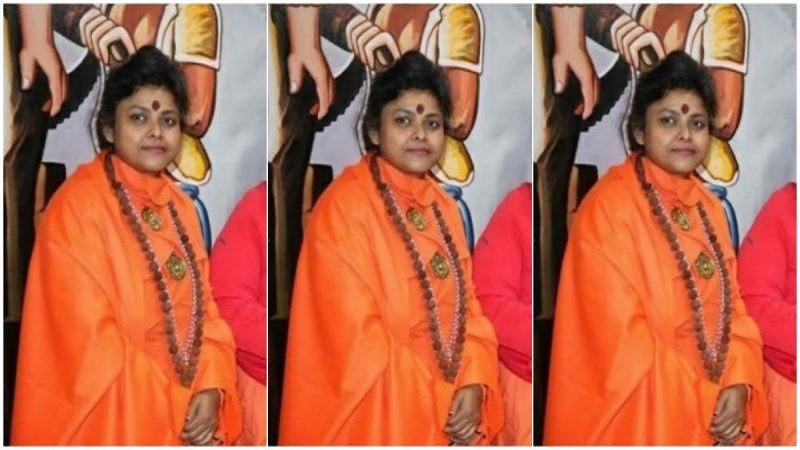 Image Courtesy: thewire.in
Pooja Shakun Pandey alias 'Annapurna Bharti' of Niranjani Akhada, has already assured herself a name in Hindutva's Hall of Hate-Fame, as Sabrangindia had first reported in February 2019 when she re-created the assassination of Mahatma Gandhi in Aligarh.
Today, she is in the news again for her hate-filled statements accompanied by a letter on Friday prayers (Jumma ki Namaz) after last week's incidents in Kanpur. Parts of the letter read:
"Friday is not a day for prayers. Instead, it is a day for terrorism. The Friday congregations by Muslims are not for worship but for the genocide of non-Muslims, loot, arson and sexual harassment. Hence, the Akhil Bharat Hindu Mahasabha presents the following demands before you:
On Fridays, the entry of Muslims in small mosques should be restricted only to 10 Muslims while 25 Muslims should be allowed in bigger ones. Mass prayers should be immediately banned… Mosques, where there are riots and conspiracies on Fridays, should be demolished with bulldozers."
This speech was prompted by the violence that broke out in Kanpur last Friday when protests over Nupur Sharma's remarks against the Prophet turned violent. Though a case has been registered against her as reported by NDTV yesterday, no arrest has been made. Taking cognisance, a first information report (FIR) has been registered against the Hindu Mahasabha national secretary by the Uttar Pradesh police. "The case has been registered under the following sections of the Indian Penal code— 153A, 153B, 295A, 298, 505," Aligarh SSP Kalanidhi Naithani said in a video statement.
After this FIR was filed, Pandey appeared in a TV panel discussion on Aaj Tak, where she summarised the contents of the controversial letter. Pandey defended and justified Nupur Sharma's comments against Prophet Mohammed while she held the position of BJP party spokesperspn. The BJP has since suspended her after huge international outrage expressed by 20 countries.
Briefly arrested in early 2019 she was released soon after. The Aligarh police today told Sabrangindia that in the 2019 case, a charge sheet has been filed in court but were unable to provide details as to the stage of the prosecution. The Uttar Pradesh Police had then arrested the Hindu Mahasabha national secretary Pooja Shakun Pandey and her husband, Ashok Pandey, from Tappal in Aligarh. Her video of recreating the assassination of Mahatma Gandhi on his 71st death anniversary went viral on social media.
Pooja Pandey was one of the infamous hate-mongers at Haridwar last December. In February, 2022 Pandey spoke at Prayagraj and claimed that those speeches were in the interest of the safety of religious leaders. She also defended repeat offenders Narsinganand and Jitendra Narayan Singh Tyagi who were under arrest at the time. The latter have been repeatedly flagged by CJP for their divisive statements. At the Dharma Sansad in Haridwar in December 2021, where calls to kill Muslims were made by several speakers, Pandey, the mahamandleshwar of the Niranjani Akhara, gave a call to arms and incitement to mass targeted killing.
At the infamous religio-political gathering, she gave a call for the mass killing of Muslims. "Nothing is possible without weapons. If you want to eliminate their population then kill them. Be ready to kill and be ready to go to jail. Even if 100 of us are ready to kill 20 lakhs of them (Muslims), then we will be victorious, and go to jail… Like [Nathuram] Godse, I am ready to be maligned, but I will pick up arms to defend my Hindutva from every demon who is a threat to my religion," she had said.
The story does not stop here. Pandey is a serial offender who is known for her anti-minority remarks. A YouTube interview of the offender, shows Pandey saying, "Today is the time when women need to take swords in one hand along with belans in the other. I request my mothers to not become the weakness of their sons but instead become their strength. Tell them if adharma is happening anywhere I will come with you to cut them up. There won't be any cases but only a little inconvenience for some days; call us, we will be there with you."
When asked about Prime Minister Narendra Modi's critical reaction in 2019 to Sadhvi Pragya's endorsement of Mahatma Gandhi's assassin Nathuram Godse, she said that Modi had to "compromise" because of the constitution. She added, however, that it was "Modi and others like Modi" who had in the past explained what Godse and Gandhi were all about.
A well-known leader of the Hindu Mahasabha, Pandey hits the headlines often with the hate she spews against Muslims. Just recently, she was in the news for comments on Modi after the prime minister announced his government's decision to repeal the three farm laws in the wake of a year-long protest by the farmers in Delhi and other parts of India. Pandey had Modi's portrait from the Aligarh office of the Hindu Mahasabha removed. She also remarked, "Jiski baat ek nahi, uska baap ek nahi."
There is yet another video of April 2020 that shows Pandey making provocative comments against members of the Tablighi Jamaat. A criminal case was filed against her for promoting enmity between different groups on religious grounds and issuing a statement conducive to public mischief. She was briefly arrested, even then. In March 2021, after a minor Muslim boy was beaten up by Hindutva activist Shringi Yadav for entering a temple in Dasna, Pandey had made the preposterous demand that other temples put up boards prohibiting the entry of Muslims, following the the one in Dasna. While the ruling BJP dismissed its association with Pandey, she regularly interacts with leaders of the party like BJP MP Sadhvi Pragya and the Madhya Pradesh chief minister Shivraj Singh Chauhan as the media
Despite her open call to murder Muslims on multiple occasions, the UP police is yet to arrest Pandey, this time round. She is still invited by mainstream media channels to amplify her speeches targeting the Muslim community.
Related:
Hindu Mahasabha leader who shot at Mahatma Gandhi's effigy arrested in UP
Is Prayagraj's 'Sant Sammelan' just another edition of Haridwar's infamous Dharma Sansad?
Narsinghanand arrested: Is it for Hate Speech or misogyny?
Almost a month but no arrests, CJP urges DGP to act soon in 'Dharam Sansad' case
SC issues notice in plea urging criminal prosecution in Dharam Sansad case