A village in UP is on edge following emergence of posters calling for Muslim residents of Jianagla near Bareilly city asking Muslims from the village to "leave immediately," the Times of India reported two days ago.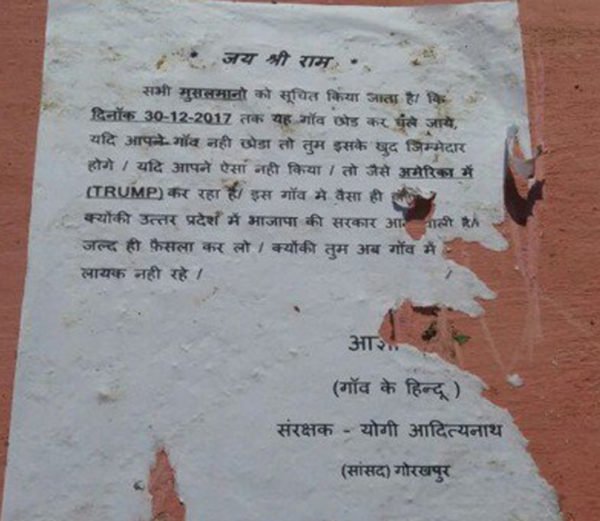 Meanwhile, another report in today's print edition of the Times of India says tension arose in Bulandshahar city when a group of men beating dhols in celebration of the BJP's stunning performance in the UP Assembly elections tried to hoist a party flag on the roof of a mosque on Wednesday night.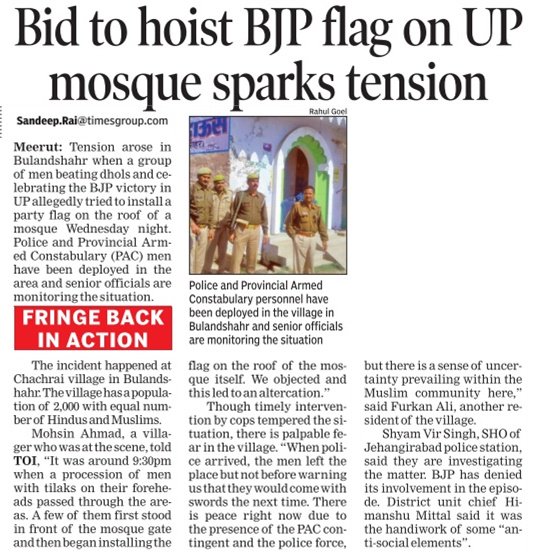 In the first instance, the Muslims-get-out posters in Hindi have reportedly been put up at over two dozen places warning Muslims of "dire consequences" if they did not leave the village before the year-end. Around 200 of the village's 2,500 residents are Muslims.
Taking their inspiration from the US travel bans attempted by President Donald Trump, the posters put up by BJP-bhakts read: :What Trump is doing in America, we will do in this village because BJP is now in power.
The posters put up over the last weekend are signed, "Hindus of the village". The posters also identify a local BJP MP as their "guardian".
In the Bulandshahar incident, police and Provincial Armed Constabulary (PAC) jawans have been deployed in the area and senior officials are closely monitoring the situation, it is reported.
The incident took place at Chahcrai village in Bulandshahar. Mohsin Ahmed, a villager who was witness to the incident told the Times of India: "It was around 9.30 p.m. when a procession of men with tilaks passed through the areas. A few of them first stood in front of the mosque gate and then began installing the flag on the roof of the mosque. We objected and this led to the altercation".
Though timely intervention by cops tempered the situation, there is palpable fear in the village. "When police arrived, the men left the place but not before warning that they word come back with swords the next time. Ther is peace right now due to presence of the PAC contingent and the police force, but there is a sense of uncertainty prevailing within the Muslim community here," Furkan Ali, another village resident told the Times of India.
The district unit chief has denied its involvement in the episode.