The tiny village of Orkkatteri in Kerala's Kozhikode district is keenly observing the proceedings of the 40th World Armwrestling Championship going on in Turkey. Majiziya Bhanu, hailing from the village, is representing India in the senior women's 55 kg category in the championsahip that began on October 12 in Antalya, Turkey. Bhanu is scheduled to participate on October 19 and 20.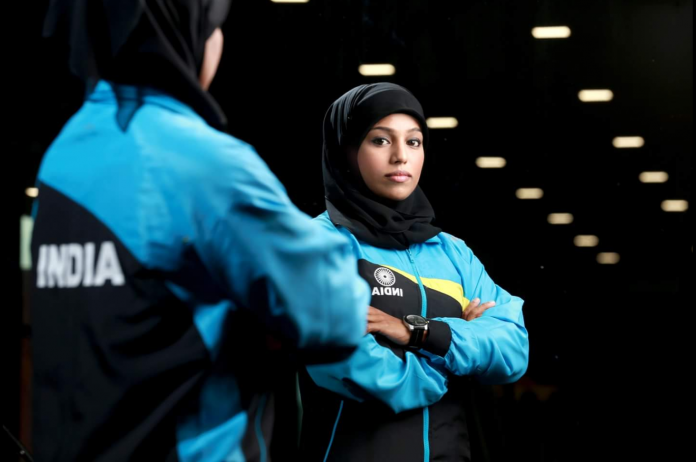 A student of final-year BDS (Bachelor of Dental Science), Bhanu recognised that her passion lay in power sports a few years ago and since then, she has been contesting in competitions and winning medals. The 24-year old has won several state, national and international medals in just two years.
An ardent lover of sports, Bhanu was an athlete during her school days. She was highly interested in power sports back then too. However, there were no training facilities or encouragement in her hometown where even frequenting the gym was not an option for girls. Dreams grew and the right opportunity knocked her door when she joined the Mahe Institute of Dental Sciences and Hospital in Mahe. When her group of friends decided to take up an extra course in their free time, Bhanu opted for boxing. She joined a boxing training course offered in Kozhikode. Her trainer Ramesh Kumar saw her strength and diverted her to the field of powerlifting.
She started training for powerlifting at a gym in Kozhikode and just two weeks later, the district powerlifting championship was held in the city. She bagged the gold medal in her maiden championship in the 52 kg senior women's category, and there began her journey. She bagged gold in the state championship and silver in the national championship. She also won silver at the Asian Powerlifting Championship in Indonesia and at the Asian Classic Powerlifting Championship held in 2017.
Though basically a powerlifter, Majiziya Bhanu tried her luck in the fitness and bodybuilding field when she heard of a contest in Kochi in February 2018. After some training in the field, she contested in the Model and Fitness Basic category. She was crowned the Miss Kerala with a gold medal. Wearing hijab in a field known for its body exposure brought Bhanu to the attention of the media. She entered the field of arm wrestling too and has participated in the national level, and is now attending her first international championship.
"Earlier, when I came into this field, I didn't have a clear aim or goal. I was only following my passion. But now that I am seriously into this field, I have professional coaches in the respective fields, with a clear aim in life," said Bhanu in a conversation with Twocircles.net. Jayadas is her coach in powerlifting. Shammas Abdul Latheef of the Hamstring Fitness Centre in Vatakara coaches her in the fitness and bodybuilding field while Saleesh EV of the Popeye Fitness, Kozhikode, coaches her in arm wrestling.
Bhanu has been a hijabi all her life, but choosing to be so in the field saw mixed responses. While some supported her for keeping her Muslim identity through hijab even in the field, others opposed her for the same reason. She received harsh criticism on the social media too. However, Majiziya Bhanu has decided to stay strong and move forward, whatever obstacles come her way, with strong support from her family. Her mother, who was very active in her childhood but could not pursue her interests due to social constraints, supports Bhanu in her struggle. Her father who is abroad and her younger brother currently in his first-year degree are staunchly behind the power girl.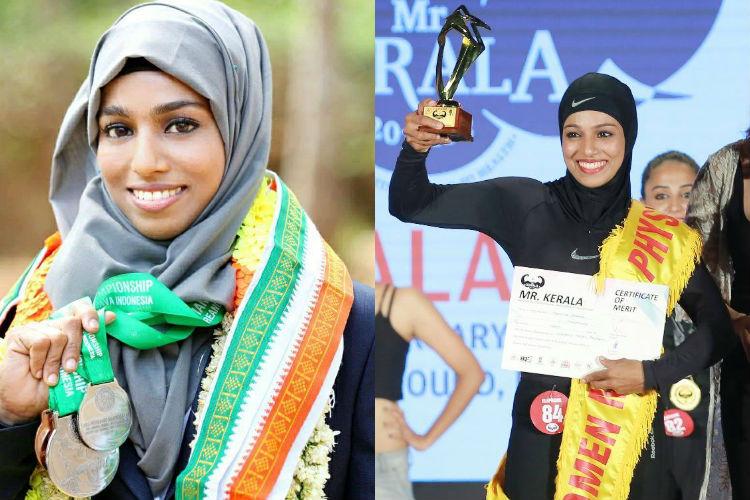 Earlier, Bhanu used to collect cloth materials and make her own sportswear looking up at models on the internet as there was no hijabi sportswear available. But now that she has gained some popularity, some hijabi/modesty sportswear companies are sending her their models, Bhanu told TwoCircles.net.
However, the power girl continues to find it difficult to arrange for funds to attend the championships. As the field is not fully sponsored by the government, the participants have to find funds on their own. She has been trying to get a sponsor, but could not. "But if you are fully determined, you will somehow get the funds arranged," said Bhanu who was helped by many individuals and groups to find the funds to attend the championship in Turkey.
And what does she have to tell the world? "Religion, finances or dressing – nothing is an obstacle when it comes to pursuing your dream. If you are able, your religion or hijab is never an obstacle. And they should never be an excuse for you to keep away from the field you love," said Bhanu.
Courtesy: Two Circles