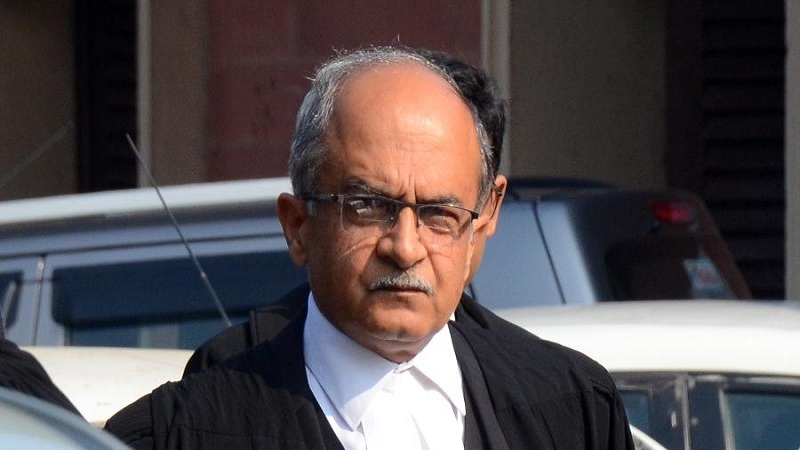 Image Courtesy:newindianexpress.com
After holding Prashant Bhushan guilty of criminal contempt for two tweets posted by him recently, the Supreme Court is now hearing a contempt case filed against him in 2009. At the last hearing, the bench comprising Justices Arun Mishra, BR Gavai and Krishna Murari refused to accept the explanation given by Bhushan's counsel, Senior Advocate Rajeev Dhavan and decided to hear the case on its merits. At the hearing today, the bench expressed its desire to have a 'quietus' on the issue and framed questions for consideration while finally deciding the case. The case has been adjourned to August 24.
This case arises from a different comment made by Bhushan and pertains to his interview to Tehelka magazine in 2009 wherein he had allegedly made statements about corruption against SC judges. Bhushan had allegedly implied that at least half of the 16 previous Chief Justices were corrupt, but he could not provide any evidence to support his claims. The SC took up the case suo moto after senior advocate Harish Salve filed a complaint.
In January 2010, a bench comprising Justices Altamas Kabir, Cyriac Joseph and HL Dattu issued notices to Bhushan as well as Tehelka's then Editor-in-Chief Tarun Tejpal. The contempt petition was held maintainable by a three-judge bench in November 2010 and after that it was heard 17 times.
On August 4, 2020, the court asked Bhushan's lawyer if he was willing to tender an apology. But Bhushan declined and offered an explanation instead, insisting that his words were misunderstood. The court found Bhushan's explanation to be unacceptable and decided to hear the case on its merits.
At the hearing today, Dhavan, on behalf of Bhushan submitted that allegations of corruption do not amount to contempt per se. He also pointed out that Justice Mishra had heard a contempt case against Mamata Banerjee at Calcutta High Court whereby she had made corruption allegations against judges and that was not held to be contempt.
Dhavan also mentioned that the court's judgement on August 14 against Bhushan holding him guilty of contempt for his tweets suffers from "great imbalances" and submitted that they intend to file a review against it.
Justice Mishra responded that the circumstances of the allegations have to be looked into. He further said that there is a judgement by Justice JS Verma which says corruption allegations against judges should not be made public at the first instance and should be made to the court for probe, reported LiveLaw.
Justice Mishra then went on to express his desire to "have a quietus on the issue" and Advocate Dhavan concurred.
The court framed questions to be considered while deciding the case:
1. If statements as to corruption of judges can be made, in what circumstances they can be made
2. What is the process to be adopted for making such allegations with respect to sitting and retired judges?
Dhavan said these questions are very meaningful and need to be examined by a larger bench. The bench will consider the plea for reference to a larger bench at the next hearing on August 24.
Related:
SC: Prashant Bhushan held guilty for contempt of court [full judgement]
SC petition challenging criminal contempt withdrawn
SC to hear 2009 contempt of court case against Prashant Bhushan on merits