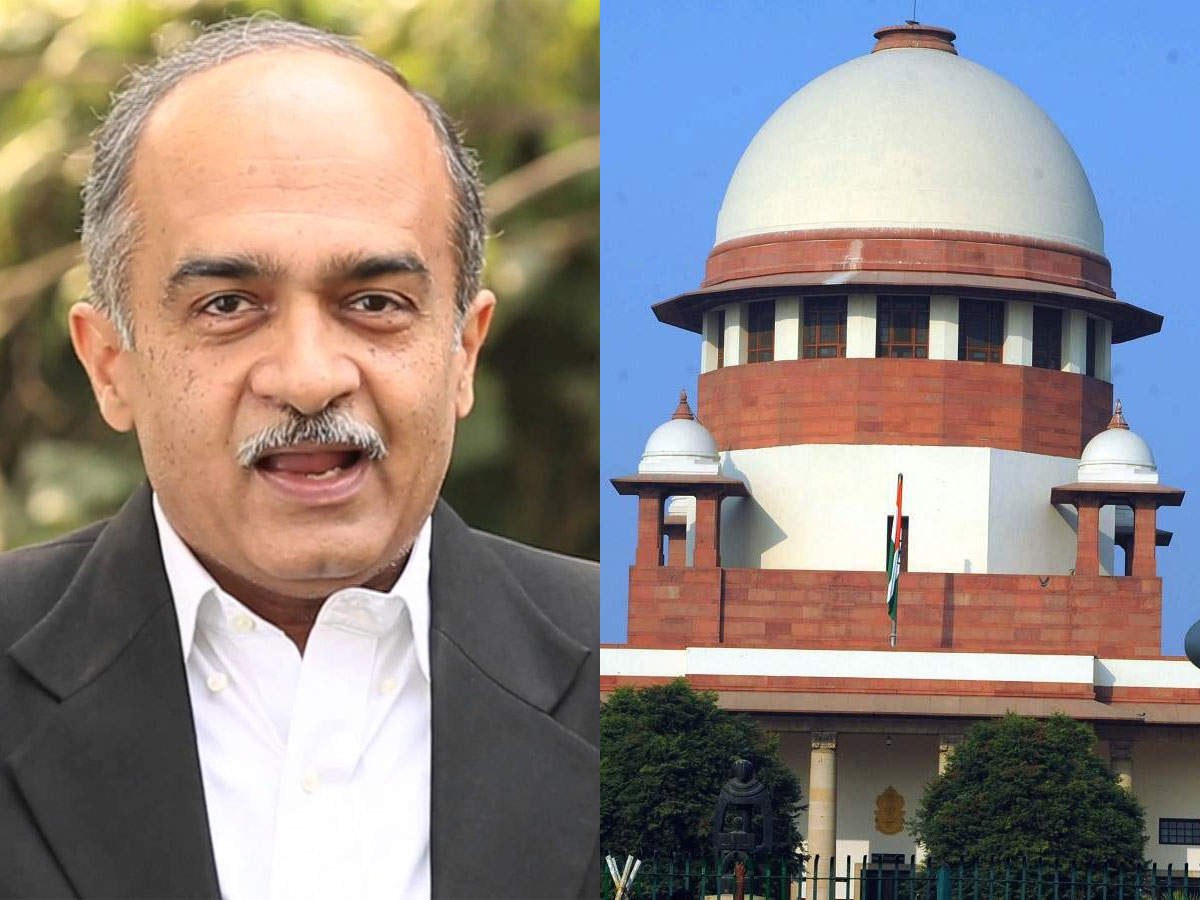 Update: The court order quite briefly states, "Heard learned counsel for the parties. Arguments concluded. Judgment reserved". The date for pronouncement of judgment has not been specified.
Another dynamic hearing has concluded today in the Prashant Bhushan's contempt case sentence hearing. What was expected to conclude as the pronouncement of punishment, has ended in the silence of the court. Justice Arun Mishra, who is set to retire from office in a week, has left the sentencing in a limbo. Presumably, the order is reserved in the case as the hearing was concluded with the parting words of Justice Mishra, "This is probably my last dialogue with Mr. Attorney (General)".
With bated breath, the people, the media waited to see if the court would sentence Bhushan for contempt. After giving several chances to Bhushan to submit an apology to the court, Bhushan finally said that apologising would be a contempt of his conscience. As he refused to budge from his bonafide stance, it was up to the court to consider his arguments on his sentencing.
The hearing began with Justice Mishra asking Attorney General (AG) KK Venugopal for his guidance on "What is to be done?" The AG continued where he was cut off in the last hearing, and stated that former judges of the Supreme Court have said that the court has failed democracy and said he has a list of such judges.
"These statements are telling the court to reform the court. They seek the improvement of administration of justice. This is a case where your lordships should forgive him (Bhushan) or perhaps warn him," says AG while adding that it is not necessary to punish Bhushan.
The bench then made a reference to the supplementary statement filed by Bhushan and Justice Mishra said, "We expected something better than this".
The AG's comments
"This is a case where the Court can take a 'compassionate view' and that will be appreciated by the Bar and will befit the status of the Court"
AG brought to the notice of the court that Bhushan has filed several PILs for the benefit of people and that the court should consider his public work. He also suggested that Bhushan's remarks be taken off court records, and the case be closed. But Justice Mishra said that cannot be done as Bhushan keeps saying that his statements are his bonafide belief.
AG also reminded the court of the Arundhati Roy contempt case, "Your lordships have held in Arundhati Roy's case that 'our shoulders are broad enough to shrug off' comments against it."
After the dialogue between AG and the bench ended, the bench took a 30-minute break and re-assembled when Dr. Rajeev Dhavan started arguing for Bhushan.
When he was asked for his final comments in the last leg of the proceedings, AG said that there are third parties involved against whom allegations have been made by Bhushan but hearing them out would mean a never ending inquiry, "So, your lordships can say that his defence cannot be taken into account. Therefore, your lordships can leave the matter at rest as it is now, by saying that his defence cannot be looked into".
Dr. Rajiv Dhavan's submissions
"When your lordships sentence, your lordships should first look at the offender. This 'offender' has contributed a lot to this court as amicus and in public causes, as the Attorney General pointed out… I have written over 1000 articles and about 900 of them are about the Supreme Court. I have said that the Supreme Court has 'middle class temperament'. Is that contempt?"
He once again reminded Justice Mishra how, while being the judge at Calcutta High Court had acquitted Mamata Banerjee when she had alleged that the judges were corrupt.
He further moved on to the order of the last hearing of August 20 and commented that the order is an "exercise of coercion":
"An apology cannot be made to escape the clutches of law. An apology has to be sincere…Your lordships cannot question his statement. He says he is an officer of the court and that he expressed his sincere belief"."
He also said that the convicting judgment is replete with "half-truths and contradictions".
Dhavan also nudged the bench to construe Bhushan's statement as an apology:
"A sincere explanation will come within the broad contours of the term 'apology'. If Bhushan's statement is read as a whole, it says he has the highest respect for the judiciary but has a critical opinion about four Chief Justices."
He further stressed upon the importance of criticism and said that the court can survive only on responsible criticism. He stated that the contempt verdict should be suo-moto recalled.
Some remarkable submission made by Dr. Dhavan:
"There is no question of withdrawing Bhushan's statements or excising his affidavit from the record, which is a part of his defence."
"What is that the Court would tell him? When you tell him 'don't do it again', he will ask 'what should I not do again?'. Can the court ask him not to criticize the court? Can the court silence him?"
He also suggested to the court how the case should be closed. He said that the court should say,
"We have taken into account his statement. Though we disagree with many things he said, we caution him to be a little restrained in the manner in which he criticizes the court, and be sure on facts."
Justice Mishra asked him how the court would punish him if they decide to do so. Dhavan said that in previous cases the court has barred contemnors from appearing before the court or there is punishment prescribed in the Contempt of Courts Act. But then he immediately added, "Don't make Prashant Bhushan a martyr." He further said,
"The effect of the punishment could be, he will be made a martyr. Please do not do that. He does not want martyrdom. If Bhushan is punished, there will be one set of articles calling him a martyr and another set of articles saying he was rightly punished. We all want this controversy to end. This can end only by judicial statesmanship."
On the question of sentencing, Dhavan maintained, "Kindly bear this in mind, your lordships can say this kind of criticism should not be made. I will leave it to your lordships to decide what is to be done."
Adv. CU Singh intervened saying that even if the conviction is maintained, there need not be a sentence "as there is no substantial interference with administration of justice."
Justice Mishra's comments
Justice Mishra, throughout the hearing was insistent that Bhushan submits an apology. It was apparent through various comments made by him through the proceedings that he was pushing Bhushan to apologise.
"What is the point of giving warning to Bhushan if he himself has no 'inkling' that he has done wrong".
Towards the conclusion of the hearing, Justice Mishra said, "it is 'painful' to read all the statements of the Bhushan and his justifications."
"This is not the way a senior lawyer like Prashant Bhushan over 30 years of experience should behave. I belong to the old class. I have reprimanded lawyers for going to press in pending cases. There is a difference between an officer of the court and a politician. If you are going to press for everything, you are over identifying without your causes. Going to press, making a tweet by a lawyer of a standing of Mr. Prashant Bhushan carries some weight. It affects the public."
He further added,
"You are part of the system. Your dignity is as good as a judge. If you destroy each other like this, people will not have trust in the system. We welcome fair criticism. But we cannot go to press to respond to criticism. As a judge, I have never gone to press. That is the ethic we have to observe. So many things we know in and out. But can we go to press for all that? No, we cannot. We have to protect each other and the dignity of the institution."
Further insisting on an apology, Justice Mishra said,
"Tell us, what is wrong in using the word apology? What is wrong in seeking apology? Will that be reflection of guilt? Apology is a magical word, which can heal many things. I am talking generally and not talking about Prashant. You will go to the category of Mahatma Gandhi if you apologize. Gandhiji used to do that. If you have hurt anybody, you must apply balm. One should not feel belittled by that. It is not (my) part to advise. You (AG) have known him as a child. You have special love and affection for him. I don't consider myself elder enough to advise anyone."
With this, the hearing concluded. Although, it wasn't expressly said, the order is assumed to be reserved. No matter what the final order is, with respect to Bhushan's sentencing, there is no doubt that this case will be etched in history and will pave a path in the jurisprudence of freedom of expression and constructive criticism of the court.
The Supreme Court order may be read here:
Related:
Insincere apology, a contempt of my conscience: Prashant Bhushan
Hum Dekhenge: Nation stands for freedom of speech, expression and conscience
Indian diaspora stands with Prahsant Bhushan
I submit to any penalty which the court may inflict: Prashant Bhushan