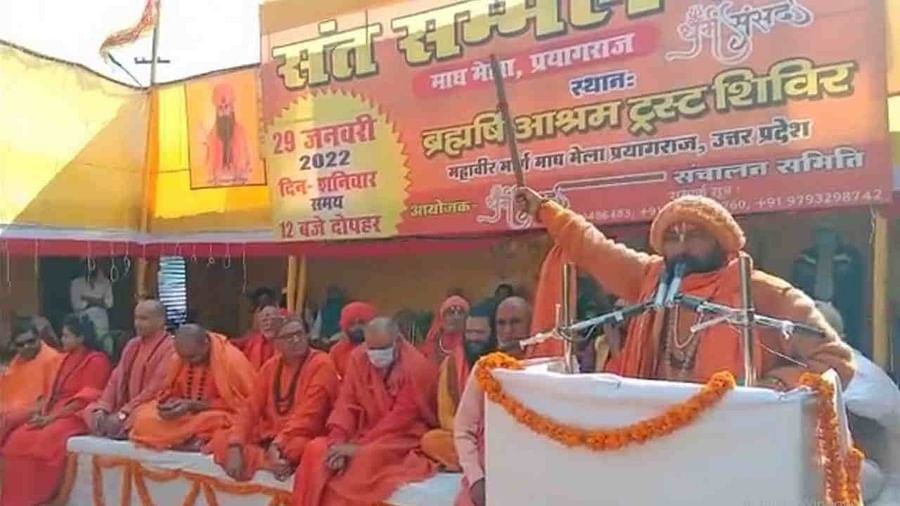 On February 3, while election season peaks in Uttar Pradesh, there will be a finale 'Sant Sammelan' held in Prayagraj. While this does not have anything to with the ongoing election it is crucial to keep an eye on this sammelan or conference at the Magh Mela Camp Parade Ground organised by the Vishwa Hindu Parishad (VHP). According to news reports, religious leaders attending the conference "will discuss the promotion of Sanatan Dharma for religious conversion, social harmony, and world peace." However, calls have been given to declare India a "Hindu rashtra" as well as hate speeches against Muslims.
This is the final part of the 'Sant Sammelan', reportedly organised by those who organised Dharma Sansad. This too was to bear a similar name, but was changed to 'Sant Sammelan' after protests and the fact that calling it Dharma Sansad will raise multiple concerns and maybe hamper the event itself. In attendance on February 3 will be representatives of the Akhara Parishad etc, however in the run up to it, anti-Muslm and anti-Constitutional ideas have been a regular at the Sammelan that has been taking place in the city since Friday. There the attending "saints" and see's have already "demanded" that India be declared "Hindu nation". They also declared that "patriotic Muslims" are a part of "their" family and thus will be 'brought back home' to the Hindu fold.
'चाहे देश का प्रधानमंत्री हो या उत्तरप्रदेश का मुख्यमंत्री हो हिंदू राष्ट्र को कोई रोक नहीं सकता'

: प्रयागराज धर्मसंसद में फिर दिए गए विवादास्पद बयान #UPElection2022 #HinduRashtra pic.twitter.com/8rAG48ves4

— News24 (@news24tvchannel) January 30, 2022
On Saturday, the group had passed three 'resolutions':
* Declare India a Hindu Rashtra.
* Declare all religious conversions a "rarest of the rare" crime, with capital punishment for the organisers.
* Release Yati Narasinghanand Saraswati and Jitendra Narayan Tyagi.
They also urged the Narendra Modi led Union government and Adityanath led Uttar Pradesh government to prohibit the usage of the terms "minority" and "majority."
It has been a few days since the demand to declare India as a Hindu nation was raised. However, no official reaction or condemnation has been reported so far. That meeting of Hindutva leaders was reportedly organised by the steering committee of Haridwar's Dharma Sansad at the Brahmarshi Ashram camp on Mahavir Marg of the Sangam tent city. A demand for declaration of "Hindu rashtra" was made by the religious leader identified as Narendranand Saraswati who said even though the government may not declare India as a Hindu nation, "All Hindus should start writing and speaking their country as 'Hindu Rashtra'" as it will compel the government to follow suit. He made more such declarations such as: Islamic jihad was a big threat to humanity" and "Muslims were not minorities".
In the Sant Sammelan, Allahabad. Hindu groups raise slogans of 'Jai Hindu Rashtra', no one can stop the Hindu Rashtra, be it prime minister of country or be it UP chief minister, no one can stop Hindu Rashtra
India will be a Hindu Rashtra till 2023pic.twitter.com/c7Xg5DFzuU

— Arif Shah (@shahaariff) January 30, 2022
He added that, "There can be no father of the nation. There can be the son of the nation, but not the father of the nation," and that, "The first Prime Minister of the country was Subhas Chandra Bose, his leadership was accepted by many countries. In such a situation, he should be declared the first Prime Minister of the country."
Anand Swaroop, told the media that if "our two religious warriors" [Giri and Tyagi] are not released in a week, the agitation will become very aggressive, "It is possible that something similar to what Bhagat Singh did in the Assembly…the arrests of the Hindu warriors may result in that." He claimed that the two hate speech makers were like the revolutionary freedom fighter Bhagat Singh, who bombed the Central Legislative Assembly in Delhi in 1929 in defiance of a British law. Swaroop reportedly threatened, "If the government delays their release, an incident like the bombing of the Assembly could occur, since we are prepared to become Bhagat Singh," adding "I don't know anything other than that India was partitioned on the basis of religion and that we are already a Hindu Rashtra." Swaroop is one of a half-dozen people questioned in connection with the Haridwar hate speech case.
Meanwhile, Haridwar hate speech maker Annapurna Bharti aka Pooja Shakun Pandey, of Niranjani Akhada claimed that when religious leaders spoke about their safety in Haridwar's Dharma Sansad, they were arrested, "It was said that this (comments at Dharma Sansad) had hurt the sentiments of the people of a particular religion. But when Tauqeer Raza gathered a crowd of 20,000 in Bareilly and spewed venom against Sanatan Dharma, no action was taken. Did his action not hurt our sentiments? Owaisi's threatening video is released but no action is taken." She asked those attending the Magh Mela to write to the government to release of Narsinganand and and Jitendra Narayan Singh Tyagi (formerly Wasim Rizvi) who are under arrest.
Another man identified as Swami Lalitananda claimed that everyone is a Hindu by birth and some like Swami Anand Swaroop, claimed "at the time of partition of the country, there were 9 crore Muslims and today their population is about 40 crore"
Another Dharm Sansad organized by Hindu extremists in Uttar Pradesh

Hindu monks declared India as a Hindu nation, called for violence against Muslims, passage of anti-conversion law with death penalty as punishment & threatened violent attacks if Yati Narsingh is not released. pic.twitter.com/HdGMVomjvU

— HindutvaWatch (@HindutvaWatchIn) January 31, 2022
Related:
Hate as a State project is not a new phenomenon: Survivors
Condemn Haridwar Dharma Sansad remarks: RSS' Muslim Wing woos voters for BJP
Narsinghanand arrested: Is it for Hate Speech or misogyny?
Why is the desi right wing embarrassing India by trolling the Canadian PM?
Law should be made against religious conversions: Kejriwal in Punjab