The state police have invoked Section 66A of the Information and Technology Act even though the provision has been struck down by the Supreme Court. On multiple occasions, the apex court has directed that nobody should be prosecuted under the provision.
The entire issue revolves around the role of the media, and it is evident that the Editor's Guild did a commendable job by sending a fact finding team to check the ground situation and information which are being suppressed, says the statement.
Further, it adds that, this action amounts to a strong arm tactic by the state government which amounts to intimidation of the apex media body of the country.
At a time when violence-marred Manipur needs utmost attention of the government, such a move by the state government would only make the matters worse and would be seen as a deliberate attempt to suppress the truth. It is a case of shooting the messenger rather than taking measures to restore peace in the state.
The statement signed by Umakant Lakhera (President) and Vinay Kumar (Secretary) has demanded that the FIR against the EGI President and the three members be withdrawn immediately.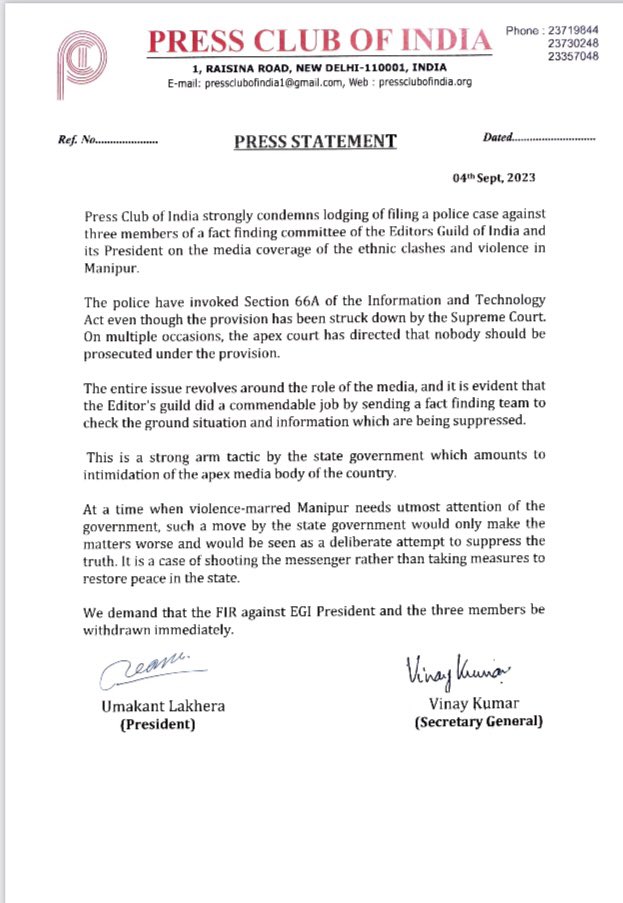 A tweet by the EGI also condemns this action which amounts to a criminalising of journalism.
The Manipur government on Monday said an FIR was filed against four members of the Editors Guild of India (EGI) for "trying to create more clashes in the state".
Addressing media persons in the state capital, Imphal, Manipur Chief Minister N Biren Singh said that a first information report (FIR) is registered against the EGI's president and three others.
The CM said that their report was biased and they did not meet all the groups in the state. "They arrived at an incorrect conclusion," Singh alleged.
Singh said that this kind of report by the EGI report would create more problems in Manipur, which is rocked by ethnic violence for over four months, killing 170 people and injuring 700 while displacing around 70,000 people from Meitei and Kuki communities.
A three-member fact-finding team of the EGI after visiting Manipur, published its report in New
Delhi last week, claiming that the media's reports on the ethnic violence were "one-sided". The report accused the state leadership of being "partisan".
"It should have avoided taking sides in the ethnic conflict but it failed to do its duty as a democratic government which should have represented the entire state," the 24-page EGI report said in its conclusions and recommendations.
The FIR was filed at the Imphal police station on the complaint of N Sarat Singh who claimed to be a social worker.

Related:
2 Meitei lawyers representing Kuki Professor Hausing targeted by mob, houses and chambers vandalised in retaliation attack
Stark abdication by an absent state, paucity of basic necessities & poor, unhygienic conditions in relief camps: Manipur
SC transfers CBI cases related to Manipur violence to Assam, asks Gauhati HC CJI to choose trial judges
SC-Appointed Panel Calls for Reconstruction of Lost Documents, Compensation Scheme: Manipur
"Who gains? Who loses?"- An interim report on Manipur violence, resilience, relief and rehabilitation
Manipur urgently needs the healing touch, prompt political intervention: former bureaucrats