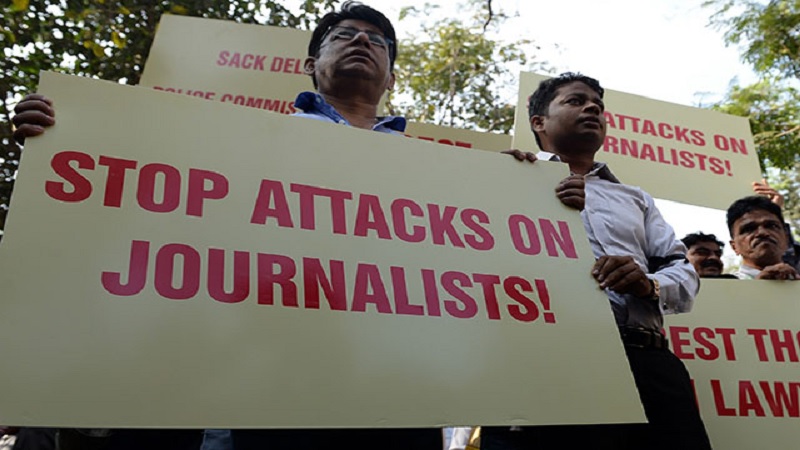 Image Courtesy:asiasociety.org
The Press Council of India has demanded an explanation from the Tripura government on allegations of attacks on journalists made by the Assembly of Journalists (AOJ), which is a forum for protection of media rights. The AOJ has alleged that over 20 scribes were attacked in Tripura after Chief Minister Biplab Kumar Deb's controversial remarks on the media during a programme last year in September. It was widely reported when on September 11, 2020, Chief Minister Biplab Kumar Deb's while speaking at the inaugural ceremony of Tripura's first Special Economic Zone (SEZ) at Sabroom had said that a section of "over-excited newspapers" were "trying to confuse people" over Covid-19 and added that "neither history nor I will forgive them".
Journalists had called him out on this comment and said that the CM seemed to have issued a 'threat' to the media and that it was an "assault on press freedom". Deb had reportedly responded that while he "didn't mean to hurt anyone," he "would continue to protect the best interests of people of Tripura against any attempts at misleading" the people. It was reported that the CM's media advisor, Sanjoy Mishra had also said his comments were misinterpreted. However, according to local media, allegations of various attacks on journalists from working in the region, were reported.
The AOJ took cognisance of that and had recently issued a statement that said, anti social elements have been emboldened to attack the media after the CM's speech. The AOJ stated: "The chief minister (Biplab Kumar Deb) had threatened the media during an event at Sabroom sub-division on September 11. Encouraged by this, anti-socials and miscreants sheltered under the umbrella of the ruling party are organising constant attacks on the media. At least 23 journalists have been attacked in Tripura in the last six months following the chief minister's threat." A delegation of the Assembly of Journalists had met at the Agartala State Guest House on Sunday, and informed Press Council of India representatives "about the increasing attacks on journalists and news media in the state."
https://www.facebook.com/assemblyofjournalists/posts/209565894255000
Now the Press Council of India (PCI) has sought a response from the Tripura government regarding purported complaints of these attacks on journalists in the past six months. According to media reports, PCI secretary Anupama Bhatnagar has written to Tripura Chief secretary, Home Secretary and Director General of Police, and asked them to respond within two weeks. Media reports quoted the letter: "on consideration of the complaint, Chairman, Press Council of India has decided to take cognizance in the matter under provision of Regulations 14 (f) of Press Council ( Procedure for Inquiry) Regulations, 1979 and I have been directed to request to file your comments in the matter within two weeks from the date of receipt of this letter to enable the Council to determine further course of action in the matter." According to news reports, state Home Secretary Sharadindu Choudhury told the media on Saturday that the letter had been received "last week" and that a reply will be given soon.
Related
Scrap rules proposed to monitor digital media: Journalists' organisations
HRDA appeals to NHRC over illegal arrest of journalist Saleem Khan
Tripura HC quashes FIR against man charged for misleading FB post about pro-
From Watchdog to Lapdog, Weaponisation of the India Media