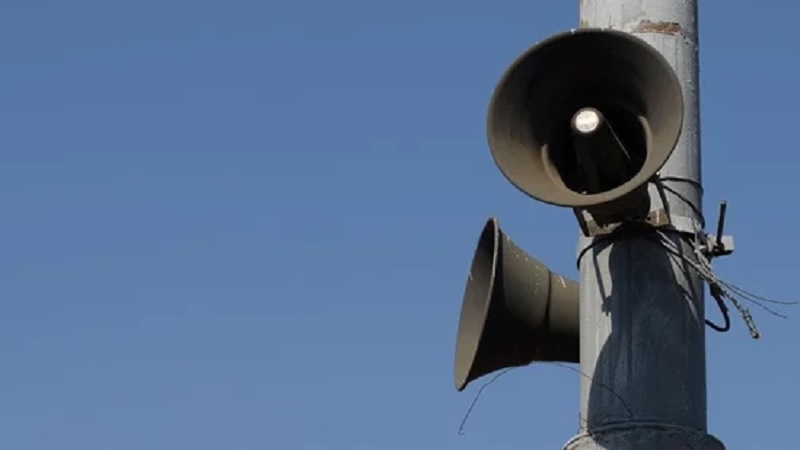 Image Courtesy:hindustantimes.com
Uttar Pradesh's Jalaun district police booked a Hindu priest for using a loudspeaker to recite Hanuman Chalisa near a mosque at the time of azaan (Muslim call for prayers), reported the Hindustan Times on April 22, 2022.
Tulsi nagar resident Mahant Matyendra Das Goswami recited the Hindu prayer in front of a mosque on Station Road allegedly using a loudspeaker on April 19. According to SHO S. K. Rathore, the case was registered on April 21 based on a 'breach of peace' complaint filed at the Kotwali police station.
Loudspeakers inside and around mosques have been mired in controversy in India. In Maharashtra especially, Maharashtra Navnirman Sena (MNS) Chief Raj Thackeray demanded the removal of loudspeakers from masjids by May 3 i.e Eid. He also exhorted people to play Hanuman Chalisa using loudspeakers outside mosques if the religious structure refused to take down the equipment.
Speaking to Hindustan Times, Kanpur's Additional Director General of police Bhanu Bhaskar said that "no one is above the law". He said that police will take action against any person who violates rules or tries to disrupt peace in the area.
While the priest has not received the favour of the police, right-wing mouthpieces like the Hindu Post spoke in support of him. The priest alleged that the police acted in haste and that he did not use a loudspeaker while chanting Hanuman Chalisa. He did concede that the recital was near the mosque.
Goswami pledged a 'fast-unto-death' at Gandhi Chabutra against the notice served to him. He claimed this was an attempt to malign his image and hurt the sentiments of saints. However, as per newspaper reports, the priest was also involved in a previous controversy wherein he demanded that meat selling shops in Bajaria, Orai be shut down.
The repeat hate-offender earlier aimed for a Bharatiya Janata Party (BJP) ticket from the Madhogarh assembly constituency for the recent state elections. However, his nomination as an independent was rejected. He wrote to Chief Minister Yogi Adityanath and senior police officials against the "fake complaint".
Related:
Maharashtra mosques reiterate commitment to following noise pollution laws
72 percent of Mumbai's mosque hold off on loudspeakers
Nashik police prohibit Hanuman Chalisa just before and after Azaan
Maharashtra's Barad village stands together against loudspeaker controversy