AIKS demands assessment of loss in income and wages and seek full compensation for the Peasants and Agricultural Workers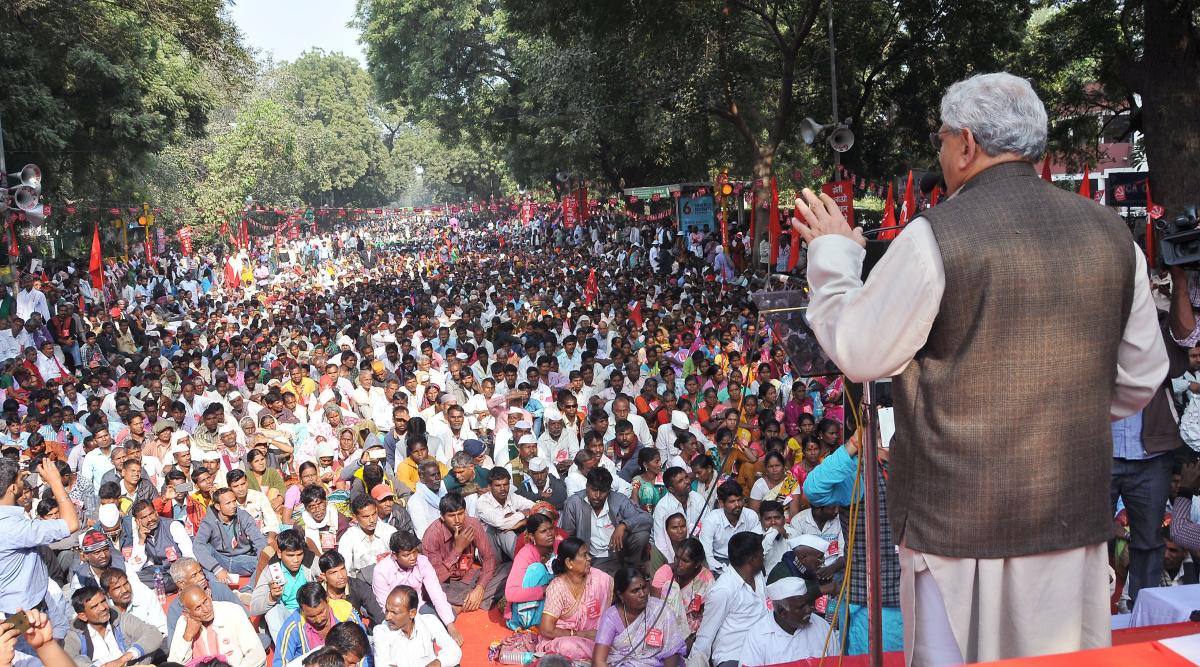 The All India Kisan Sabha condemns the Prime Minister Narendra Modi for making a mockery of the plight of the peasantry and poor in his address on 31st December, 2016. The peasantry which was reeling under an acute crisis were further pushed into distress by the demonetisation decision. They have suffered severe income losses as well as yield loss due to the decision. Sowing has been delayed and the area sown has fallen in wheat which is bound to have adverse impact on productivity. AIKS demands assessment of loss in income and wages as well yield losses due to the move and full compensation for the same. AIKS demands full waiver of loans of agricultural workers and peasantry, especially the poor and marginal farmers. Instead of addressing grievances of peasants, agricultural workers as well as the poor, Narendra Modi has only added insult to injury.
Last 2 months saw the peasantry losing incomes in a massive manner due to price crash, loss of perishable crops, fruits and vegetables. Losses are going to continue and Rabi harvest will give a clear picture. Agricultural workers lost employment as well as wages due to reduced agricultural activity and non-payment of wages for work done. The insensitivity to the plight of the peasantry and poor can be understood when one notes the fact that the Budget-like speech has nothing tangible for them. He has merely announced 60 days interest waiver for farm loans taken from district cooperative banks and societies for Rabi farming. Notably this was a period when the Government decision had irreparably damaged cooperatives and their disbursal of farm loans was minimal in the last 60 days. After having dealt a serious blow to cooperatives the PM claims that the Government will give NABARD Rs 20,000 crore for giving loans to cooperatives at low interest rates. There is nothing new in the proposal to convert 3 crore Kisan Credit Cards into RUpay Credit Cards as they were already linked.
Whole crisis in wheat has emerged due to the faulty estimates based on bogus data and the PM depending on the same database has claimed that there has been a 6 % increase in Rabi sowing and 9 % increase in fertiliser usage. He deliberately conceals the fact that last two years were drought hit. Better monsoons and increased sowing of pulses were reasons of increase in acreage and fertiliser use and it is no indicator of support for demonetisation. Delayed wheat sowing and reduction in acreage of wheat are direct result of demonetisation and its adverse impact will be felt in coming days. An existing scheme for financial assistance to pregnant women was announced with much fanfare as though it is a new scheme. AIKS condemns this callous attitude without taking any responsibility for causing extreme human suffering or making any effort to provide relief to the distressed population.
It is also notable that the Prime Minister's speech came at a time when the NCRB data on farm suicides published simultaneously showed a total of 12,602 persons involved in farming sector committing suicide in 2015. Suicides by farmers rose 42% between 2014 and 2015. Clearly, despite the under-reporting these figures show an increasing trend when compared to 2013 and 2014. BJP ruled Maharashtra touched an unprecedented 4,291 suicides. Three BJP ruled States of Maharashtra, Madhya Pradesh and Chhattisgarh accounted for 6535 (51.85%) of all suicides and States ruled by BJP-led NDA accounted for 7723 suicides (61.28%). The figures also clearly show that States like Bengal have fraudulently shown zero suicides although there have been many suicides by crisis-ridden farmers. The PM has continued in a denial mode and has made no announcement to address the agrarian crisis.
AIKS calls upon all its units to protest against the insensitive decisions of the BJP-led NDA. On 19th January, 2017 the AIKS along with AIAWU and CITU will build broad unity with other mass and class organisations as well as like-minded organisations and nation-wide protests will be held.
Courtesy: Newsclick.in