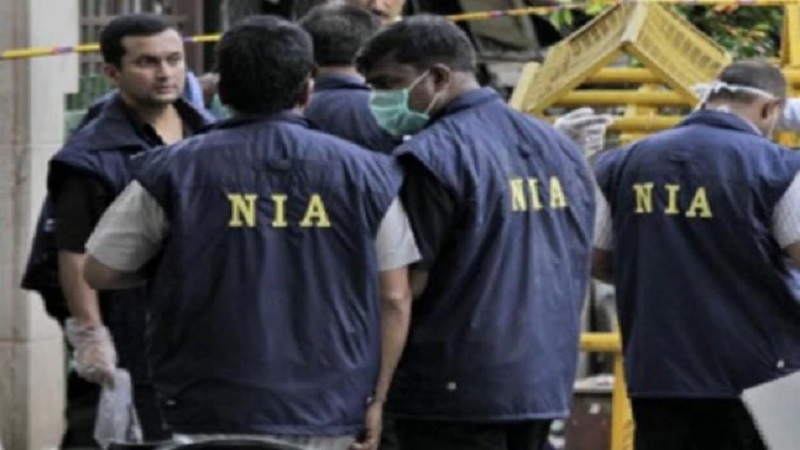 Image Courtesy:indiatoday.in
The Human Rights Forum (HRF) of Andhra Pradesh has called the recents raids by the National Investigation Agency (NIA) at the premises of several Adivasi, Dalit and human rights activists in Andhra Pradesh and Telangana, state action intented "to cast disgrace on human rights activism."
The raids were conducted by the NIA on March 31-April 1, to investigate the activists for "alleged links with Maoists". The agency seized the phones, computers, laptops, books and papers from most of the premises raided. According to HRF this was "part of a concerted attempt to diminish and delegitimise the very notion of human rights in the public eye". The forum issued a media statement on Tuesday and said that "the intention of the government is to make the process itself the punishment, to endlessly harass those critical of the political establishment's policies and practices". It added that invoking "the UAPA, an enactment that is fundamentally incompatible with democracy and civilised norms and imperils political freedoms, is meant precisely to serve this purpose".
The HRA reiterated that the UAPA "mocks at established canons of jurisprudence and legal scholars have described it as an instrument of State tyranny" and the recent amendments add do that. During the search and seizure raid on the residence of VS Krishna, Human Rights Forum (HRF) AP & Telangana Coordination Committee member in Visakhapatnam last week NIA seized six hard disks, one mobile, three sim cards, three SD cards and a few documents. They also reportedly photographed his and family's bank details and interrogated him for about eight hours at their offices in Vizag on April 1 and 2 stated HRF. Other searches were reported conducted at "31 locations spread across eight districts of Andhra Pradesh namely Visakhapatnam, Guntur, Prakasam, Srikakulam, Kurnool, Krishna, East Godavari and Kadapa and four districts of Telangana namely Ranga Reddy, Hyderabad, Medchal-Malkajgiri and Medak."
The HRF has shared that these raids were pursuant to a case registered at the Munchingput police station, Visakhapatnam district on November 23, 2021. The case contained charges under the Unlawful Activities (Prevention) Act, 1967 (UAPA), sedition, criminal conspiracy and various other IPC provisions. It has been alleged that the accused belong to frontal organisations of the proscribed CPI (Maoist) and are doing its bidding, and the NIA has been investigating the case since March 7, 2021.
The HRF has once again reiterated that, "accusations against VS Krishna of Human Rights Forum and functionaries of several other rights, literary, and dalit organizations is clearly an exercise in intimidation intended to stifle lawful dissent and protest. We have no hesitation in stating that the contents of the FIRs are a litany of lies. In the Munchingput FIR, VS Krishna has been accused of influencing the Vakapalli rape survivors to depose falsely against the policemen." It once again called this "an atrocious allegation" and said HRF, along with several other organisations provided the Adivasi women witnesses deposing before courts, with food and shelter when they come from remote areas. According to HRF, "it is because of this solidarity and sustained rights activism that the police are now seeking to intimidate VS Krishna in what we believe to be a clear case of vindictiveness."
It has called charges brought about in the Munchingput FIR "a catalogue of fabricated and sometimes farcical accusations. There is a deliberate attempt at wrongful and malafide prosecution. It can only be termed as a rampant abuse of the criminal justice system. It is becoming evident now, following the recent NIA raids, that some kind of a story of a grand conspiracy of 'urban Maoism' is being sought to be orchestrated in the States of Andhra Pradesh and Telangana."
The HRF has questioned the seizure of hard disks, and mobile from VS Krishna's residence and his without providing him with a cloned copy. According to the media statement when Krishna asked when he could get them back, "NIA personnel said that if no incriminating evidence was found, he could claim them from the NIA Special Court at Vijayawada". However the forum says this is a long process and the seized hardware contains personal, and work-related data. "The seizure of personal digital devices and their contents during investigation results in not only a dispossession of valuable property of the activists but also of their right to livelihood, privacy and human dignity. This amounts to an infringement of Constitutional rights," said HRF
The forum has demanded that "the NIA and the State governments of AP and Telangana drop the fabricated accusations against VS Krishna and members of other rights, dalit and women's organisations. There must be an immediate halt to attempts at suppressing dissent. Seeking to criminalise our human rights work can never succeed." HRF added that they "are not an adjunct of either the Maoists or any other political party" and will continue its human rights movement.
Related:
NIA raids activists in Andhra Pradesh and Telangana for alleged Maoist links