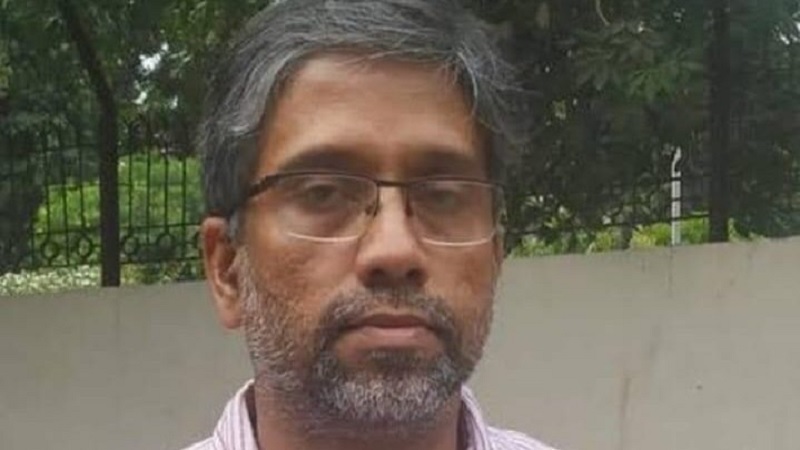 Image Courtesy:en.hindy.in
On July 10, 54-year-old Hany Babu Musaliyarveettil Tharayil, an associate professor at English Department, Delhi University tweeted, "Day in and day out we are reminded that there is no justice in this country. And there is no peace without justice."
Day in and day out we are reminded that there is no justice in this country. And there is no peace without justice.

— Hany Babu MT (@hanybabu) July 10, 2020
On Tuesday July 28, he was arrested by the National Investigation Agency from his residence in Noida, Gautama Buddha Nagar, Uttar Pradesh. With this, the NIA has made its 12th arrest in the Bhima Koregaon case, and the third one during the national Covid-19 lockdown. The arrest comes after they had summoned Prof Babu to Mumbai for investigations on July 15 2020. Prof Babu will be produced before NIA Special Court in Mumbai on Wednesday.
According to the NIA spokesperson quoted in Hindustan Times, "Prof Hany Babu was propagating Naxal activities and Maoist ideology and was a co-conspirator with other arrested accused." Babu has been accused in connection with the 2017 case which alleged that "provocative speeches" were made at an Elgar Parishad event organised by the Kabir Kala Manch at Shaniwarwada in Pune, Maharashtra on December 31. It was alleged that those speeches incited people, and promoted enmity between caste groups leading to violence on January 1, 2018. The Pune Police had filed a charge-sheet and a supplementary charge-sheet in this case on November 15, 2018 and February 2, 2019, stated the HT report. The NIA took charge of the case on January 24, 2020. Two other accused, academics and writers, Prof Anand Teltumbde and Gautam Navlakha, were arrested on April 14 2020.
A Pune Police team searched Prof Babu's house on September 11, 2019. In an interview to The Caravan, he recalled the day the police searched his house. "They asked me whether I knew about the case—I said I do not really know about the case but I know that some people have been arrested already. They said they have to search my house… they were looking for electronic devices. They seized my laptops, mobile, all pen drives, hard drives, locked my email accounts and also they were interested in books… the books that they had kept aside, two of them were connected to the defence committee for GN Saibaba. We have brought out a couple of booklets. One [book] had the title Understanding Maoists, by N Venugopal, the other was From Varna to Jati: Political Economy of Caste in Indian Social Formation by Yalavarthi Naveen Babu. I wondered why are they taking it, then I realised that Naveen Babu is a known name so it's very clear that they were looking for books that would show me in a kind of profile."
According to the news report, the NIA spokesperson said that during investigations they "found that senior leaders of CPI (Maoist), an organisation banned under the Unlawful Activities (Prevention) Act, were in contact with the organizers of Elgar Parishad as well as Hany Babu to spread the ideology of Maoism/Naxalism and encourage unlawful activities." The NIA added that, "It was revealed that accused Hany Babu Musaliyarveettil Tharayil was propagating Naxal activities and Maoist ideology and was a co-conspirator with other arrested accused." the NIA spokesperson said.
When he was summoned to Mumbai two weeks ago, Babu had spoken to the news portal Scroll and called the NIA's move "harassment". "They are asking me to travel to Mumbai in the middle of a pandemic," Babu had told Scroll then, "It is not just a health hazard to me but also to my family. I live in Noida and there are so many restrictions to even travel to Delhi."
Prof Babu is known in academic circles as a vocal "anti-caste activist". He had told the Caravan that the bulk of his work was on "issues relating to discrimination, social justice, reservation. But that alone, I am sure, would not have attracted this kind of attention or attack from state agencies. So, there is clearly a kind of message being sent out: that you have to be careful about what kind of activities you are engaged in."
He told the magazine that the Police then asked him questions such as, "Do you know Surendra Gadling?" Now Surendra Gadling is a person who has been arrested and he is also the lawyer who was in charge of Saibaba's case in Nagpur. "Obviously I know him because we were part of the defence committee. I have talked to him, called him maybe once or twice. I have also met him once or twice, in Nagpur. I said yes," said Babu. The police then went on to ask him "Do you know Rona Wilson?" Babu told the magazine, "Rona, I also know as a friend. I said, 'Yeah, I know him. And so?' After that they do not say anything. Knowing them is enough. By knowing them, with your association with them, you become a suspect for us."
Prof Babu's arrest sent a wave of shock and anger in the academic, and activist fraternity. According to journalist, academic and activist, Prof Dilip Mandal, "There is every possibility that if the central government would exclude the employed people from the OBC reservation, then the petition filed in the Supreme Court against it would be Prof. Haini Babu. This is what it means to be a hany babu."
इस बात की पूरी संभावना है कि अगर केंद्र सरकार ओबीसी आरक्षण से नौकरीपेशा लोगों को बाहर करती, तो इसके खिलाफ सुप्रीम कोर्ट में दायर होने वाला पिटिशन प्रोफेसर हैनी बाबू ड्राफ्ट करते.

हैनी बाबू होने का ये मतलब है.

— Dilip Mandal (@Profdilipmandal) July 28, 2020
Author Meena Kandasamy said, "The witch-hunt in the #BhimaKoregaon case continues. Now, the 12th arrest has been made, Prof MT Hany Babu, Delhi University. What does an English professor have to do with this case? Nothing, except a fascist state sending a signal that any noise will be crushed ruthlessly."
The witch-hunt in the #BhimaKoregaon case continues. Now, the 12th arrest has been made, Prof MT Hany Babu, Delhi University. What does an English professor have to do with this case? Nothing, except a fascist state sending a signal that any noise will be crushed ruthlessly. https://t.co/gtTHssL6no

— meena kandasamy || இளவேனில் மீனா கந்தசாமி (@meenakandasamy) July 28, 2020
Prof Babu is also a member of the committee formed to defend Dr GN Saibaba, the wheelchair-bound former Delhi University professor who is now serving a life term in Nagpur jail, for his alleged links to the banned Communist Party of India (Maoist).
This is most heartbreaking. I have not come across more humble and democratic professor than him in our campus.

— Kawalpreet Kaur (@kawalpreetdu) July 28, 2020
Anti caste activist, strong supporter of reservation for SC-ST-OBC, Delhi University professor Dr Hany Babu is arrested by NIA. We condemn his arrest. it's an evil to suppress anti caste & pro reservation activists & movement. @AmbedkarSchool stands by him. #StandwithProfHanyBabu pic.twitter.com/6MVhgAE6YI

— Ambedkar School (@AmbedkarSchool) July 28, 2020
My close friend, anti caste activist, a prominent voice for OBC reservation, & DU Teacher Dr @hanybabu has been arrested by NIA. Being a Law graduate, he's been a great help for research in many constitutional & reservation case I've did in these years. #StandwithProfHanyBabu pic.twitter.com/dwpSSJHuNH

— Nitin Meshram Equal Free Speech (@jaibhimworld) July 28, 2020
The Maharashtra police have so far arrested writers, lawyers, and civil rights activists, most of them are undertrials, lodged in jail even as Covid-19 is spreading in prisons across the country. The accusations include "conspiracy to assassinate the prime minister, and overthrow the government," and the violence at the Elgar Parishad event.
As noted by scores of media reports, the Covid-19 lockdown has been the most active time for NIA investigators. Like Pof Babu will now be taken to Maharashtra, when normal travel between states remains an uphill talk, the NIA had earlers secured special permission from court in May, the agency to take Delhi-based writer Gautam Navlakha, to Mumbai. Navlakhas bail petition was pending in the Delhi High Court then.
The NIA Arrest List
Sudhir Dhawale
Shoma Sen
Mahesh Raut
Rona Wilson
Surendra Gadling
Varavara Rao
Sudha Bharadwaj
Arun Ferreira
Vernon Gonsalves
Anand Teltumbde
Gautam Navlakha
Hany Babu
While Prof Babu's fate will be decided by the Special Court in Mumbai on Wednesday, ten of the accused remain behind bars till now. Varavara Rao, the oldest, is in hospital in Mumbai, as he is very unwell, suffering from Covid-19 and other serious ailments. After scores of letters, and repeated pleas to various authorities, his family has just been told that they may be allowed to see him in hospital soon.
Related:
Covid-19 a death sentence for Prof. Saibaba: Wife demands release
Bhima Koregaon case: Gautam Navlakha denied default bail; NIA granted 10 days
Mahesh Raut, Bhima Koregaon-11's youngest activist spends another birthday in Jail
Civil Society members request Maha CM to shift Bhima Koregaon activists out of jail