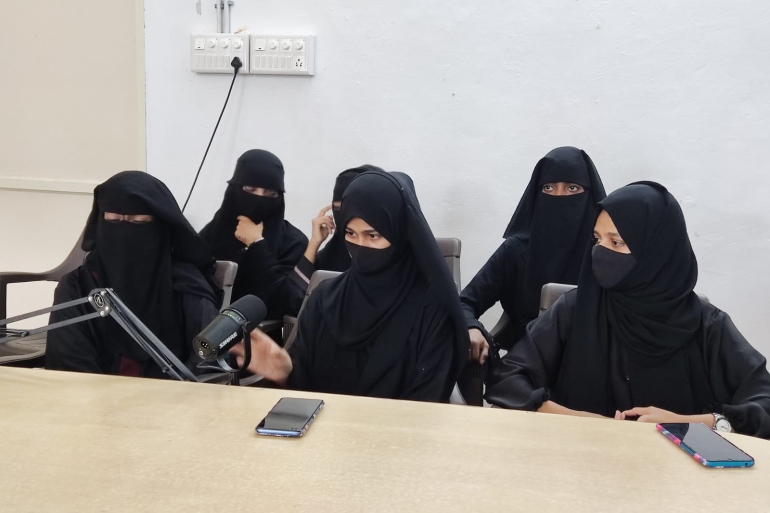 Representation Image
The targeting of hijab-wearing Muslim students, so far unchecked and escalating in Karnataka, has reportedly spread to Uttar Pradesh where Assembly elections are now underway. A disturbing report of alleged intimidation, and harasement of a young Muslim woman becase she wore a hijab has come to the fore from Jaunpur district of UP.
The young woman targetted has been identified as Zarina BM, a BA final year student of the Tilakdhari College, who was badly scolded by a political science professor identified as Prashant Trivedi who then asked her to get out of class as a final humiliation. It is alleged that the professor told the student that she should take her hijab off and throw it away.
Zarina told the media that when she went to class on Wednesday, February 8 wearing a stole as her hijab, she was stopped from sitting down by Professor Prashant Trivedi. She alleged that Prashant scolded her for wearing hijab and added if he had the power he would not allow it in UP. Trivedi then asked her to get out of his class!
Zarina told journalists that her hijab only covered her head, she said the teacher referred to her hijab and asked her what she "gets by doing this" to which she replied that she liked it. The teacher allegedly replied that this was done [worn] by "crazy people" and that if he could he would "enforce a law in UP that no one should come wearing hijab". Trivedi allegedly added that Muslim "girls should take off the burqa and throw it away." He then threw Zarina out of the class. Upset, the young woman went back home and informed the family about the harassment. The news soon reached the local media. The family has said they will lodge a complaint with the police as well as the college administration.
Meanwhile, Dainik Bhasker reported that the college principal Dr. Alok Singh, claimed he only learnt of the issue when it had been reported by the media. Professor Prashant Trivedi reportedly did not respond to calls from the Bhasker journalist who originally reported the story. However, according to some news reports, Trivedi claimed when the class was discussing hijab, the student "got up and started shouting loudly." The Principal added that "no one has made any such complaint" adding that as long as the college "dress" is adhered to "what one wears is religious freedom, I have no objection."
Related:
Did Karnataka's Education Minister defend a mob that targeted a Muslim woman?
Hijab ban case: K'taka HC refers case to larger bench; denies interim relief to students
Busted! Times Now anchor fails to make important distinction between ban on Islamic traditional veils
Opinion: A salute to Muslim sisters from Karnataka
Hijab controversy: All schools and colleges to remain be shut for the next three days in Karnataka