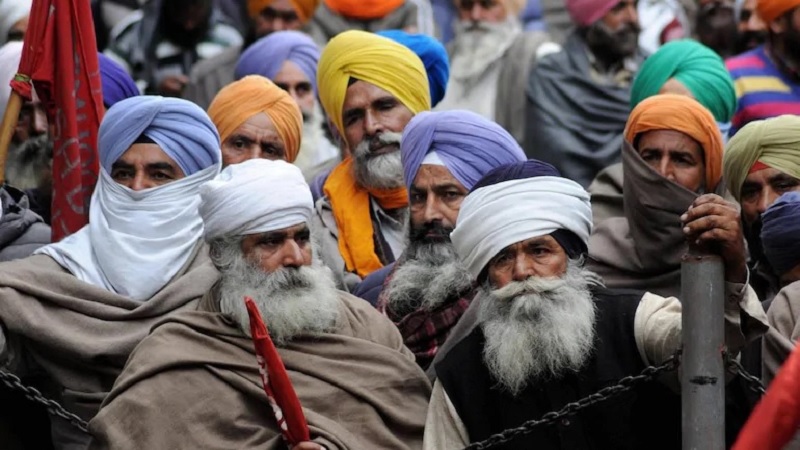 Representation Image
A legal team representing protesting Indian farmers has sent a letter to the UN Human Rights Commissioner in Delhi to denounce the brutal assault on a Jammu-based farmer who was called to the local police station for questioning on March 28, 2021.
According to Advocate Vasu Kukreja, Sikh peasant Jugraj Singh was summoned to the local police station on March 27 to answer questions regarding a National Investigation Agency (NIA) case about the January 26 farmers' parade. However, instead of a verbal interrogation, the 31-year-old peasant alleged brutal abuse at the hands of senior officers on Sunday.
"Police have arbitrarily used their powers to beat innocent citizens who are supporting farmers. As per UNHRC, every prisoner has a right against torture, by police. In this case he was just called for investigation," said the legal cell in the letter.
As such the group appealed to the Commissioner to intervene in the human rights violations related to the on-going farmers' struggle. While Singh was not kept in custody following the alleged abuse, members of the legal team have raised concerns about similar incidents frequently occurring after the Republic Ganatantra Parade.
Advocate Vasu Kukreja pointed out in the letter that every arrested person has a right to be informed about the concerned offence and other grounds of arrest if there is no warrant in the individual's name. Similarly, family and friends of the accused should be informed about the arrest.
However, since the Republic Day parade, lawyers claimed that these rights were frequently flouted. To bring this issue to the forefront, Kukreja told SabrangIndia that members would also write to the National Human Rights Commission (NHRC) and other concerned human rights bodies.
He also noted that as per earlier verdicts of the Supreme Court in 1993, police personnel arresting an individual should bear accurate, visible and clear identification and name tags with their designations at the time of apprehension.
Details of the arrest should be recorded and shared with the arrestee as well as their friend/relative. Further, arrestees are entitled to medical examination to check for major or minor injuries if they so choose. Such examinations may be carried out every 48 hours during detention by a doctor from a panel of approved doctors appointed by the Director, Health Services of the state or union territory concerned.
Yet, such and many other rights of people who were arrested after the parade have been dismissed, claimed Kukreja.
"For the past several decades, the United Nations has interfered in violation of human rights whenever needed in any part of the world. Now the Indian government is violating many human rights by acting as an arbitrary power and even risking and surpassing the fourth pillar of democracy, the media. Henceforth, we need your concern and interference towards the on-going protest of farmers," said Kukreja.
Meanwhile, farmers continue their opposition to the three farm laws – the Farmers (Empowerment and Protection) Agreement on Price Assurance & Farm Services Act, the Farmer's Produce Trade and Commerce (Promotion and Facilitation) Act, and the Essential Commodities (Amendment) Act – and demand legal provisions for Minimum Support Prices (MSP) for all farmers among other demands.

Related:
SC reserves order in Gautam Navlakha's plea for default bail
Farmers declare FCI Bachao Divas on April 5
Dismiss false charges against farmers: SKM to President on Daman Pratirodh Diwas
Haryana farmers announce Mai Bhi Andolanwaadi campaign to intensify farmers struggle
Farmers burn farm law copies during Holika Dahan!
Citizens observe Bharat Bandh despite fears of arrest or even the pandemic