Family members of the victim Suchitra Mishra, a school warden, reach Ranchi, stage protests.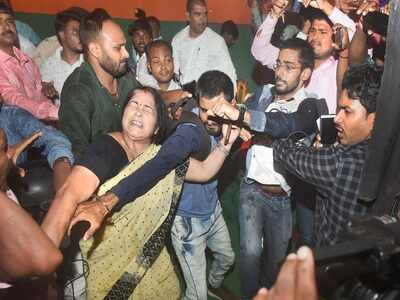 Image Courtesy: TOI
Chaos erupted at the BJP headquarters at Harmu on Thursday as the party inducted former Jharkhand Mukti Morcha (JMM) leader ShashiBhushan Mehta into its fold.
Mehta is one of the main accused in the Suchitra Mishra murder case and is currently out on bail. He was the director of Oxford Public School at Pragati Path, Ranchi, while Mishra worked there as a warden. SuchitraMahajan'sbattered body was found by a roadside near Gandhi Ashram in Dhurwa in May 2012.
On Thursday afternoon, before Mehta's induction, Mishra's sons – Abhishek and Ashutosh, their maternal aunt Lalita and a few other relatives reached the venue with placards demanding justice. They also submitted a memorandum against Mehta's induction to senior BJP leaders. This allegedly prompted party members to attack the family.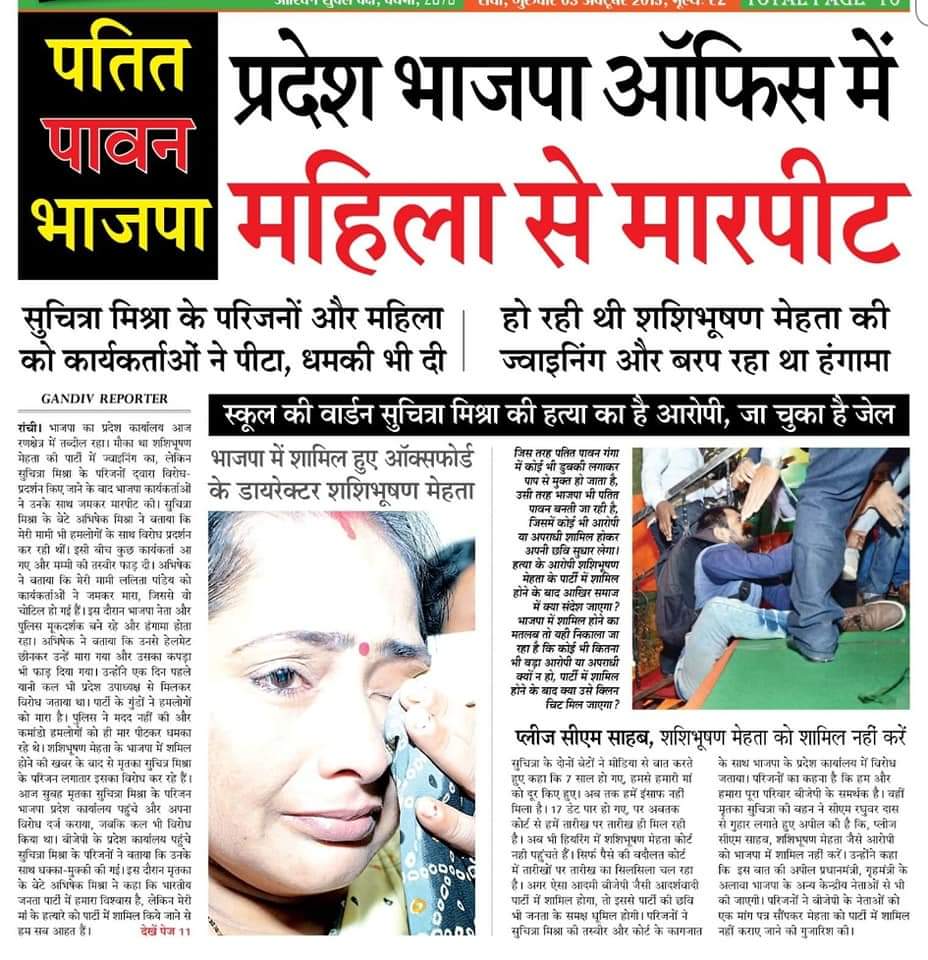 During the scuffle, Mehta's supporters scrambled to the stage and assaulted Mishra's son and threw him off stage. Abhishek Mishra said, "My aunt Lalita was also protesting with me. Just then some party workers came and snatched the placard out of her hands, tore it and beat her black and blue. All during this time, the BJP politicians and the police, both, just stood like mute bystanders."
It is shocking to note that there were activists from women's organizations at the protest with the family members. Yet, maleparty workers beat up a woman – all to save a murder accused.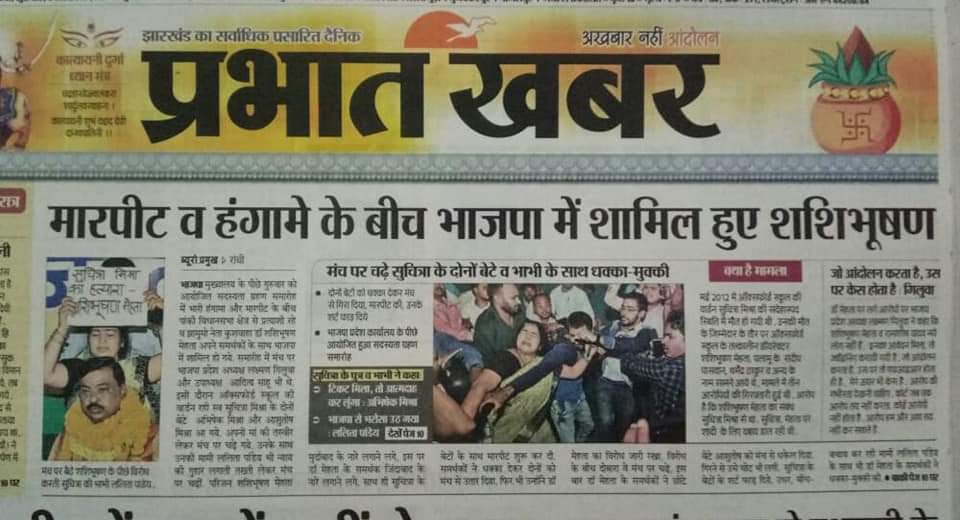 One of Mishra's sons threated to commit self-immolation if the party went ahead with Mehta's nomination after this incident.
Interestingly, Mishra's sons, Ashutosh and Abhishek are also members of the BJP. They say that including Mehta into the BJP will not only hurt people's feelings but also shake their faith in the party.
A Chance for an Opposition Attack
The induction of murder accused KushwahaShashiBhushan Mehta has given a new tool to Opposition to attack BJP.
State Congress Committee spokesperson, AlokDubey said that by inducting murder accused in party fold, the BJP has shown its real character.
Dubey said, "BJP, which calls itself as party with the difference has become the shelter home for sexual exploiter, coal mafias and anti-social elements.
Dubey said, "The family members of Mishra are traditionally BJP supporters. Suchitra's two sons Abhishek and Ashutosh were staging a peaceful protest against the induction of Mehta in BJP fold." The BJP supporters not only misbehaved with Mishra family members but even assaulted them and the whole episode took place in the presence of BJP State unit president Laxman Gilua.
Echoing the views of Congress, JVM (P) leader Khalid Khalil said, "The attack on Suchitra Mishra's family members, who were seeking justice shows the real character of BJP. The party talks of high moral principles stand exposed today." Khalil further said, "BJP can go to any extent for grabbing power as on earlier occasion too, the party has inducted tainted persons."
Related
'Swamy' turns slimy: Chinmayanand's fall from grace
Kill me if Govt can't imprison Criminals: Widow of Bulandshahr Cop, Subodh Kumar
The connect between criminal cases of politicians and their switch to BJP