Always a stronghold of the left for close to a century, the Adivasi (tribal) district of Palghar saw over 12,000 women from the whole Palghar district leading a massive march and gherao of the Palghar district collectorate on the burning. issues of ration, employment, water, and health. The administration and the police were caught totally unprepared. The protest took place on Wednesday May 24.
All officials and journalists assessed that this was among the largest protest actions by women in the last 10 years after the new Palghar district was carved out of Thane district in 2014. Most of the women were Adivasis, but there was also a fair share of non-Adivasi women from different walks of life. They hailed from all 8 tehsils of Palghar district – Talasari, Dahanu, Jawhar, Mokhada, Vikramgad, Wada, Vasai and Palghar.
Giving resounding slogans on their demands as they marched, the sea of women (see pictures ) marched right into the collectorate and gheraoed it. It was only then that the administration swung into action, mobilised the officials, and held a two and a half hour discussion with the delegation from the All India Democratic Women's Association (AIDWA). CPI(M) MLA Vinod Nikole was present. Two major decisions were taken.
1. The dates for tehsil level camps were finalised to resolve all issues related to ration (PDS) were decided upon. Both government officials and AIDWA leaders would be present.
2. On the other serious issues of water, employment, and health, the District Collector would convene a separate meeting of all officials with AIDWA at the earliest.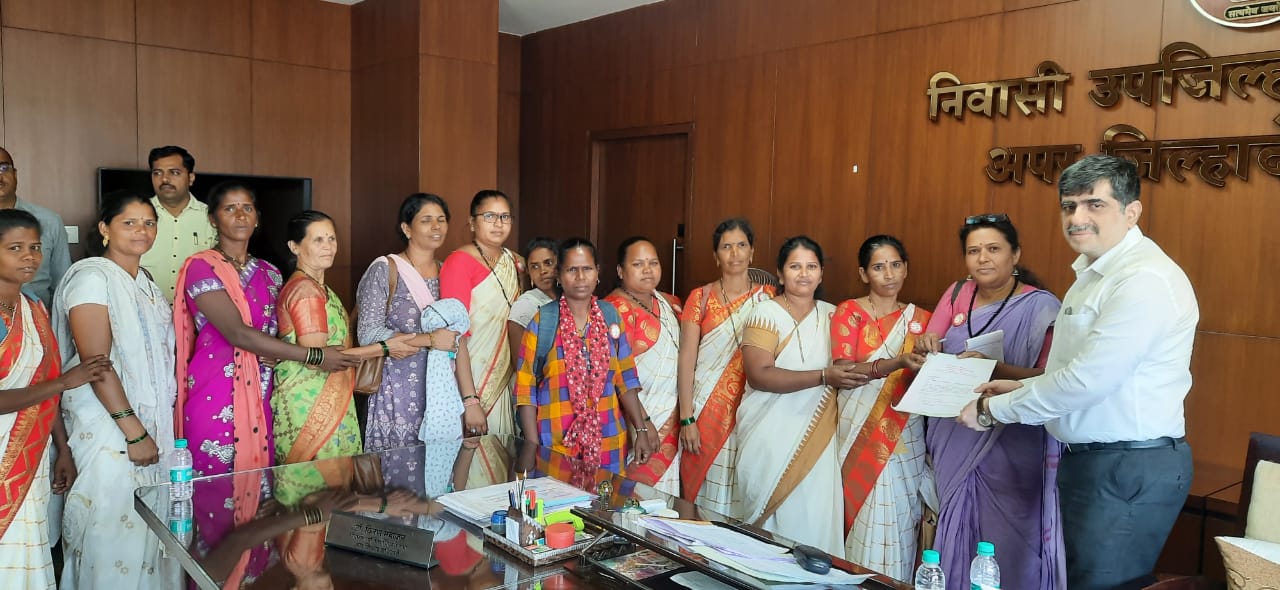 Preceding this mass protest, AIDWA women had led a 15-day campaign of filling in thousands of forms on the above issues, and these were submitted to the authorities and official receipts were obtained. Hundreds of local activists of AIDWA worked very hard for the success of this action. They were helped by fraternal organisations like the AIKS, CITU, and DYFI.
The delegation comprised AIDWA district secretary Lahani Dauda, district president Prachi Hatiwlekar, district treasurer Sunita Shingda, and other leaders.
On May 26, Thursday, another such AIDWA-led rally of women from tehsils of Thane district will march to the Thane district collectorate on the same issues.
Related:
AIDWA Calls for Fight Against Increasing Gender-Based Violence
With a 17-point demand charter, AIKS-led 10,000-strong Kisan Long March starts in Nashik
An AIKS Struggle Convention at Dahanu, Palghar where vows were taken to intensify struggles around land and farmer rights